There are plenty of ways to have fun in Branson — that's why so many people come back to visit year after year.

Some people love the shows, others visit to go fishing, and some love the rides and attractions. But even regular visitors to this wonderful part of the world discover that they haven't tried everything there is to do here. So, whether you want to try something new, or are looking for a fresh reason to pack your bags and visit, here are a few amazing experiences you should have in Branson. And you don't have to take our word for it. These photos were all taken by real visitors and shared on Instagram.
1. Positive Altitude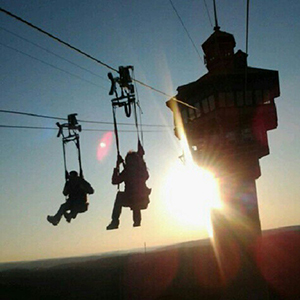 @ybchick
The Vigilante Zip Line at Shepherd of the Hills stretches about a half mile from the top of Inspiration Tower (the highest point in Southern Missouri) down to the landing area. Along the way, you'll hit speeds up to 50 miles per hour and enjoy some incredible views of the surrounding area. You can see all the way to Arkansas on a clear day.
2. Front Row(ing) Seats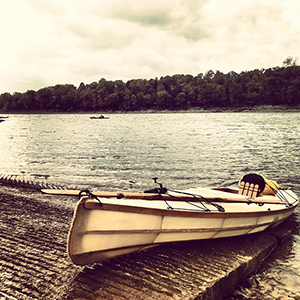 @trevorleeakin
The lakes, rivers and inlets around Branson are the perfect spot to get out on the water and paddle around. You can rent kayaks (in case you didn't bring your own) and enjoy a day spotting herons and other birds, fishing or just floating along. One great route is to start on Lake Taneycomo below the dam and paddle your way to the boat ramps by Bass Pro Shop near Branson Landing.
3. Catch Some Air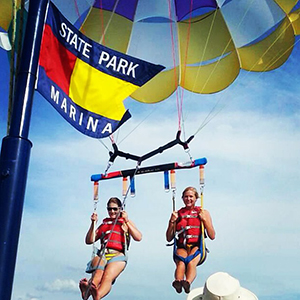 @sbirk10
Want to float through the air on a parachute without having to jump out of a perfectly good airplane? Then parasailing is just the adventure for you. At State Park Marina on Table Rock Lake, you can enjoy breathtaking views as you float above the water and the world (all while firmly attached to the back of a boat). It's a one-of-a-kind experience, and an amazing way to spend a sunny summer day on the water.
4. Turn the World Upside Down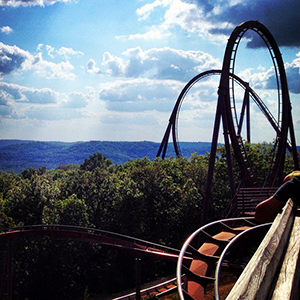 @sammi_morrison
Silver Dollar City is home to some of the wildest roller coasters you'll find anywhere. Outlaw Run is an award-winning ride that is one of the most extreme wooden coasters in the world. PowderKeg blasts off for a truly unforgettable ride. There are lots rides to choose from though, if you don't want to push the limits.
5. Make Waves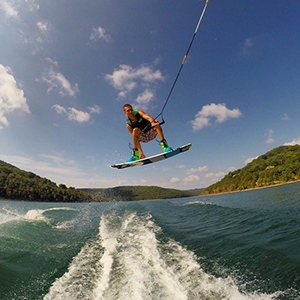 @richw22
Branson is becoming a popular spot for wakeboarding in the Midwest. Events like the MasterCraft Pro Wakeboard Competition and Brostock Wakeboard Competition have drawn major talent, big crowds and amazing tricks to Table Rock Lake. While novices might not be going straight for big air, it's a fun way to spend a day on the water, and you can rent gear if you're curious (and adventurous).
6. Float Above it All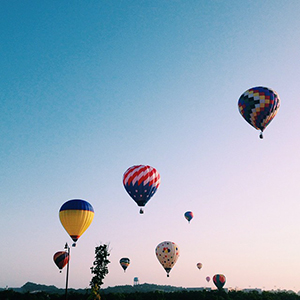 @nico_pyatt
The annual Branson Balloon Festival is unique sight. Dozens of colorful hot air balloons take to the sky in a wondrous display.  Held each year in August, it's a fun reason to come for a visit. Of course, if you're not into drifting more than 1,000 feet off the ground, you can always head to Branson Landing where Parakeet Pete's Waterfront Balloon ride will give you a cool view of the area without actually detaching from the ground.
7. Swing for the Fences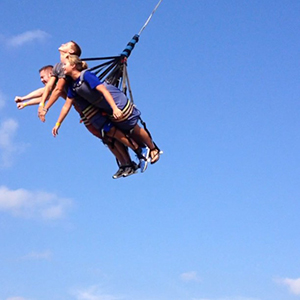 @bennix66
The name Skycoaster might sound like the roller coaster, but the ride at Branson Tracks is really more of a humongous swing. Up to three people can be strapped in at a time for this wild ride where you're pulled to the top of a tower and then set loose to race down toward the ground and then swing out over the parking lot. If you're scared of heights, this is probably not the best idea, but if you want an adrenaline rush, this is a must-try.
Want more great shots of Branson? Follow us on Instagram (@ExploreBranson) and tag your awesome vacation snapshots with #ExploreBranson for a chance to be featured.