Add these unique activities you wouldn't expect to find in Branson to your vacation itinerary.

From off-the-beaten-path attractions to unbelievable natural wonders, here are seven things you would not expect to find in Branson (but, happily can).
Tropical Butterflies
Make a trip the equator without ever stepping foot outside of Branson. Take a self-guided tour through the Butterfly Palace and Rainforest Adventure's verdant, 7,000-square-foot butterfly aviary and garden. Meander through thickets of wild flora and fauna as thousands of vibrantly colored butterflies flutter about. If you're lucky, they might even land on you (just don't swat at them).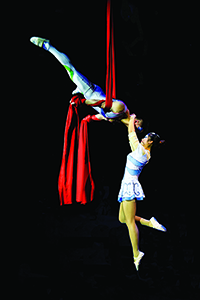 World's Largest Toy Museum
For a dose of bona fide nostalgia, take a trip down memory lane at the World's Largest Toy Museum in Branson. Rediscover your favorite childhood playthings, from vintage Barbie dolls and classic cowboy memorabilia to modern-day mutant turtles (of the teenage variety). With a collection of more than one million toys, every member of the family will find something to love here. 
High-flying Acrobats
Graceful acrobats take center stage a Branson show that will leave audiences enthralled. At Grand Shanghai Theatre, the Amazing Acrobats of Shanghai captivate visitors with incredible acts of aerial acrobatics, incredible feats of strength and Kungfu comedy.
Birthplace of the Kewpie
Remember those cute little cupid-like dolls that became wildly popular across the country way back in the 20th century? They're called Kewpies, and they were first created right here in Branson by famed American illustrator Rose O'Neill at the historic Bonniebrook mansion and homestead. Take a tour of the grounds, mansion and museum and learn why O'Neill's adorable illustrations had such a lasting legacy. 
Feeding Bull Sharks
Missouri might be landlocked, but that doesn't mean you won't see any sharks. Find a herd of these ferocious fish at Branson's Wild World, along with venomous snakes, exotic reptiles and even some land-dwelling predators. If you're feeling bold, visit around mealtime — for the bull shark, that is — where you can personally feed them a heaping helping of the day's specialty.

Local Wine and Whiskey
Wet your whistle at local wineries and distilleries in Branson. For authentic, small-batch whiskey and moonshine, head to the Ozarks' first legal distillery since Prohibition, Copper Run Distillery. Wineries are also quite popular (and incredibly picturesque) 'round these parts, so be sure to block off some time on your itinerary to drop by Curling Vine Winery, Lindwedel Winery or Mount Pleasant Winery for a tasting.
Stunning Caves, Canyons and Natural Wonders
You can't leave Branson without getting a glimpse of the Ozarks' pristine natural beauty. First, look where you least expect — Silver Dollar City. This popular theme park boasts one heck of a hidden gem, Marvel Cave, a National Natural Landmark that also happens to be the area's first-ever tourist attraction. For storied caverns and cascading waterfalls you'd never expect to find in the Midwest, visit Lost Canyon Nature Trail and Cave.