One of the best parts of a long road trip is a great side trip. The next time your Route 66 travels lead you to southwest Missouri, take the Highway 65 south exit toward Branson, the perfect destination to complement your Route 66 adventure.
Like every good trip across Route 66, yours probably involved some unique and downright quirky sights to explore. In Missouri, those stops might have included the World's Largest Rocking Chair near Cuba, a miniature version of Stonehenge in Rolla and the legendary Route 66 Steak-n-Shake in Springfield.
Yes, Route 66 offers plenty of noteworthy (a fancy way of saying quirky) sights. Then again, Branson does, too. You can't play a tune on it, but what's billed as the World's Largest Banjo is found in Branson, at the popular Grand Country resort. If you're not too mesmerized by the sheer size of the banjo, you find plenty to do at Grand Country, which offers lodging, dining and live show options, plus an indoor waterpark.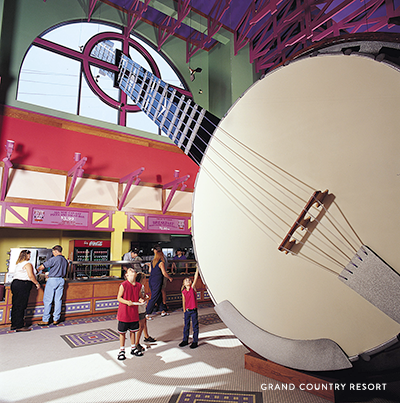 Of course, one of the best things about traveling Route 66 is the variety of memorable mom-and-pop shops along the way. Branson has you covered there, too, thanks to one of Missouri's most well-known shopping destinations. Dick's Old Time 5&10 in downtown Branson has been a staple of Branson getaways for more than 50 years. The shop is almost literally bursting at the seams, with an estimated 175,000 items in stock. You read that right: 175,000. If youthful indiscretion led to the loss of a favored toy, browse the aisles at Dick's, you might just find a replacement for that long-ago lost treasure.
Another great place to have a fun and quirky experience is the Ripley's Believe It or Not! Odditorium, where a giant Optimus Prime (you know, the leader of the Transformers) waits near the front door to greet visitors. He's made of scrap car parts, but makes an awesome – and kind of imposing – doorman, not to mention a fantastic co-star of your mandatory vacation selfies. Inside the Odditorium, more quirky treasures await in the form of shrunken heads, vampire-slaying kits and other items collected by adventurer Robert Ripley. And just for good measure, the entire building itself is designed to look like it survived an earthquake, complete with a cracked façade. (Don't worry, it's an illusion. Or is it?)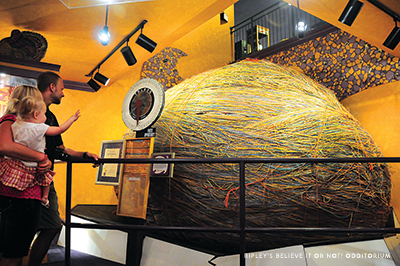 Of course, no trip on Route 66 is complete without a 1950s or 1960s themed stop that captures the spirit of what's often referred to as "The Mother Road." In Branson, your time-travel adventure to the 1950s happens at Mel's Hard Luck Diner, where singing servers belt out fabulous tunes and dish up great meals, whether you're after a fabulous burger, foot-long hot dog or select a specialty menu item, such as Blue Suede Salad or Cheese Release Me sandwich. And be sure you leave room for dessert; the Rock Around the Chocolate offers the heavenly (or perhaps sinful) combination of a brownie with vanilla and chocolate ice cream, topped with whipped cream, M&Ms and cherries.
Mel's is part of the Grand Village Shops, which features a store that certainly would be right at home on Route 66, Kringles Christmas Store. This one-of-a-kind shop is all about the Christmas holiday, with some 9,000 square feet of space covering six distinct rooms. It's said to be the largest Christmas store in Missouri, and you know, it's never too early to start your holiday shopping. If you get your Christmas shopping done while you're on summer vacation, your friends will think you're kind of quirky. And for the Route 66 side trip, that's just fine. Branson boasts a variety of other attractions to make your Route 66 side trip an adventure. 
Ready to visit? Start looking at places to stay in Branson or find more fun and unexpected things to see while you're here.