Scratch golfers possess a combination of skills, from being long off the tee to having a good short game and a deft touch on the greens. Likewise, a golf trip to Branson presents a combination of opportunities (and challenges) for players of all skill levels.

When you play golf in Branson, be prepared to experience wide open spaces that allow for grip-it-and-rip-it chances, plus beautifully shaped and tree-lined fairways that require careful planning and skillful shots.
To maximize your golf outing in Branson, consider these combinations that put your varied skills to the test.
The Top of the Rock Two-Step
The courses: Top of the Rock's par 3 and Buffalo Ridge Springs.
Why it's a good combo: The par 3 course puts your short-game skills in the spotlight. You won't need to break out the driver (the longest hole plays 202 yards), you will need to watch for water. Over at Top of the Rock's sister course, Buffalo Ridge, there are plenty of chances to flex your muscles. From the black tees, the first three holes play 578, 471 and 405 yards, respectively.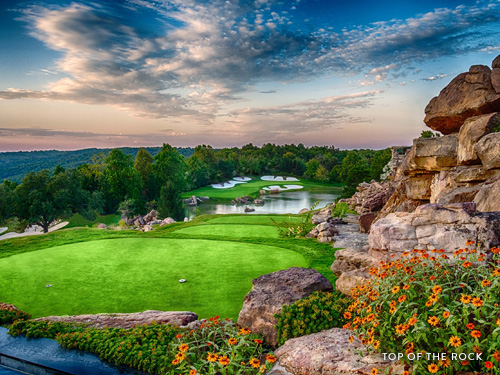 Resort-Style Golf
The courses: Holiday Hills and The Pointe
Why it's a good combo: Many facets of your game are tested at Holiday Hills, whose 18 holes range from 4,400 yards to just under 5,800 yards, depending on the tees from which you play. Forty (yes, 40!) well-placed bunkers make shot selection a key to your success and water is a factor on six holes. At The Pointe, many of the tee boxes are hugged by mature trees, meaning you'll need to be solid with the driver. Exemplary drives leave you open approach shots and give you a good chance to make the greens in regulation. Water comes into play (potentially) on 12 holes.
The Long and Short of It
The courses: Branson Hills and Mountain Top
Why it's a good combo: Like the Top of the Rock Two-Step, this combo offers the challenge of a long course paired with a pitch-and-putt. Branson Hills is ideal for big hitters, especially when you play from the gold (back) tees, where three holes play more than 550 yards (including one at 599).  Weekend golfers might prefer the silver tees; a full round of 18 plays about 6,300 yards. Mountain Top is ideal for those looking to work on their short game while also enjoying some of the best views of Branson. All par 3 holes play from 82 to 221 yards and a smattering of bunkers provides hazards to work around.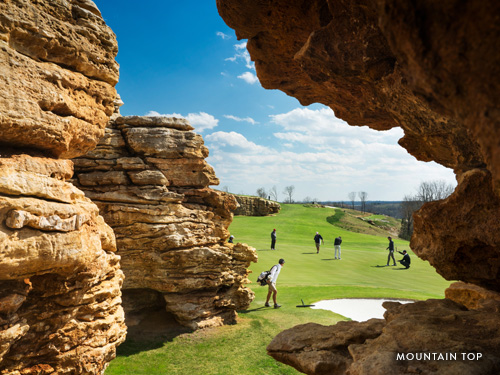 These are just a few of the excellent golf courses waiting for you in Branson, where a day on the links is part of a fun and well-rounded vacation experience.