Wolfe Mountain is full of fun for all ages. Come explore the Ozark Mountains from a birds eye view during a zipline tour!

Branson Zipline and Canopy Tours at Wolfe Mountain has so much more to offer than just ziplining. The quick quiz below can help you find that there's something for everyone at Branson Zipline. Simply read the questions and pick the answer that most suits you! Keep track of your answers so you can tally them up at the end.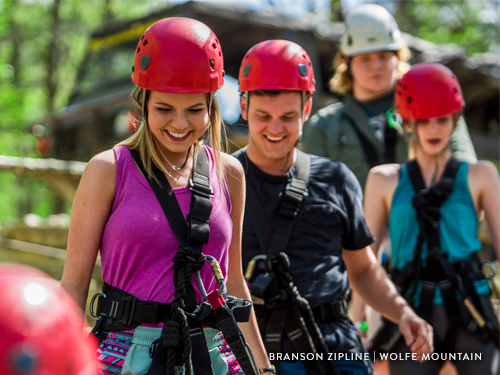 When visiting a new city, your first instinct is to:
a) seek out the biggest roller coaster the location has to offer and ride it until the park closes.
b) take a walk through town shopping for the cutest gems you can find.
c) determine whether or not there's a car museum you can go check out.
d) take a walk through the local parks in the area, or search for the perfect hiking location.


In your free time, you'd most likely be:
a) doing something unique and adventurous (ex. riding go-carts, cliff-jumping at the lake, or biking really fast around your neighborhood).
b) combing through antique shops to find a really neat piece for your collection.
c) in your detached garage working on your latest car renovation.
d) outdoors, of course! Hiking, walking, or running the local trails in your area is where you'd be.


If you were lost alone in the wilderness, your first instinct would probably be to:
a) climb the highest tree around, sit precariously on a branch and look to see if there was a town or road nearby.
b) forage for berries or a water source before darkness fell.
c) construct some sort of wheelbarrow or vehicle for transporting huge logs to the site of your campfire.
d) enjoying the sights and sound of nature while calmly trying to walk in the direction you believe there to be a town.


When you've got the TV on, you're most likely watching:
a) Fear Factor (you just can't get enough of the awesome stunts they get to do)
b) American Pickers (have you seen some of the awesome stuff they find in attics?)
c) Orange County Choppers (they might not be building cars, but boy do they know how to create a sweet vehicle)
d) Survivor (you don't really care about the drama, you just ogle over the beautiful natural locations contestants get to live)
Now's the time to tally up your answers and get ready to hear what activity might interest you most at Branson Zipline and Canopy Tours at Wolfe Creek Preserve.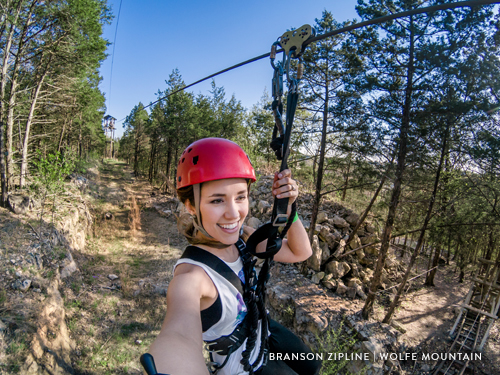 You're a thrill-seeker! When an opportunity for adventure arises, you're the first to jump on-board. Riding one of many zipline courses at Branson Zipline will quell your desire for a heart-pounding, palm-sweating adrenaline rush. Whether you're a hard core adrenaline junkie, or just an average-Joe looking for a little adventure, there are so many options for zipline rides that you'll find a fun course to zip on. The Flying Prospector and the Ozarks Xplorer Zipline Tours are two options that offer ziplining that's enjoyable for everyone. You'll have the chance to zip several times and see the beauty of the Ozarks from new heights. If you're looking for more of an adrenaline-rush, the Blue Streak Fast Line and Free Fall Xpress offers an opportunity to feel what it's like to free fall from 100 feet. Don't think that's enough adrenaline? Try riding the ziplines at night on the Prospector In the Dark Tour. Whatever zipline package you choose, you can be assured that you're in great hands. The friendly guides are extraordinarily helpful, accommodating, and are all trained and certified by the the Association for Challenge Course Technology (ACCT). If you get out to Wolfe Creek Preserve, you won't want to miss the chance to zip on such a high-caliber course.


If you picked mostly b's:
Sounds like you're great at sifting through things to find what you really want! Whether you choose to hang out at the fully-stocked, unique gift store, or pick up a real bag of mining dirt to comb through, you'll get your fix of treasure-hunting at Branson Zipline at Wolfe Creek Preserve. The gift shop isn't just your regular old shop stocked with a few t-shirts and magnets; it's a shopping experience of it's own where you can find neat gifts like Amish canned goods, nostalgic toys, hats, sodas, shoes, and much, much more. And yes, even though there's really cool stuff you can't find many other places, there's still regular t-shirts, hats, and other souvenirs that allow you to show off the fact that you ziplined at Branson Zipline! Check out the cool t-shirts my friends and I got from the store in the picture below.
If you're not that into shopping, there are other treasures you can find! Grab a bag of mining dirt and head outside to the mining sluice on-site to sift for your own gemstones, fossils, or other cool finds!
If you picked mostly c's: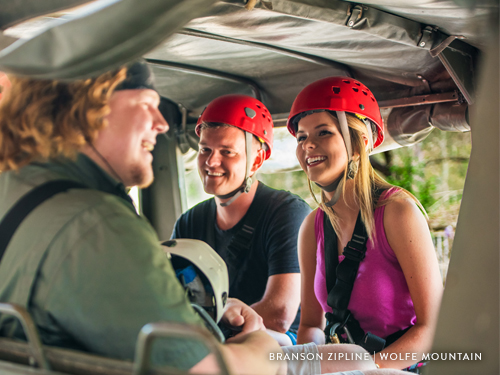 The sound of an engine-revving makes you smile. If you're a car-junkie (and even if you're not), you'll love riding in the Pinzauger Swiss Army Troop Carriers. These sturdy six-wheeled, military grade vehicles make the trek up and down Wolfe Mountain day after day. Hauling up to 14 guests clad in bright yellow helmets or hiking shoes, these vehicles climb up the winding, narrow road to deliver guests safely to their destination. After riding in the open-window, muscle-machine up Wolfe Mountain, you might find yourself wanting to ride in the Pinzauger all day instead of zipping along the treeline or hiking around in the woods.
If you picked mostly d's:
You're the type of person who drools over hiking boots instead of high heels. If you're a little nervous about ziplining, or just relish the opportunity to get out and hike these Ozark mountains, you'll love the Wolfe Creek Photo Safari Tour. After a ride up in the aforementioned Pinzauger, you'll embark on a photo-worthy hike through the Ozark wilderness. A guide is with you to explain natural flora and fauna and assist you in any way you need. If you're looking to get out and explore the natural beauty of the Ozarks, there's no better place to do it than at Wolfe Creek Preserve. Despite the fact that there is a thriving business and zipline on the premises, the eco-friendly practices of the company have taken careful precautions to preserve the natural environment surrounding the ziplining tour and facilities. The grounds are managed by a comprehensive Forestry Management Plan, and many steps were taken to ensure the preservation of the land during construction. For example, helicoptors were used to set the poles and roofs rather than using destructive bulldozers. From the beautiful hiking paths to the gorgeous sun-deck that overlooks Wolf Mountain, it is apparent that the employees cherish the land surrounding them and consistently seek to be good stewards of the land. 
For a ziplining experience that's unbeatable, a picturesque hike through the woods, or the perfect location for a party with family or friends, Branson Zipline and Canopy Tours is the place to be. My friends and I had the best time while visiting Wolfe Mountain because of the activities, the setting, and the incredible staff. We'll be back soon for sure!