Branson may be known for it's live entertainment, but some of the Ozarks city's greatest action occurs on the big screen. When millions of annual visitors need to beat the heat or just find a relaxing way to spend some time, they head over to Branson's IMAX Entertainment Complex. There, they can encounter an exhilarating and all-encompassing movie experience like never before on a screen standing six stories tall and an astounding 83 feet wide.
Whether they are taken on an encounter with the ice age, experience climbing Mount Everest, discovering Jerusalem or escaping a great white shark, IMAX viewers will feel as if they're part of the action thanks to an impressive 22,000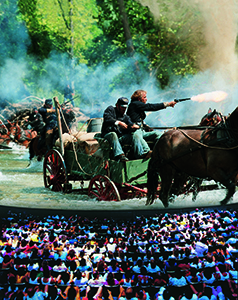 watts of surround sound. Exclusive to the Branson IMAX, "Ozarks Legacy and Legend" allows its audience to experience the history, heritage and people of the Ozarks as they follow the McFarlain family from 1824 to the 1950s and visit an underwater cave, take in aerial views of Missouri's Ozark Mountains and even witness the Civil War first hand. The Branson IMAX Entertainment Complex even features major Hollywood movies such as "The Avengers" on the big screen, as standard 35mm movies are expanded through a customized lens and projection so they fill as much of the six-story screen as the movie film will allow.
Of course the Branson IMAX Entertainment Complex isn't limited to the big screen. Visitors can also enjoy an array of current movies on standard-sized digital screens in the poshest of settings, complete with stadium seating, oversized seats and even Tempur-Pedic foam seat pads at the Elite Cinema III.
It's no secret that Branson was largely built on the backs of live shows, and the Branson IMAX Entertainment Complex continues the tradition. Nestled in the back of the complex lies the Little Opry Theatre, offering unparalleled live entertainment featuring some of Branson's most talented performers. Guests can intimately experience the talents of musicians, singers and comedians in a setting that truly offers no bad seat. In fact, the theater was created specifically to enhance live performances from gifted entertainers, and, therefore, doesn't need to entertain guests with special effects, lighting, glitz or glamour. The seven weekly shows at the Little Opry Theatre include tributes to George Strait, John Denver and Marty Robbins, among others, as well as a free Sunday worship service.
One generally wouldn't expect to go to the movies and go shopping, but the Branson IMAX Entertainment Complex isn't the typical theater. With 17 specialty shops, visitors to the complex can peruse a wide array of items, including quilts, clocks, leather, fashion, toys, collectibles and Ozarks' souvenirs. And why gorge popcorn, Sno-Caps and Sugar Babies when you can enjoy a hearty meal at one of the complex's various dining establishments? Movie-goers can enjoy everything from home-style and Italian food to steak and breakfast, so there's food to please any palette at the IMAX Entertainment Complex.