With 185 motels and hotels, condominiums, bed and breakfasts, lodges, inns and cabins to choose from in the Branson area, the decision on where to lay your head at night can be overwhelming. But don't fret because it's easy to find a great place to stay once you understand the lay of the land. So whether you want a place that's in the heart of the action or somewhere with plenty of peace and quiet, Branson has the right spot for you. The key to making your decision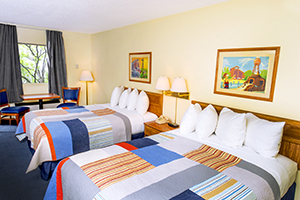 on where to stay is based on the often-used real estate phrase, "location, location, location."
Hotels on the Strip in Branson
Not unlike the Las Vegas strip or Times Square, Branson's W. Highway 76 is the center of music shows, restaurants, gift shops, attractions and plenty of people energy. If you enjoy the excitement of being among all the activity, there are a plethora of places to stay, from national hotel chains to family-owned motels.
Centered among the music shows and attractions is the award-winning Clarion Hotel and Conference Center (2820 W. Highway 76). Its notoriety comes from its special guests, the former U.S. President George H. W. Bush and First Lady Barbara Bush in 1992 and the Miss USA Pageant delegates in 2001. Beautifully appointed, guests can watch the world go at the Oasis Lounge and safari-themed Buckingham's Prime Rib and Steakhouse.
Afternoon tea and cookies are awaiting guests of the Hotel Grand Victorian, (2325 W Hwy 76), in need of refreshment after a day of shopping or sightseeing. Located next to Tanger Outlets, it's a great accommodation for a weekend with the girls, if shopping is part of your itinerary.
Keep the kids happy on a rainy day at Grand Country Resort (1945 W. Hwy. 76) with its indoor mini-golf, game center, water park and theater. At the complex, the Grand Country Inn guest rooms have been remodeled to include a kid's clubhouse alcove with built-in bunk beds, a TV set and DVD player.
Hotels near Downtown Branson and Branson Landing
Since Branson Landing's completion in 2006, taking the place of a hodgepodge of lakeside cabins and kitchenettes, the popular destination attracts visitors and conference attendees to its offerings of shopping, entertainment, dining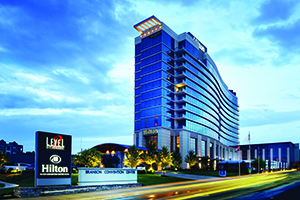 and lodging. Branson Landing hosts two Hilton hotels: the onsite 242-guest room Hilton Promenade and the 12-story Hilton Branson Convention Center Hotel, located one-half block away. The convention center has 113,725 square feet of flexible event space and a parking garage, and it can accommodate 4,000 people.
Tucked away, four blocks from Branson Landing is the 85-year-old Branson House (120 N. 4th Street), a bed and breakfast once owned by popular fishing guide Jim Owen. Owen, who met many celebrities on his White River float trips, once invited friends Charlton Heston and Joe DiMaggio to the house. Current owners have remodeled five-bedroom home and decorated with items once owned by Roy Rogers and Dale Evans. The Branson House is one of more than a dozen charming inns and bed and breakfasts in the area.
Accommodations near Table Rock Lake or Lake Taneycomo
If you want to stay on Table Rock Lake, consider one of Branson's crown jewels, Chateau on the Lake Resort Spa and Convention Center (415 North State Highway 265). The "castle" sits on the hilltop overlooking both the lake and Branson in the distance. Its AAA Four Diamond rating is awarded, in part, for its amenities such as a full-service marina, tennis courts and an indulgent spa, as well as a Chateau Grille and its prestigious Chef's Table, the Atrium Café and Wine Bar and the meeting and convention facilities.
While Table Rock Lake is known for trophy bass fishing, the connecting Lake Taneycomo is prized for catching trout. Below Table Rock Dam, on State Highway 165, is the Shepherd of the Hills Fish Hatchery, which is operated by the Missouri Department of Conversation. The hatchery raises and releases more than 700,000 rainbow and brown trout into Lake Taneycomo each year.
Lining Lake Taneycomo east of the hatchery is "condo row," several condo rental developments, including Pointe Royale Condominium Resort & Golf Course, Wyndham Mountain Vista, Wyndham Branson at the Meadows and Suites at Fall Creeks. Across from Pointe Royale on State Highway 165 is Welk Resorts Branson. Like the other condominium complexes, Welk offers enough activities and amenities, including Its indoor Splash-A-Torium with 10,000 square feet of water fun, to keep its guests busy onsite 24 hours a day.
Lilley's Landing is one of many cabin resorts catering to both novice and experienced trout anglers along Lake Taneycomo. The family resort is a modern answer to the humble 1950s kitchenettes, dedicated to guided fishing, fishing tournaments, fly fishing, outfitting, instruction and marina and boat rentals. While watching the lake from the front porch of one of the units, one would never guess busy W. Highway 76 is only two miles away.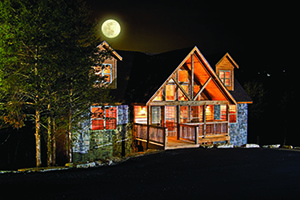 Staying near Silver Dollar City
Located about nine miles west of Branson on W. Highway 76, Silver Dollar City is Branson's biggest theme park. If the park's roller coasters and shows will be a focal point of your vacation, then you might save yourself your some driving by staying closer to the park than town.
What many visitors don't know is that the attraction sits at the entrance of Indian Point, a three-mile long peninsula leading to Table Rock Lake. Cabins, lodges and condos dot both sides of Indian Point Road. Some are smaller, such as the family-oriented Tribesman Resort (416 Cave Lane) with its nature trails and daily activities, as well as larger resorts, such as Rock Lane Resort and Marina (611 Rock Lane Road) and the Village at Indian Point (24 Village Trail). The Indian Point Marina and Boat Dock offers equipment for every type of water fun: diving, skiing, fishing, wake boarding and tubing.  The marina also rents pontoons, deck boats and ski boats. The famished can eat at the marina's floating café.
Opposite Silver Dollar City on the north side of W. Highway 76 is LedgeStone Championship Golf Course, one of a dozen courses in the Branson area. StoneBridge Resort (50 StoneBridge Parkway) sets on the course, offering villas, lodge units, standard rooms. Surrounded by the Ozark Mountains, the facility has walking trails, three swimming pools and tennis courts, basketball and volleyball and a catch-and-release lake. Horseback riding is nearby.
So whether you want shop 'til you drop or drop a fishing line, swing a golf club or balance a wakeboard, by matching your interests and needs to what Branson offers, you'll find a guest room waiting for you.