Soar to new heights and defy gravity with Branson's newest thrill ride—Skyscraper—at The Track Family Fun Parks.
With 14 go-kart tracks, bumper rides, the Skycoaster, Branson Ferris Wheel and more, The Track Family Fun Parks is home to a wide variety of fun and exciting attractions.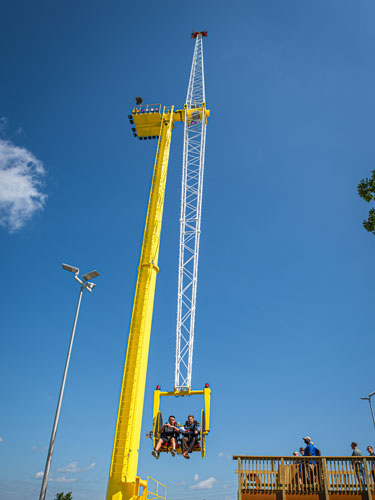 Adding to The Track's list of must-rides is Skyscraper, the newest attraction to open at the park. Visitors can now experience a whole new dimension of thrill at 170 feet in the air! 
Located at Track 3 of The Track's three locations, Skyscraper's base tower stands 80 feet tall. Two vertical windmill-like propeller arms, which extend 170 feet at their maximum height and spin up to 60 miles per hour during the ride, produce a G-force effect for its riders. Skyscraper riders will experience up to four G's, similar to what a pilot feels when flying a fighter jet! The ride can carry up to four passengers, with two seated at the end of each propeller arm.
But wait ... there's more! Though much of the ride is in motion, you can expect to experience a brief stop at the top of a rotation during the ride where you can take in an amazing aerial view of Branson's entertainment district and the surrounding Ozarks hills. At night, the Skyscraper features LED lighting, enhancing the atmosphere and ride itself.
Skyscraper riders must be at least 52 inches tall. Skyscraper is currently open at Track 3 from 10 a.m. to 11 p.m., daily. Weather conditions and seasonal hours may apply. 
The sky is literally the limit for fun and adventure during your next Branson visit! To learn more about Branson's attractions, visit here.