For more than 50 years, Dick's 5 & 10 has been serving the needs of locals and visitors alike — whether they've needed camping supplies, candy or a good laugh. One part retail store and one part museum, Dick's is an icon of Main Street in downtown Branson and a must-see during your stay.
Spend some time wandering the shop's aisles packed with everything from board games and toys to knitting supplies, sunglasses and souvenirs. Look up from the colorful shelves to find the stores not-for-sale collections, which include arrowheads from the White River, sports memorabilia and aviation prints, among other things. Among the thousands of items the store stocks are quite a few with a sense of humor. Here are a few of our favorite funny finds from the aisles of Dick's.
5. All Things Bacon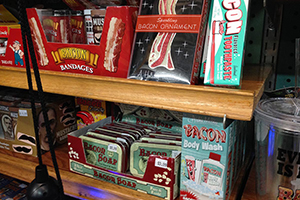 Do you love bacon? If so, then head down to Main Street, because whether you like to eat bacon for breakfast, lunch, dinner, or all of the above, then it's time to celebrate your favorite cured meat in new and exciting ways. Bacon band aids, bacon soap, bacon body wash, even bacon Christmas tree ornaments — whether you want to add some bacon to the holidays or your next shower, you're in the right place.
4. Novelties, Pranks and Gags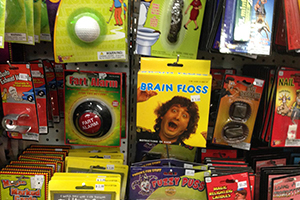 A golf ball that never rolls straight, fake chocolates, brain floss, fart alarms and more — when you need to play a prank, give the perfect give, or show up ready to be the life of the party, Dick's 5 & 10 has you covered. There's a whole aisle for that.
3. Funny Souvenir Shirts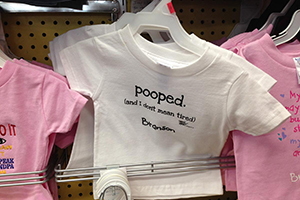 While the infant who ends up wearing this shirt might not get it, every parent in the world can commiserate.
2. Is That a Lunchbox?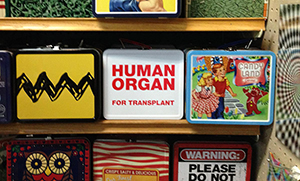 Nothing says: "Don't mess with my lunch," quite like a box people think is filled with human organs. It's also handy for cutting in line at airport security or large sporting events.
1. Number 2 Pencils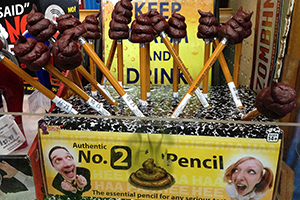 In the world of pun products, this might be one of the all-time greats. It might be the perfect writing utensil for that special student in your life who's prepping to take a standardized test.
Do you have a favorite find from your last visit to Dick's 5 & 10? Share your favorites on social media and tag them with #ExploreBranson.