Imagine whiskey distilleries, bluegrass bands, great food and quirky shows — all tucked away in the beautiful Ozark Mountains. But not so far off the beaten path that you still can't get a great cup of pour-over coffee.
Just over a three-hour drive from Kansas City and four hours from Memphis, lies Branson, Missouri. This unique town has had episodes of both The Simpsons and Family Guy lovingly based on it. While popularly known as a vacation spot for families and retirees, Branson is fast becoming a well-rounded destination with hipster cred. Here's some itinerary ideas for spending a weekend at this hidden gem of Americana (before all the hipsters catch on).
DAY ONE
Wake up in an aromatic cedar cabin in the woods. Big Cedar Lodge and Cody's Cabins offer plush, affordable accommodations with great woodsy views.
9 a.m. The Best Pancakes
Fuel up for your fun day with a stack of humungous pancakes at Billy Gail's. This popular breakfast spot serves them in a variety of flavors — from pecan and buttermilk to chocolate and blueberry — all rich, fluffy and overlapping the plate. They also offer large, delicious country breakfasts with a well-curated variety of hot sauce. Cash only.
10 a.m. Go Spelunking
Underneath the Ozarks is a vast network of some pretty awesome caves, many of which are in the Branson area. Enjoy a morning adventure seeing stalactites, stalagmites and other limestone formations at Talking Rocks Cavern.
11:30 a.m. Tell Them Rattlesnake Eddie Sent You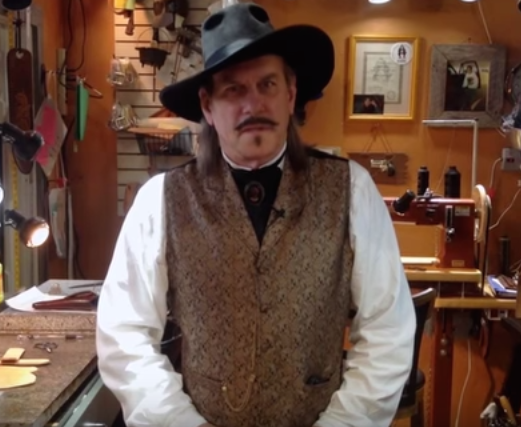 Even if quilting and scrapbooking aren't your thing, the Branson Craft Mall will have cool finds and one of them is Rattlesnake Eddie. With his long hair, goatee and late 19th century Western wear, he cuts an imposing figure like a gunslinger from HBO's Deadwood. But as soon as he opens his mouth, you realize he is gentle as a lamb. His custom leatherwork at the Crooked Sky Trading Post is pretty mean though–particularly his custom guitar straps which he's been making for decades for performers from Branson, Nashville, Memphis and beyond. While there, be sure to also hit up the very stylish The Men's Room, featuring a hand-selected assortment of new and vintage men's clothing and goods.
12:30 p.m. - Lunch at Vasken's International Deli
Tucked away in the Branson Mill shopping center, this Mediterranean deli has a delicious menu of gyros, falafel, shawerma, tabouli and more. Try Vasken's trio of sides followed with traditional Turkish coffee and some gooey, flakey baklava.
2 p.m. - Copper Run Distillery Tour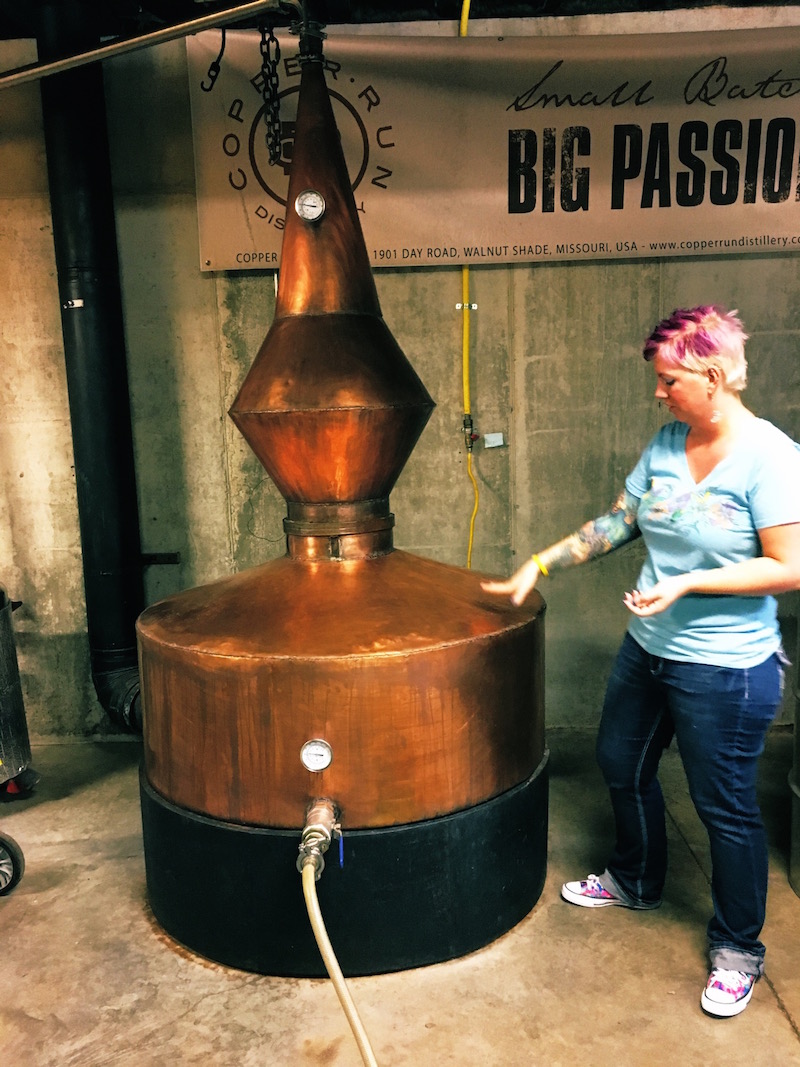 The first legal distillery in the Ozark Mountains since prohibition ended in 1933, Copper Run brings Missouri back to its moonshine roots. They make small batch spirits including "overproof" moonshine, whiskey and their delicious gold rum made from blackstrap molasses. Owner David and distiller Alysa will give you an interesting tour too. Learn how the limestone rich local water and locally sourced oak barrels aid in their unique distilling process. Stay afterwards for a tasting or enjoy a beverage or two in the charming house bar with distillery dog Kaya and black cat Molasses.
4 p.m. Hanging with Hugh Hefner
Although wax museums pop up in a number of cities, the Hollywood Wax Museum in Branson has a particularly good sense of humor and lets you interact with many of its campy tableaus. Enjoy opportunities for hilarious Instagram photos. Put on bunny ears and pink silk robe and hop into a circular bed with Hugh Hefner, velcro on a makeshift wedding dress and stand next to your waxen groom, George Clooney. You can pretend he's still a bachelor or sit next to an Uncanny Valley version of Donald Trump and admire his lifelike comb-over.
5:30 p.m. Dinner at Dolly Parton's Stampede
Imagine if Dolly Parton invited you over for dinner. What you get is Dolly Parton's Stampede — a 35,000 square-foot fun-filled arena with horse stunts, pig races and more. Get down with a four course Southern meal you get to eat entirely with your hands. Of course, Dolly herself drops in projected on a screen larger than life. Need we say more? Just be sure to buy tickets early as this popular attraction tends to sell out fast.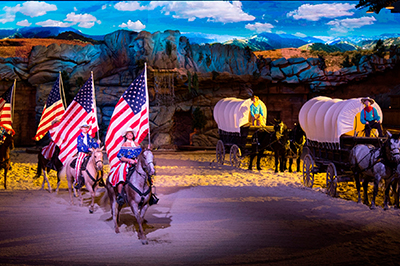 8 p.m. A Slice of Paris
Off the beaten path in nearby Hollister, Vintage Paris is a local favorite coffee shop serving handcrafted espresso beverages, wine by both the glass and bottle and delicious desserts like Napoleons or the Tuxedo bomb. Relax with live entertainment on a warm summer evening on their string-lit patio.
10 p.m. Dueling Piano Bar
Open nightly until 1:30 a.m., Ernie Biggs Dueling Piano Bar is a great late night stop for drinks and fun entertainment. Enjoy a spirited sing-a-long or try to stump the talented pianists with a request.
DAY TWO
9 a.m. – Breakfast at The Branson Cafe
There's no better morning restorative than a hearty Midwestern breakfast of biscuits, hash browns, eggs, bacon and pancakes. The Branson Café, located in historic downtown, has been dishing up delicious homestyle meals to hungry locals since 1910. (Just ask Joyce who has been serving there for over 55 years!) they also serve a variety of delicious pies including lemon meringue, chocolate cream pie and Magnolia pie. And who said you can't have pie for breakfast?
10 a.m. – Get Your Game On
Whether you're 5 or 75, Branson is full of fun competitive games. Try one of the many go kart tracks including the Heavy Metal High Rise at the Track Family Fun Park. Not fast enough for you? Head over to the Xtreme Racing Center for high-speeds up to 40 mph. Or play a game of wits at Escape Code where you and your friends have one hour to solve a mystery while being locked in a room.
12:30 p.m. – India Clay Pot
Some of the best Indian food you'll have in the United States is surprisingly found in a strip mall off Highway 76 in Branson, Missouri. India Clay Pot serves some of the tastiest tikka masala, pakora, and garlic naan. Plus, it offers a delicious selection of Indian beer. Order off the menu or go for their fresh, piping hot buffet.
2 p.m. - I'm on a Boat
If you're in the Branson area and don't get a chance to enjoy camping near beautiful Table Rock Lake, then renting a boat for the afternoon is the next best thing. The State Park Marina rents boats for anywhere from 2 to 6 hours and offers a variety of ski boats and pontoons. Wake boarding is a ton of fun here and during the spring and summer there are some awesome party coves to visit. But if you don't have a boating permit, then hop aboard the Spirit of America and let someone else take the wheel as you just enjoy cruising.
4 p.m. - Artisanal Ice Cream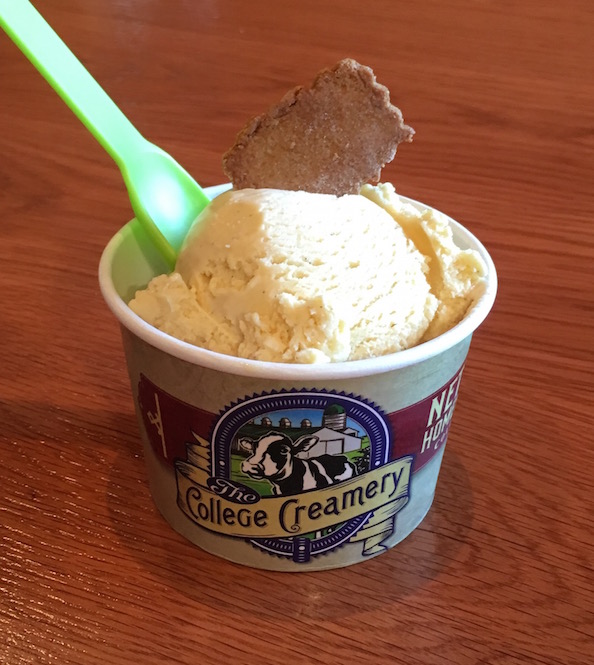 Not only is the ice cream at Nettie Marie's handmade, but the cream is freshly milked from the cows right there at College of the Ozarks. You can even see them in the pasture as you enjoy your scoops outside the Keeter Center. Be sure to try the Salted Caramel!
5 p.m. Taxidermy Deer & Mr. Pibb
Check out some of the shopping in downtown Branson and nearby Branson Landing. Whether you're looking to stock up on rugged outdoor gear or want great photo ops with elaborate taxidermy wilderness landscapes, the Bass Pro Shop is a must visit. Also, be sure to check out Dick's 5 & 10, a wonderful step back in time to the 1950s America where you can find a wide selection of novelty sodas and candy. Or hunt for a unique gift to take back home.
6:30 p.m. This Ain't Your Grandpappy's Moonshine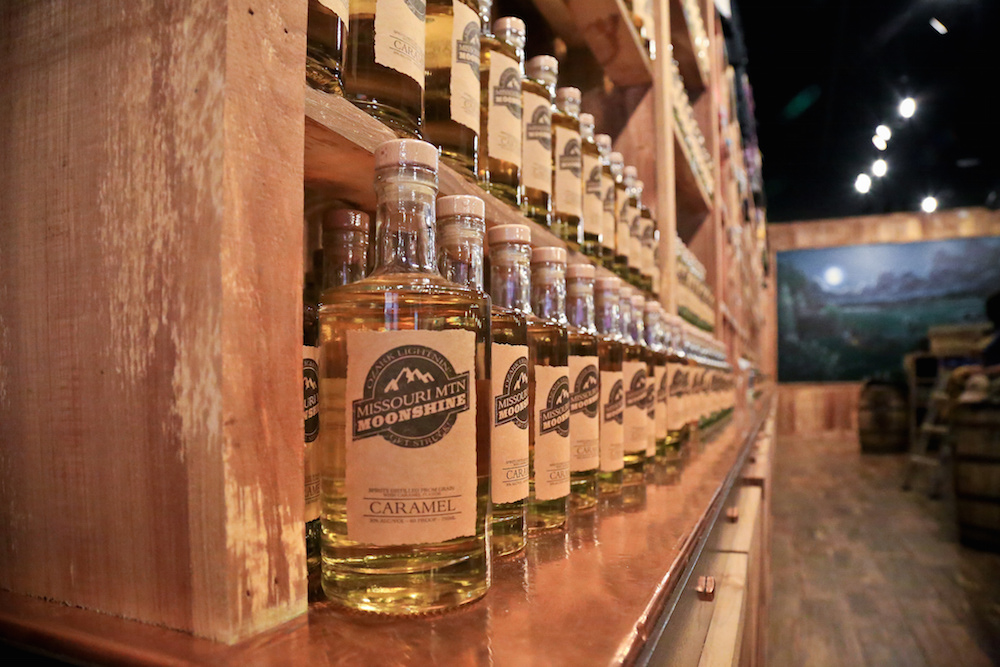 Head on over to Missouri Mountain Moonshine in the Branson Landing for some seriously delicious food and mixed drinks. Try their pig stickers—tender pork shanks that have been slowly smoked and deliciously seasoned—along with a side of sidewinder fries. The mixed cocktails are all made with their special moonshine recipe. We recommend the Peach Daquiri or the Moonshine Mule. For dessert, their banana moonshine pudding is out of this world.
7:30 p.m. Rhinestone Jackets and Japanese Country Stars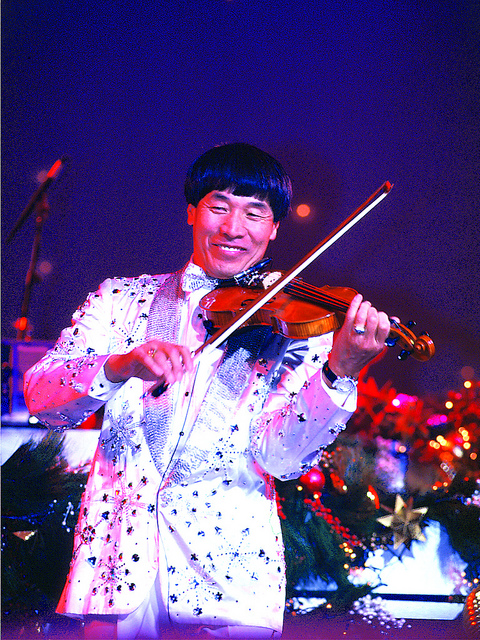 No trip to Branson would be complete without catching one of their unique shows. Be sure to see one of Branson's most iconic figures, Shoji Tabuchi, whose been playing in Branson for the past 30 years (via Nashville via Osaka, Japan). Famous for his custom rhinestone jackets and signature bowl haircut, Shoji is an accomplished vioinist who plays a unique repertoire of music but is most famous for his highly-skilled bluegrass fiddling. While there, pay a visit to his theater's lavish "Million Dollar Bathrooms."
BEYOND BRANSON
Just outside of Branson lies some pretty awesome attractions. Be sure to check out the below:
Assumption Abbey
A scenic one-hour drive east of Branson will take you to Assumption Abbey, a peaceful monastary where Trappist monks not only make great artisanal soap but are also responsible for one of the world's most popular fruitcakes (sold here and at Williams Sonoma). Even if you don't like fruitcake, this handcrafted delicacy may just make you a true believer.

The Precious Moments Chapel
Most kids who grew up in the 1980s will remember the Precious Moments figurines. An entire chapel in Carthage is decorated with artwork and statues depicting the popular half-child, half-angel collectibles. While there, be sure to take a walk through the Precious Moments Chapel grounds full of life-size statues.
Bonnie & Clyde's Hideout
In 1933, the outlaws Bonnie Parker and Clyde Barrow had one of their most famous shootouts in a small garage apartment in the town of Joplin (about two hours northwest of Branson). The house is a now a historical landmark and although tours are not currently available, it's a great stop off historical Route 66 for all Bonnie & Clyde buffs.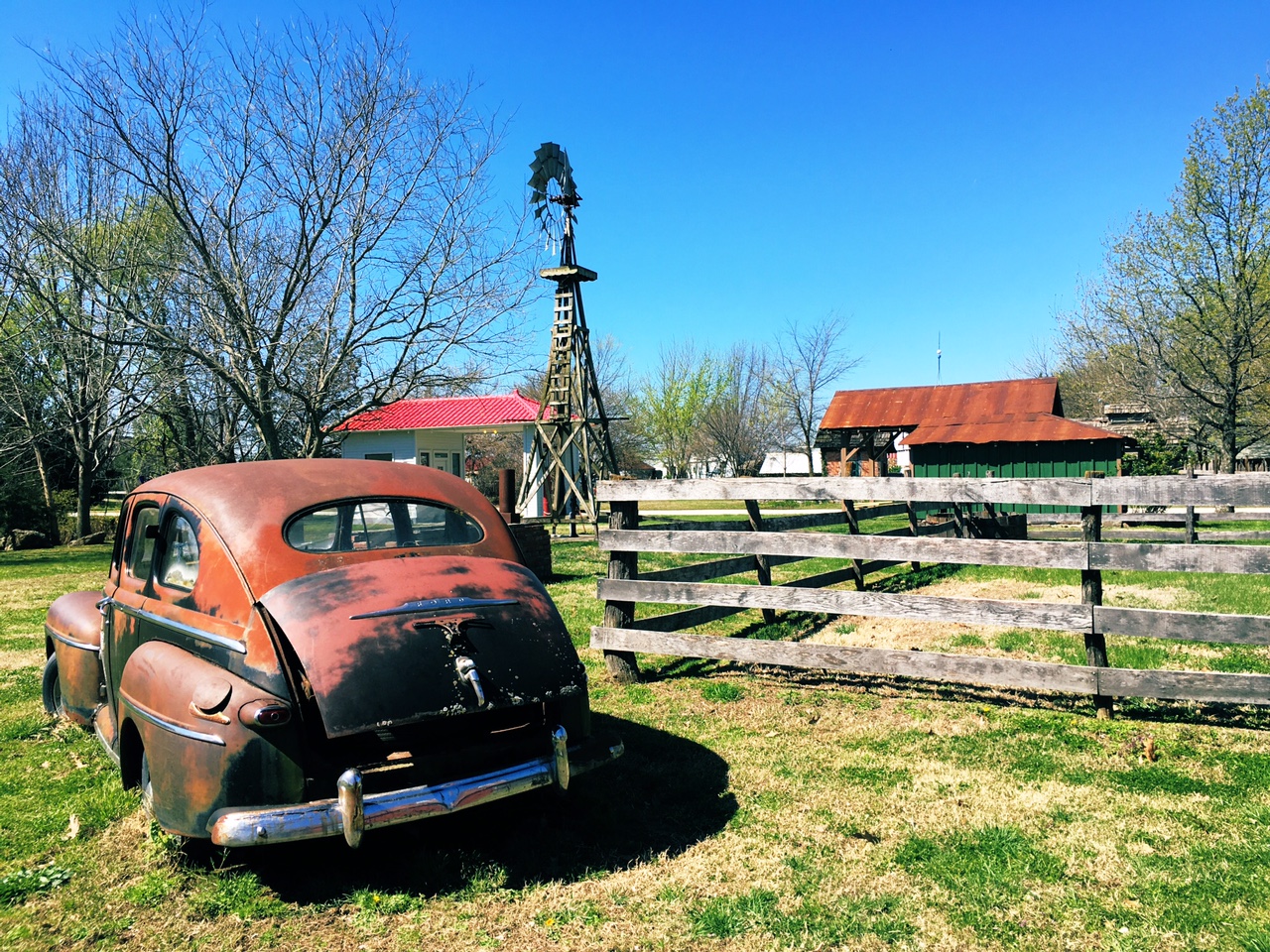 Red Oak II
Created by local artist Lowell Davis, Red Oak II is Instagram heaven (and one of Missouri's best-kept secrets). Enjoy strolling through roads of authentic 1930s school houses, gas stations, dining cars, automobiles and a fully-restored barn selling delicious frozen custard in summer. There is also a gang of very friendly dogs there to greet you. Located outside of Carthage on historical Route 66.