A lazy Sunday afternoon in late August seemed like a perfect time to take the iconic Branson kayaking trip... floating the roughly 10 mile stretch of Lake Taneycomo from Table Rock Dam to the Branson Landing.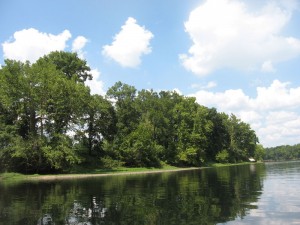 Lake Taneycomo is one of the Midwest's largest cold-water lakes... and it's definitely cold water, even in the middle of summer! There was no water being released from the Table Rock Dam the day we floated, yet the water was still a chilly 50 degrees! Certainly too cold for a swim, but perfect to dip your hand or legs in for a moment to cool off from the August heat.
If you aren't bringing your own boat, you can rent kayaks from Kayak Branson and Main Street Marina. Kayak Branson, an outfitter located on Hwy. 165 across from Table Rock Lake State Park and State Park Marina, located at the Branson Landing on Lake Taneycomo. Both offer a number of Kayak and Canoe options. Kayak Branson also offers shuttle services to and from popular boat ramps on Taneycomo and Table Rock Lake. Maybe you'd like to try Paddleboarding, Hydro-bikes, SUP's, Craigcat rentals, or an ECO-tour? State Park Marina has that available too.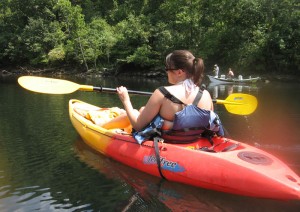 After putting in, your first test might be navigating the fly lines and numerous anglers wading in the shallow headwaters. Below the trout hatchery, that part of the lake is known as the "trophy area" and is one of the most popular sites in Southwest Missouri for trout fishing. 
Your goal might not be to catch a trophy Brown Trout ... but you'll see plenty of the prized fish darting through the water or jumping above the surface to catch an insect. It all adds to the enjoyment of a leisurely float down this beautiful, unique lake.
When the Table Rock power plant isn't generating electricity, the lake will have virtually no current. According to a guide, when the dam is generating power, the current is swift enough to make the 10-mile trip in about two hours. But with no current, the trip will take closer to four hours, and your forward momentum is all paddle power. But it isn't difficult; with minimal effort, the boats glide downstream at a gentle pace of 2-3 miles per hour (although you'll feel the burn in your arms and shoulders the next day, if you've been slacking on exercise). 
Floating Taneycomo in a kayak is a very unique Branson experience. It's not far removed from the hustle and bustle of Branson, but it's so quiet and peaceful that you might end up whispering at times. In this solitude, the only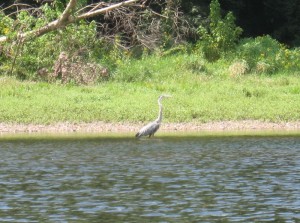 sounds you hear are the paddles moving through the water, an occasional quack of a duck or honk from Blue Heron... and several waterfalls streaming down the bluffs adjacent to the lake.
Lake Taneycomo is completely different than it's sister, Table Rock Lake, which is bustling with boats, jet skis, parasailers and swimmers. You might only see a half dozen other boats along the entire float. Everyone waves, but also speaks in hushed voices... after all, you don't want to startle the fish and birds!
Along the trip, you're likely to see a variety of the lake's wildlife: many herons and ducks, an otter and even the occasional bald eagle. You'll also see a handful of Branson-area landmarks along the way, including Pointe Royale, College of the Ozarks, Lilley's Landing and the U.S. 65 bridges.
Eventually, you'll catch sight of Downtown Branson and Branson Landing, where you can pull boats out at the public boat access near Scotty's Trout Dock. That's also when you'll realize how much of an upper-body workout you got paddling down the lake.
The shuttle will meet you at the ramp, and then take you on a 15-minute ride back to your car.
Things to bring with you: Sunscreen, a watertight bag, a small camera, cell phone, snacks, water or sport drinks, towel, sunglasses and a hat. And of course if you fish from your kayak, the appropriate gear and lures. Wear a swimsuit and plan to get at least a little wet.