Branson is not only full of world-class singers, musicians, comedians and illusionists, it's also a town that encourages budding talent in young adults.
With nearly 100 shows performed weekly, students can benefit from the variety of entertainment in the Live Show Capital of the Midwest. With so many fun attractions, they'll have many special memories to last a lifetime. Whether you're looking to hold a competition, attend workshops or put on a special performance, here are some top opportunities for performing youth groups in Branson.
PERFORMANCE CLINICS & WORKSHOPS
Branson On Stage Live!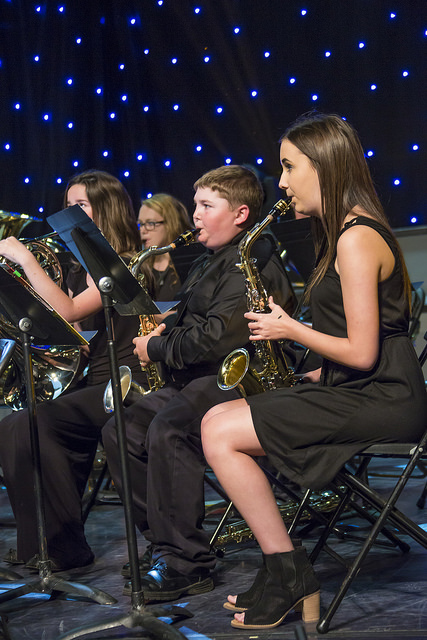 Not only will their custom packages help with all your performing needs, Branson On Stage Live can also book accommodations, as well as provide you tickets and itineraries to the area's top attractions. You'll be given a performance coordinator who will guide your students through a pre-show clinic, dress rehearsal and sound check in preparation for your group's performance. When it's time for the big show, they have a variety of venues to choose from including a chance to be the opening act for Legends in Concert or The Haygoods.
Clay Cooper Theatre
The popular Clay Cooper Theatre across from the Titanic Museum offers clinics in a variety of performance disciplines including instrumental, choral and show choir groups; dance, cheer and gymnastics; acting and drama clubs; and a workshop on auditioning. If your group includes 10 students or more, you'll qualify to be the opening act for a number of their shows including Clay Cooper's Country Express, Hot Rods & High Heels, or Red Hot & Blue. They also offer recording services if your group would like a keepsake of their Branson performance.
Hughes Brothers Theatre
Through the Hughes Brothers Theatre's innovative "Tag…you're it!" package, students will have the opportunity to perform before the theater's popular show "It"; receive a special musical arrangement for their finale; learn choreography and direction from the theater's director; and take part in a workshop focusing on stage craft, choreography, movement, stage presence, vocal technique, sound and lighting, and other topics. After the show, they'll have the chance to hang out with teenage cast members of "It" at The Track Family Fun Park and forge new friendships and showbiz connections.
Million Dollar Quartet at Welk Resort
This new production of the Tony Award winning musical Million Dollar Quartet focuses on a time in 1956 when Elvis Presley, Johnny Cash, Jerry Lee Lewis and Carl Perkins performed one of the greatest rock jam sessions of all time. The Welk Resort Theatre not only offers opportunities to open for this spectacular show, but also provides youth clinics and backstage tours. It offers comfortable resort accommodations onsite and features the indoor/outdoor water attraction The Splash-A-Torium, mini golf, a game room and more for plenty of post-performance fun.
The Starlite Theatre
The Starlite Theatre is home to top shows including The Texas Tenors (as seen on "America's Got Talent") and GRAMMY Award winner Billy Dean. The popular theater is a first-rate venue for your students to have a full performing experience and offers pre-show performance opportunities, workshops, clinics, and a special meet-and-greet with its entertainers.
ADDITIONAL PERFORMANCE OPPORTUNITIES
The Baldknobbers Jamboree
The oldest running show in Branson, The Baldknobbers Jamboree has been delighting audiences with their country music and comedy for over 50 years. They also recently launched their own reality TV series, "Branson Famous," on TruTV. Students will enjoy the opportunity to be featured as their opening act, as well as attend a meet-and-greet with the cast.
Dolly Parton's Stampede
Your youth group can experience the thrill of performing for large crowds of up to 1,000 people at Dolly Parton's Stampede. Whether a student band, vocal group or dance troupe, Dolly Parton's Stampede delights in showcasing young talent before their popular dinner show. As Dolly says, "There is just no experience like playing to a live audience on a real stage. It makes you feel like a star! That was one of my greatest joys as a young person." Performance opportunities are provided free with your group's paid booking to that evening's dinner show but be sure to call first to schedule a date and time.
Welk Resorts
If you're looking for a full theater rental, the Welk Resort has a state-of-the-art 2,200-seat auditorium. Rates are negotiable and can be built on your specific needs and budget. 
BEHIND-THE-SCENES TOURS
Sight and Sound Theatre Tour
Visit the spectacular cast and crew at Sight and Sound Theatre. An actor from their current performance will lead you through a behind-the-scenes tour, including a visit to the exotic animal cast dressing room. Your group of aspiring performers will find out what it's like to perform before millions each year on a stage 300 feet long.
After the thrill of attending workshops and performing, there's no shortage of fun for your youth group in Branson.