Since German immigrants settled Missouri beginning in the early 19th century, the Show Me State has seen its own booming wine culture. In fact, in the 1880s, Missouri produced more wine than any other state, and even today has more than its share of vineyards and wineries. Branson may not be in the heart of Missouri's Rhineland corridor, but it boasts several unique wineries that offer tours, tastings and retail options for southwest-Missouri visitors to enjoy.
With its long, hot and humid summers, Missouri's climate is excellent for growing grapes, and its moderate average temperature is ideal for the natural cellaring of wine. The state's most prominent grape variety is the Norton, which doubles as the official state grape. Various wineries also specialize in their own varieties, including Native American-cultivated grapes such as the Concord and Catawba, as well as French-American hybrids including the Vignoles and Seyval. Branson visitors can find most any variety of Missouri wine in Branson, and they can also try varieties they've never before experienced.
Curling Vine Winery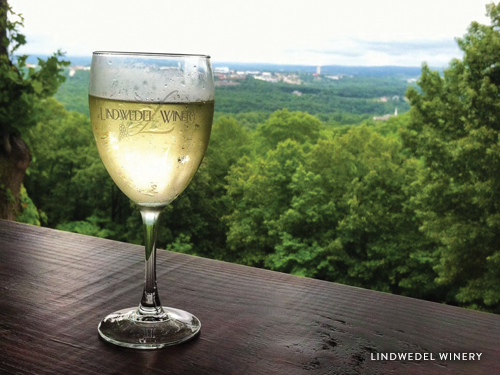 One of Branson's most popular attractions, Curling Vine Winery has offered thousands of daily visitors tours and tastings since its 1986 opening. Immediately upon entering the location, Branson visitors can observe an enormous grape press dating to as early as the 1830s.  Used to press grapes in eastern Missouri during the early days of Missouri's wine industry, the wooden bin could hold as much as 2,000 pounds of grapes as two people would turn the iron wheels on either side to press a huge wooden disk into the grapes, extracting their juice.
Curling Vine Winery may not use such traditional equipment anymore, but visitors to the Branson location are invited to free tours of the facility, bottling demonstration and wine and juice samples before browsing the large gift shop with all things wine and grape related.
Visitors to Curling Vine Winery can taste a variety of wines including the popular Norton red with its dry, full-bodied flavor and complex hints of fruit and oak.  Meanwhile, fans of white wines can sample varieties such as the Vidal Blanc, the fine dry wine with its crisp, light and fruity flavor and hints of oak and spice; or they may prefer the semi-sweet Constant White.  A sweet, German-style white wine loaded with luscious, ripe-fruit aromas and flavors.  Curling Vine also offers its Twisted varieties that offer extremely complex flavors.  Choose from Twisted Peach, Twisted Berry and Twisted Sangria which are favorites. 
Mount Pleasant Winery
With its vineyards founded in 1859, Mount Pleasant Winery features 12 grape varieties grown on 78 acres in Augusta, Mo. Its Branson location, opened in 2008, features a tasting and bottling experience perfect for the connoisseur of Missouri wines. Mount Pleasant patrons can choose from a number of the winery's award-winning wines and even bottle their own from a specially-designed 600-gallon French oak barrel.
Mount Pleasant also offers a Wine 101 class, where visitors can learn the art of wine tasting that is sure to enhance their appreciation of both wine and winemakers. For $15 per person, they are guided through the ways to use their basic senses to properly taste wine, while they also learn how to properly pair various wines with different foods.  At the end of the course, visitors even receive a complimentary Mount Pleasant wine glass as a souvenir.
Those who prefer to simply sample Mount Pleasant's wine varieties can partake in a free tasting experience in which they are invited to try various wines ranging from dry to sweet as they learn about the varieties of Mount Pleasant's wines.
Just like many of its fellow Missouri wineries, Mount Pleasant features the popular Norton in its Bethlehem Valley Norton wine, as well as other dry reds, including its Cabernet-Sauvignon Estates with its aromas of toasted coconut, berry crème brulee, dried current and sweet spices. Other Mount Pleasant reds include the off-dry St. Vincent Estates, with aromas of strawberries and blueberries, and the sweeter Highland, featuring full aromas and flavors of cranberries, blackberries and raspberries. Those who prefer sweet reds can choose from the classic Concord or the sweet and fruity Harvest Red.
Mount Pleasant also offers a fair share of white wines, from its dry Chardonnay and golden Chardonel to the sweet Harvest White and fruity Hauswein, featuring a green-apple taste with a slight hint of lemon. The winery also features a variety of sparkling whites, full-flavored ports and even non-alcoholic sparkling juices.
Lindwedel Winery
No Branson wine tour would be complete without visiting the Lindwedel Winery, a small location with incredible views and a casually elegant atmosphere. While its wines are actually produced in a separate 15-acre location just west of Branson, its wine garden offers visitors free tastings and the ability to relax with their favorite varieties paired with delicious snacks. Or if they prefer, visitors can bring their own food and enjoy it with their chosen wines on a deck overlooking the scenic property. The location even features live music throughout the summer.
Lindwedel's signature wine is its Frontenac, produced with the grapes it grows on its own nearby Rose Hill vineyards. The cold, hardy Frontenac grape is dark red with a pleasing cherry aroma and flavors reminiscent of plum, berry and wild black cherry. Aged 14 months in stainless-steel tanks, the Frontenac offers a lighter-bodied wine for those who typically enjoy both classic reds and whites.
Lindwedel also produces 12 other varieties, all made from Missouri grapes shipped fresh to its winery. From the dry, bold and full-bodied Norton, aged 18 months in American oak barrels, to the sweet Table Rock Red with flavors of cherry and raspberry, there's a Lindwedel red wine to go with anyone's preference, whether it be dry, semi-sweet or sweet. The sweet and fruity blackberry wine, made from locally-grown berries, offers a sweet and fruity flavor that tastes best chilled.
Lindwedel also offers a variety of white wines, including its dry and off-dry Vidal wines, the semi-dry Valdin Muscat and semi-sweet Vignoles. Those who prefer a light and sweet wine will love the Table Rock White, made of Symphony grapes, that truly dazzles the palate with a floral aroma and flavors reminiscent of honeydew and tropical fruits. The winery also features dessert wines including the Late Harvest Valvin Muscat and Ron's Harbor dessert wine made from Norton, Chambourcin and Baco Noir grapes and aged at least three years in oak barrels.
Although Lindwedel Winery doesn't offer tours of wine-making facilities, its wine garden and surrounding property is available for weddings, showers, parties and reunions.