When the sun sets on the Ozarks hills and valleys, and legions of visitors pack it up from Branson's famous attractions, the fun is only just beginning. A host of bars, taverns and nightclubs await locals as well as visitors, who make memories (or forget them) with plenty of food, drinks and entertainment in a variety of settings. Wondering what to do in Branson at night? Check out this list of eight Branson hot spots after dark:
Parakeet Pete's Skydeck
Parakeet Pete's Skydeck, located directly across from the Branson Landing in the area known as Mount Branson, offers a one-of-a-kind experience for customers looking to extend the excitement of a Branson day. Guests of the SKY Deck arrive via Parakeet Pete's Waterfront Zipline located at Branson Landing, and moments later experience spectacular views of historic downtown Branson. Every Friday and Saturday night of 2016, weather permitting, the SKY Deck hosts Zip & Sip Evenings beginning at 7 p.m. Zip & Sip Evenings at The SKY Deck allow guests to arrive in a truly unique way and experience all the SKY Deck has to offer while sipping cocktails, taking in the scenic views, star gazing, and enjoying live entertainment.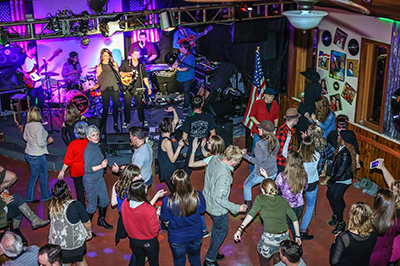 Branson Center Stage
At the premier Branson eatery featuring live entertainment, where everyone is a friend and most are like family.  With a menu featuring made-from-scratch foods, delectable daily specials and 21-day aged steaks, Branson Center Stage also showcases a variety of music performed by aspiring young musicians as well as culmination of tenured entertainers.
Ernie Bigg's Dueling Piano Bar
At Ernie Bigg's Dueling Piano Bar the show revolves around guests' requests and audience participation is a must. The talented pianists hate being stumped and hit the stage every night with an "if you can say it, we can play it" attitude. A perfect place for birthdays, bachelor and bachelorette parties, reunions or just a great night out, Ernie Biggs also offers a full menu including appetizers, soups, salads, sandwiches and "Chicago-style" pizza.
Crazy Craig's Cheeky Monkey Bar
Crazy Craig's Cheeky Monkey Bar is one of Branson's most popular venues for drinks, fun, dancing, games food and more. The Cheeky Monkey Bar features daily drink specials, live DJs, themed parties, live bands and more. Only a few miles from the strip and within view of Table Rock Lake, guests are sure to love the fun atmosphere and easy-going attitude while enjoying drinks and a night out with friends. Check out our bar entertainment calender and see who is playing this week. Then come out and get cheeky!
Outback Pub
The atmosphere-rich pub offers unique appetizers, sandwiches, Australian wines and more than 100 varieties of beers and beverages. The Outback Pub also offers live nightly entertainment, with bands both upstairs on the outdoor deck and downstairs in the lounge from 9 p.m. to 1 a.m.
Clear Lounge
Clear Lounge is a cocktail lounge located off the main lobby of the Hilton Convention Center Hotel. Clear serves up a great mix of music, food and libations in a comfortable setting, and patrons even have the opportunity of enjoying cocktails around the hotel's outdoor pool.
Waxy O'Shea's Irish Pub
Branson's only Irish pub and most exciting bar in town, Waxy O'Shea's teleports patrons straight to Dublin with its authentic Irish atmosphere. Waxy O'Shea's offers the largest variety of draft beers in town, and the spirits flow plentifully and generously. Visitors rave of Waxy's unbeatable happy-hour specials, impeccable food and drink menu, and some of the best live music in the area.
Vintage Paris
Looking for a more relaxed evening setting? Vintage Paris is a quaint and cozy coffee shop in historic Downtown Hollister, serving its own hand-roasted specialty coffee, organic loose-leaf teas, fine wines, craft beer, cigars and local pastries.