Now, more than ever before, our pets are beloved and cherished members of the family. Sometimes it's hard to fully enjoy family outings and vacations knowing that our favorite furry pals are kenneled back home. Fortunately, there are plenty of ways your pet can enjoy your Branson vacation right along with you. From numerous pet-friendly activities and lodging options to parks where Fido can run and play, you'll be able to fill up your Branson calendar with activities for the whole family. Here's a few of our favorites to get you started on your plans:
Branson Landing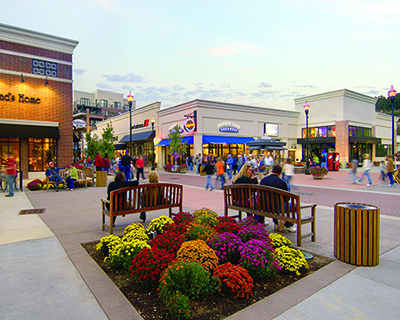 Pets are allowed throughout the outdoor areas of the Branson Landing, although various stores dictate their own indoor pet policies. Just be sure dogs are attended to and on a leash, and you clean up after them (baggie stations are located throughout the Landing for your convenience). One place pups love to visit is the Don't Forget About Me store offering a unique variety of souvenirs perfect for dogs and cats. The shop takes pride in providing 100-percent natural and made-in-the-USA toys and treats in a fun shopping atmosphere. Why not take your best friend for a walk and let him pick out his own gift to take home?
There's plenty more to do with your pooch at the Branson Landing. Take him to lunch with you in the outdoor dining area of Black Oak Grill. Later, record your Branson memories at Buster's Old Time Photos. Dress your pet up in an old-time getup by itself or right along with the rest of the family. Lauded as a favorite pet-friendly travel activity by both National Geographic and Animal Planet, Buster's Old Time Photos offers not only a nostalgic trip to times gone by, but also some good old-fashioned fun – and your photos are ready in minutes!

Outdoor Fun
Pets can enjoy all Mother Nature gave the Ozarks in one pet-friendly location. Take your dog with you to Table Rock State Park and go swimming, hiking, boating and camping, on a fishing trip or even for a picnic lunch. The lakeside park features miles and miles of pet-friendly nature trails and campgrounds, provided there are no more than two dogs per campground, and they remain on a leash.
Located within Branson's Stockstill Park, the Elmo and Rosalea Marrs Memorial Dog Park is 1.5-acre fenced area where dogs can go off-leash to run, play, socialize and exercise. With separate areas for small and large dogs, the park features concrete pathways, a pavilion, picnic tables and benches, as well as agility and play equipment for the dogs. It's just $5 to visit the park, plus an extra $2 for each additional dog.
Access Lake Taneycomo boat docks through the Branson Lakeside RV Park, located next door to the Branson Landing. The fishing docks feature two dog-walking areas, but pet owners can also explore the surrounding shaded streets, ponds and walking trails, provided Fido is on a leash.

Daycares
While there's plenty of pet-friendly fun to be had in Branson, you're sure to have a few items on your itinerary that aren't appropriate for furry friendly. After all, you probably wouldn't want to take your dog to see Presley's Jubilee or Liverpool Legends – and he probably wouldn't enjoy it anyway. Fortunately, there are plenty of options better than leaving pets alone at the hotel.
Branson Pet Resort is the perfect place for both dogs and cats to relax while you're away for the day. The resort features the Doggie Den, a climate-controlled area lined with blankets, and a covered outdoor exercise area. Cats stay in a special room with luxurious kitty condos and windows overlooking bird feeders.
Camp Little Paws offers a relaxing country retreat for dogs and cats. The resort features a large indoor area for dogs and a covered area where they can run, while cats enjoy their own large penned area where they enjoy interacting with staff. While the facility offers boarding, it also serves a convenient and trustworthy day-camp option for vacationing pets.
Branson Veterinary Hospital also offers daycare services for pets. Dogs stay in their own luxury suites, large enough for any sized pooch, while cats enjoy the peace and quiet of a no-barking zone in their own area.

Lodging
Need a pet-friendly place to stay while you're in Branson? Try any of these hotels and resorts that welcome pets:
Chateau on the Lake – Resort features some pet-friendly rooms that allow two pets weighing no more than 25 pounds each for a $40 fee.
Hilton – Both Branson locations welcome two pets weighing no more than 75 pounds for a $50 fee.
La Quinta Inn – Hotel allows two pets of any size at no additional cost.
Hilton Promenade at Branson Landing – Hotel welcomes two pets, weighing 75 pounds or less, for a $50 fee.
Best Western Plus Landing View Inn & Suites – Motel offers some rooms that allow two dogs, 70 pounds or less, for a $10 fee per pet, per night.
Quality Inn – Both Branson locations feature some pet-friendly rooms which welcome two pets, 100 pounds or less, for a $10 fee per night.
Days Inn – Hotel near the strip welcomes two pets of any size for $11.60 per-night fee.
Emory Creek Bed and Breakfast – Inn offers a room that welcomes one pet of any size for $25 fee or two pets of any size for 35 fee.
Hotel Grand Victoria – Hotel features some rooms that allow two well-behaved pets weighing less than 20 pounds for a $35 fee.
Branson Vacation Inn & Suites – Lodge features a limited number of pet-friendly rooms that welcome multiple pets of any size for a fee of $12 per pet, per night.
These are only a few of the many pet-friendly hotels, resorts and vacation rentals in Branson. Of course you'll always want to check with the venue when making reservations for details and availability.