Even the best-planned vacations have to deal with the elements now and then. Luckily, there's so much to see and do in Branson, rain can't dampen your fun.

Although Branson is known for its outdoor beauty, you don't have to worry if Mother Nature doesn't cooperate with your travel plans. Museums, live shows and fun shopping options await when your day outdoors gets moved indoors. Check out the attractions and activities that make rainy days enjoyable in Branson, where fun is delivered — regardless of the weather.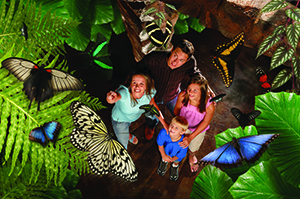 Butterfly Palace and Rainforest Adventure
Butterfly Palace and Rainforest Adventure: This is an experience not to be missed, even when you're trying to avoid the rain. More than a thousand butterflies, along with birds and tropical plans, fill a beautiful aviary. Kids enjoy the Magic Forest Mirror Maze and the Living Rainforest Science Center, where reptiles and amphibians native to rainforest habitats await.
Branson Auto and Farm Museum
Branson Auto and Farm Museum: An amazing collection of autos (from a 1928 Buick to a 1957 Chevy Bel Air and even a 2004 Ferrari) are found at this museum. It's a car collector's dream come true, as many of the vehicles are for sale! Tractors and implements also are on display, and the inventory rotates regularly. This is the place to visit if you want a conversation-worthy souvenir to take home.
World's Largest Toy Museum
World's Largest Toy Museum: Embrace your inner child with a visit to this haven for toy enthusiasts. Everything from tin toys and trains to Barbie dolls and modern action figures are found at this museum, which boasts more than 1 million (yes, you read that right) toys!
Talking Rocks Cavern
Talking Rocks Cavern: When it's raining outside, it's fun to head inside – and underground – at Talking Rocks Cavern. This natural attraction in Branson West features eye-popping natural formations during an hour-long tour (steps and handrails help you navigate the trek) and the temperature is an always comfy 62 degrees.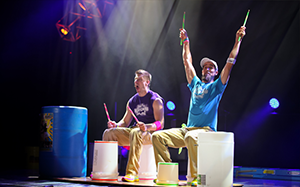 Branson Shows
Find the Best Seats in the House at one of Branson's famous live shows. With more than 40 theaters, dozens of live shows and hundreds of performers, Branson's entertainment scene is vibrant and varied, offering musical genres to suit every style and taste.
Branson Shopping
Ease your rainy day blues with retail therapy at the shops and malls of Branson. Whether you're an outlet shopper on the hunt for a great deal, looking for something unique from a mom-and-pop store or prefer name-brand retailers, you find it in Branson. There's no better way to spend a rainy day!
Of course, these are just a few of the fun outings waiting for you in Branson, rain or shine. No matter what the forecast calls for, there's always a 100 percent chance for fun in Branson. Learn more and start planning your getaway today at ExploreBranson.com, and don't forget to order your Official Branson Vacation Guide.