You'll be speechless at the end of the day.
It's not that you won't have words to describe how much fun you had riding roller coasters at Branson's Silver Dollar City, but because you'll likely be too hoarse from screaming with delight.
From smaller coasters ideal for young visitors to mammoth thrill rides that have drawn international attention, there's sure to be a coaster ride you'll always remember at Silver Dollar City.
Here's a look at what's waiting when you visit this popular Branson theme park: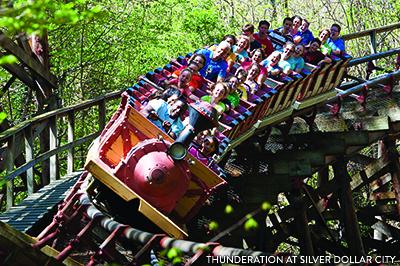 The Grand Exposition Coaster is ideal for young visitors and grown-ups who aren't quite ready for the larger rides. It tops out at 20 mph and doesn't get more than three stories off the ground.
Step indoors to see what awaits when you ride Fire in the Hole, which puts you in the midst of an Ozarks adventure and a burning town with only one way out – a bridge engulfed in flames.
The speed gets cranked up a bit for Thunderation, which is noted for its incredible 80-foot drop and top speeds nearing 50 mph. 
If you think Thunderation is fast, get ready for Wildfire. Along with a series of upside-down thrills, there's a 15-story drop and top speeds reach 66 mph.
If speedy coasters are your thing, Powderkeg is your ride. Right out of the gate, it puts you back in your seat, going from 0 to 53 mph in less than three seconds. There's a huge 110-foot drop and top speeds later in the ride reach 64 mph.
If you think Powderkeg is fast, you'll find Outlaw Run is downright criminal. This wooden coaster is the world's second fastest, with a top speed of 68 mph. Other highlights include upside down loops and a 720-degree barrel roll.
If you enjoy riding roller coasters, you need to spend a day at Silver Dollar City. Before you spend the day riding the rides, you can also learn more about the physics of roller coasters.  
Along with the thrill rides, you'll have the chance to enjoy the beautiful scenery of the Ozarks, see craftsmen at work, enjoy live shows and, of course, eat yourself silly. Make Silver Dollar City a part of your next Branson vacation and be sure to share pictures from your getaway on social media, using #ExploreBranson.