Everything you are about to hear comes from Six. Human. Voices.

Six reasons to see SIX:
1. It's all in the family. As the brothers describe, they were inspired by their mother to sing, and coached by their father. Both methods of parental guidance paid off in this family – each brother adds a unique and beautiful voice to the group. The chemistry on stage is natural as well; good-natured sibling rivalries are exposed, a fight for the spotlight is established, and the members find no dearth of comedic material to pull from because of their familial ties. These brothers have flourished from a lifetime of practice and experience with one another and their sound shows it. Blending personalities, vocals, and song genres impeccably, the brothers show why they've stuck together through thick and thin to produce SIX.
2. A true underdog story. We all love the Cinderella stories that pepper our lives. The SIX show is one of these. Not only do these brothers possess immense talent, but also have incredible sense of work ethic that has brought them to the stage they stand on today. See, the six brothers you see on stage are only six of ten that exist in the Knudsen family. Their parents worked hard to provide for the whole family. In addition to maintaining a career, the boys' father also worked diligently with six of the brothers, teaching them gospel hymns. Fast forward a few years and miles from the stage of their church and you'd find the six brothers in Southern California, singing a cappella on the streets for change. They eventually secured enough money for a small apartment and several promising gigs that proved to be their beginning in the world of show business. After having the opportunity to perform for A-list celebrities such as Clint Eastwood, the boys went on to perform at Disneyland, won the Harmony Sweepstakes in 1990 and then used their resources and talent to open the theater that thousands of fans flock to each year here in Branson. If that isn't a story about what hard work, determination, and the love of family can achieve, then I don't know what is.
3. Some of the best vocals you'll hear in Branson – or anywhere. Each of the brothers retains his own unique sound while still managing to blend vocals during the group songs. Impeccable renditions of songs such as "What A Wonderful World", "Big Girls Don't Cry", and "My Way" are only a few of the dozens of songs performed throughout the show. Old songs and new are interspersed throughout the show to provide a versatile listening experience for audience members, making the show a great one for the whole family. What's great about the brothers is that all octaves are covered as well – from the high pitched notes of songs such as "Sherry" to the low, floor-shaking bass accompaniment in other songs, the brothers can do it all.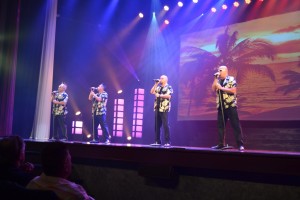 4. "Everything you are about to hear comes from Six. Human. Voices." That's the slogan that greets audience members when the lights dim and the crowd sits anxiously awaiting the performers to come out. A few seconds later, a play on the familiar Dolby Digital sound that opens movies is enough to make you wonder if you can trust your ears the rest of the performance. The brothers aren't just awesome singers, but they also specialize in mimicking guitars, drums, trumpets and many other instruments. They perform a highly entertaining segment on the show where they play movie clips and provide the sounds for them. Car chases, horse races – you name it and these brothers can provide the perfect sounds. It's amazing to see what six human voices can do.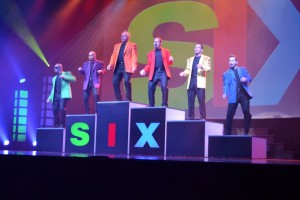 5. All the extras. The vocal performance of these talented brothers is like a really good chocolate cake; it doesn't need frosting, but no one would complain about a fudgy, rich layer of chocolate frosting on top. The brothers add frosting, whipped cream, a cherry, and throw some chocolate shavings on top of their performance. As if the incredible vocals aren't enough to satisfy the crowd, the brothers dance, interact with the audience, showcase a wide variety of song-appropriate attire, park their fleet of six slick mustangs in front of the theater so fans can see them, and pile a good dose of humor into the show. They are genuine, funny, multi-faceted in their talents, and host a meet-and-greet after the show. If you think you're going to see SIX just for an incredible night of vocal performance, you'll be pleasantly surprised by the amount of additional talent you'll see.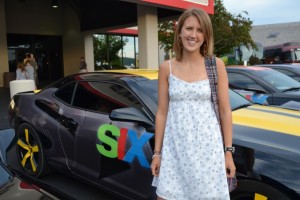 6. Inspirational messages.  If all of those reasons weren't enough to entice you to come to see SIX, maybe the fact that underneath all of the humor and energy of the show lies inspirational messages that the six brothers highlight towards the end of their performance. They honor the veterans with a series of songs, and also return to their roots when they sing incredible versions of traditional gospel hymns. Along with these two areas of respect, they also pay tribute to their mother who passed away a few years ago with a beautiful and soul-stirring song called Love Times Ten that was written by one of the brothers in remembrance. The brothers prove themselves to be incredible entertainers capable of portraying their deepest emotions through their work with these series of inspirational messages performed towards the end of the night.