Whether it's jogging, yoga, hiking, biking or stand-up paddle boarding, the Branson area offers conference attendees plenty of ways to stay healthy while they are in town.
Wherever attendees are staying, many hotel properties provide on-site fitness facilities. In addition, the surrounding Ozarks area, mountains and nearby lakes are a great setting for outdoor individual or group exercise.
Center Yourself with Yoga
If attendees' personal preferences lean toward yoga and meditation, there are several options for getting plugged into a class in Branson.
Just one block away from the Branson Convention Center is Kom Hot Yoga, the area's largest yoga facility, with a variety of classes from yin fusion to cardio to body sculpting. Kom's yoga room is climate-controlled, featuring heat, humidity and air purification to enhance the experience. Kom also offers Stand-up Paddle Board (SUP) Yoga, an on-the-water class on scenic Table Rock Lake with paddle boards provided. Seasonal dates of operation may apply. The studio's instructors are also available for special on-site or large group yoga.
Big Cedar Lodge has several daily group fitness classes that are available for guests and event attendees. Among these are yoga on the beach, yoga hikes, PaddleFit SUP, cardio classes, dance fitness and nature walks.
The Chateau on the Lake Resort, Spa and Convention Center has a yoga studio in Spa Chateau – and group classes can be arranged through convention services by request.
Run for Your Life (or Bike)
Whether you prefer a paved path, a hilly road course or off-road on dirt, the Branson/Lakes Area has a number of options for joggers and trail-runners alike. Additionally, the area's roads and trails are popular with bikers, who either bring their own wheels or rent bikes while they are here.
Branson Landing Boardwalk is a level, one-mile paved walkway along the Branson Landing that connects with the city's expansive hiking trail system.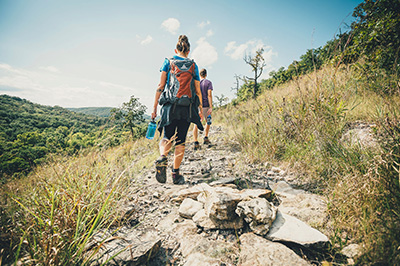 The Bluff Trail ends with 315 stone steps that ascend the mountain and connect with the rest of the Lakeside Wilderness Area, a 140-acre nature preserve and city park located just a few hundred yards behind the Dick Clark's American Bandstand Theatre. This park's wide main trail from the parking lot leads to a scenic overlook that is popular with runners and hikers.
The 2.25-mile Table Rock Lakeshore Trail is another fairly level, paved option that is popular with walkers, joggers and cyclists. The paved trail parallels the shoreline of Table Rock Lake from the Dewey Short Visitors at Table Rock Dam to State Park Marina and provides some great views of the lake and state park areas.
The rugged White River Valley Trail is one of the most popular mountain biking trails in Missouri, with trailheads located within Table Rock State Park. The nearly 12-mile system crosses several elevations and typographies and is also popular with hiking enthusiasts and trail runners. This trail is a short distance from Chateau on the Lake Resort, Spa and Convention Center.
Downhills Bikes offers rentals for Branson visitors, as does White River Kayaking and Outdoors. And Main Street Marina rents hydro bikes and kayaks, just minutes from the convention center.
The Branson RecPlex and AquaPlex are also great options for visitors who want to stay fit while in town. The 42-acre complex features several outdoor paved walking trails that form a loop of more than 1 mile. If they prefer, visitors can also pay a $2 activity fee to use the facility's indoor jogging track, gymnasium and locker rooms. The 12,250-SF AquaPlex, which is outdoor and open in summer months, offers six lanes for lap swimming for a $5 admission charge. This facility is only 5-10 minutes from our convention center and many of our hotels.
Board Meetings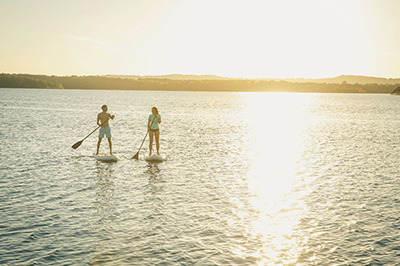 Stand-up paddle boarding is another popular recreation and fitness activity. Paddle boarders who come to the area have three different lakes to experience — Table Rock, Bull Shoals and Taneycomo — each with different scenery and characteristics. Table Rock and Bull Shoals are warmer-water lakes suitable for summer swimming, while Taneycomo is a chilly 48 degrees year-round and is more popular with experienced boarders.
Kayak Branson is one of the area's largest paddle board outfitters, as are White River Kayaking and Outdoors, 38 Paddle Co. and Main Street Marina.
Smooth Moves
Inside the Kom Hot Yoga studio is the Roots Juicery, which offers fresh-squeezed juices, smoothies, cleanses and booster beverages like wheatgrass, bulletproof coffee and ginger shots. Also within walking distance of the convention center on Commercial Street is Revive Juice Co., another locally-owned smoothie bar that features juices, cleanses, lunch wraps and more.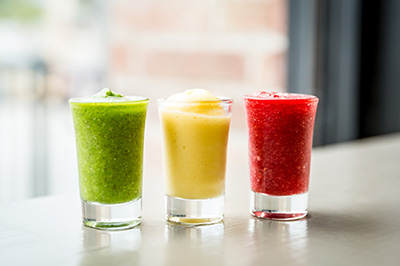 These starter ideas just scratch the surface of the great active activities that meeting attendees can enjoy in Branson. The CVB's Meeting and Convention team has even more suggestions of ways attendees can stay fit and happy while enjoying their conference or event in Branson. 
If you are looking for more information about bringing your meeting or conventions to Branson, click here.