Skip the expense and hassle of flying into JFK the next time you want to see Broadway-caliber show. Instead, visit the Missouri Ozarks – the folks here in Branson will take care of the rest.
Known the world over as home to great live entertainment, Branson offers a variety of live shows you don't expect to find in the middle of the country – shows offering a true taste of Broadway with epic production numbers, mesmerizing lighting and jaw- dropping set design.
For more grown-up pursuits, relive one of the most talked-about nights in music with "The Million Dollar Quartet" at the Welk Resort.
The story centers on a fateful December day in 1956 when four young musicians – Elvis Presley, Johnny Cash, Carl Perkins and Jerry Lee Lewis – met for a jam session at Sun Records in Memphis.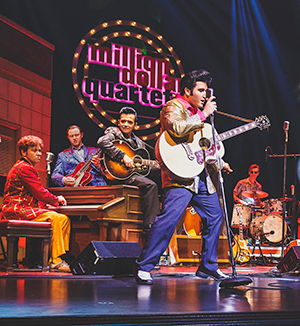 The sounds of the era, including classic hits such as "Blue Suede Shoes," "Fever" and "Great Balls of Fire," are part of the magic at this musical, which was a Tony award winner during its original run on Broadway. The show runs March - December, and is staged at 2:00 and 8:00 P.M. See the full schedule here.
If you'd rather have an experience that's more spiritual don't miss the epic production of "Moses" at Sight and Sound Theatres. Journey back through time and relive the golden spendor and pride of ancient Egypt, the poverty and oppression of the Hebrew slaves and the humble, broken man that God raised up to become their deliverer.
Not only will you be completely immersed in the spectacular, epic events of the story, but you will experience the humanity of Moses and the children of Israel as they struggle for faith, freedom and belonging. See the full schedule here.
As you can see, Branson offers a variety of Broadway experiences in the heart of the country. Learn more about these shows, and many more, at www.ExploreBranson.com.