You're in Branson, and the sound of a gentle current and the glimmer of the sun hitting the surface of Lake Taneycomo is calling your name. You want to be out on the water! There's no better way to explore one of the top trout-fishing destinations in the state than to set out on one of the many watercraft rentals offered by Main Street Marina.
Located in historic downtown Branson at the end of the Branson Landing, Main Street Marina is home to Main Street Lake Cruises and a variety of adventurous watersport equipment rentals. If you're in need of some lake time and want to satisfy a venturesome craving, check out the watercraft options Main Street Marina offers.
For a twist on traditional boating, hop on board one of Main Street Marina's CraigCats. These catamaran boats give a new meaning to recreational boating. The CraigCat happens to be the world's only compact power catamaran on the market. With side-by-side seating, dual action controls and a max speed of 30 miles per hour, the CraigCat is an excellent option for cruising, fishing and unwinding on Lake Taneycomo. You can even set out on a guided eco tour on the power vessels and learn about pivotal landmarks on Lake Taneycomo along the way. Eco Tours are only available at select times, so be sure to reserve them in advance by calling the Main Street Marina box office.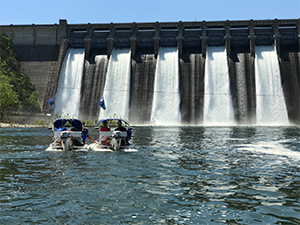 If you want a little more movement along your journey downstream, you might want to consider renting a HydroBike. The HydroBike is basically a human-powered watercraft. The bike can easily glide along stream at five miles per hour and is lightweight, safe and stable. If you're concerned you have a lack of balance, don't worry! The HydroBike is practically impossible to tip and can support 400 pounds with flotation.
Get a feel for catching waves right on the lake with a stand-up-paddle board (SUP). The SUP boards resemble oversized surf boards, but most riders use them on lakes and rivers. Lake Taneycomo is the ultimate location for learning how to use these unique boards. You can also get in your workout while using a SUP board. The watercraft has become a popular cross-training activity and exercises your full body. What a perfect and healthy reason to get out on the water!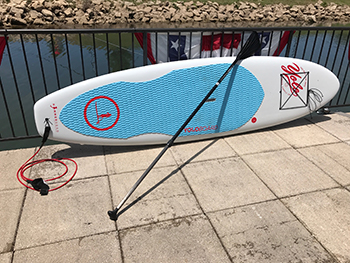 Lastly, if you're into more of a mainstream (no pun intended) way of water travel, Main Street Marina has you covered. Kayaking is a popular watersport for all ages. Most kayaks have cockpit style seating, but Main Street Marina houses sit-on-top kayaks, which allow kayakers to ride exactly how the watercraft sounds – on top of the boat. Take a friend or head out on the water by yourself. These kayaks are also available for fishing purposes.
Main Street Marina is open seven days a week, so you can choose when to hit the water at your convenience. These watercrafts are popular during the summer season, so be sure to make advanced reservations by calling (417) 239-3980 or visiting the Main Street Marina box office from 9 a.m. to 8:30 p.m.
Whether you're looking to relax, feel the wind as you ride the current or stretch your muscles, the watersports rentals at Main Street Marina can help you do it all.