The Ozark Mountains are beautiful—ask anyone. I have always been fascinated by the landscape of the Branson area, the beautiful lakes and large rolling hills.

Last week, during some free time one morning, I decided to get out and enjoy the countryside I live and work in every day. Being out in these hills never gets old, so I decided to take a hike.
I drove just ten minutes down the road to the Lakeshore and the Chinquapin trails at the Table Rock State Park. After parking at the marina, I picked up a map from inside the main boathouse and took to the trails, starting with the Chinquapin trail. While both trails are located in the same area of the park the difference in scenery was vast, making every moment new and refreshing. The Chinquapin trail is a natural trail that winds through the backwoods, exploring the scenery a little more intimately than the Lakeshore trail, which is paved and runs along the Table Rock shoreline.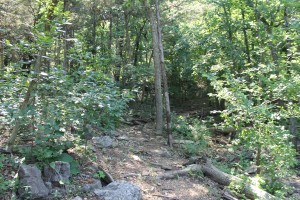 The Chinquapin, the less populated of the two trails, is a beautiful nature trail with varying scenery from beginning to end. It starts near the marina and winds up through the woods, across a few creek beds, over a couple bridges, through a small prairie and the campground. The trail was populated with squirrels, turtles and various native birds. About halfway through, I came upon a small outdoor theater where groups can gather to meet. Just minutes after seeing this, I came upon a patch of wild flowers growing just off the trail and soon found myself at the Main Entrance of the park. From here, I crossed over to the Lakeshore trail and finished the hike near the water with a nice leisure walk. The Lakeshore trail winds from the State Park Marina and stretches to the Dewey Short Visitor's Center, and it's commonly populated by strolling couples, joggers, cyclists and even dog-walkers.
What are the benefits of hiking? Enjoying the beauty of the Ozarks scenery, promoting good health and exercise and, for many people, just trying something new are a few! If you go hiking, it's wise to wear a pair of shoes with good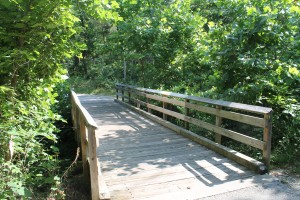 ankle support (and maybe even bug spray!). Bottled water is always encouraged.
The Table Rock State Park is home to many other local businesses, services and activities that are perfect for singles, couples, families and groups. You may find that it's not only the perfect place to take a relaxing walk or hike on one of the many trails, but you can also find a spot to cookout and picnic at the Main Entrance, go parasailing, FlyBoarding, rent a bicycle or a boat for the afternoon or even find a campsite and spend the night in the woods... and so much more. No matter what your outdoor interests, the State Park and Branson/Tri-Lakes Area have just what you are looking for.