4 Things To Do This Spring
Spring is coming in full bloom here in the Ozarks. Here are just a few ideas of what to do during your trip to Branson!

Winter is over. It's time to breathe in the fresh air of a new season. Spring in the Ozarks is a beautiful time of year, surrounded by the beauty of the Ozark Mountains. Branson offers many varieties of springtime activities to enjoy the world we live in and the people we love. Here are four great things to do on a spring day in Branson.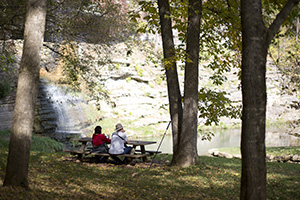 1. Experience the Outdoors
Spend a morning, an afternoon, or even a whole day at Dogwood Canyon Nature Park. Find yourself right up close to nature, winding through the valley trails and pathways, alongside beautiful Ozarks streams. Walk, run, or rent a bike or Segway as your take a tour through the hills. You can even stop to feed live buffalo, deer and elk on the tram ride! Sore through the Ozark Mountain trees during a zipline tour. What better way to enjoy the spring weather then racing through trees? Explore all the outdoor adventure that awaits in Branson!
2. Picnic and the Park
Spring days make the perfect days for picnics—not too hot, not too cold; all you need is a light jacket. And the next time the weather is right pack up a lunch, grab a basket (or a backpack) and head to the park for a picnic! Branson has 16 city parks in the area to choose from, including several state parks within the surrounding region. Here are a few great parks to get your picnic day started:
Stockstill Park is one of the largest parks in Branson, built around Roark Creek. Stockstill is perfect for picnics and other springtime activities, with pavilions, walking trails through the woods, as well as open fields, perfect for laying out a blanket and a basket. Even more, the park includes tennis courts, softball fields, a dog park, a skate park, and a large playground for your youngest family members. Restrooms are available at Stockstill Park.
Alexander Park and Sunset Park are neighboring parks near downtown Branson. With a mixture of grassland, trees, fields and trails, these parks provide just the right space for a whole afternoon of fun activities for you and your fellow picnickers. The parks are along the bank of Lake Taneycomo, so fishing poles are also a great addition to your plans. Sunset Park also has the largest disc golf course in Branson—maybe it's time to pick up a couple discs from the store and try something new!
Table Rock State Park, located off Hwy 165 on Table Rock Lake, is the ideal location for a picnic at the lake. Enjoy a nice afternoon in the shade of a tall oak tree, then cool off down at Table Rock Lake just a few steps away from wherever you are. Picnic tables, pavilions, and other amenities are available to guests, too. While you're there, enjoy a nice walk on the Lakeside Trail or the Chinquapin Trail and enjoy the beauty of the Ozarks that surround you—even play sand volleyball or ultimate frisbee in the upper field.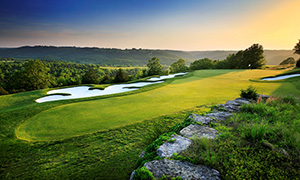 3. Going, Going, Gone… Golfing.
The golf scene in the Ozarks is quickly growing as Branson is becoming a nationally recognized destination for golf. Praised by The Golf Wire, Dick's Sporting Goods, and Forbes, Branson's golf courses have positioned the Ozarks as a Midwest hot spot for golfers of all ages and skill levels. With courses designed by people such as Tom Watson, Arnold Palmer, Tom Fazio, John Daly, and a new course currently being constructed by Ben Crenshaw and Bill Coore, why go anywhere else to play the sport you love most? Get your golfing buddies together and spend a late morning out on the fairways. Here's our list of our Branson courses that you're sure to love, click here. 

4. See You at the Zoo
What better way to spend a pretty spring day than seeing cute baby animals at the Promised Land Zoo?  Stop by the Zoo and meet our little, furry neighbors who live right here in the Ozarks. You don't have to travel to an African safari or the South American rainforests to see some of the most unique and friendly creatures—they're all right here in Branson. Take a tour through the park, watch live demonstrations with Jungle Josh and Buckaroo Brice, and check out Parakeet Paradise, a free-flying area for the birds where guests can feed and play with Parakeets. Stop in and visit the Promised Land Zoo, and make your Ozark Mountain Spring as warm and cuddly as the tiger pups you'll meet there.