BRANSON FERRIS WHEEL
ICONIC NAVY PIER FERRIS WHEEL IS NOW HOME IN BRANSON 
In 2016, The Track Family Fun Parks added a new, yet familiar, attraction to Branson's Highway 76. The iconic, 15-story-high Ferris wheel stood on Chicago's Navy Pier for the past two decades but is now a part of the Branson skyline.
The Branson Ferris Wheel gives the perfect opportunity to get some beautiful panoramas of the Ozarks landscape. Of course, while you're there, you can't forget to take a selfie in front of the dazzling structure.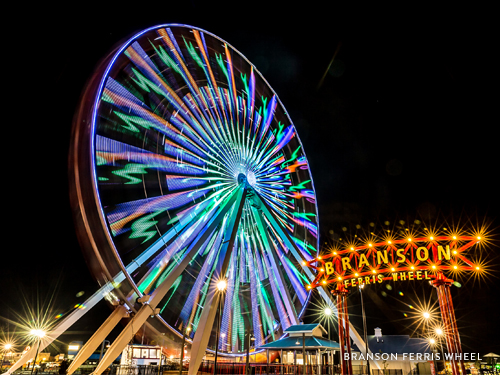 From 1995 to 2015, this iconic Ferris wheel been ridden by nearly 17 million people. That number will only grow with all the Branson visitors that come enjoy the Branson scenery from the top of the Ferris wheel.

With 16,000 LED lights, this Branson attraction lights up Hwy 76. This music and light specular will mesmerize you while you enjoy Andy's Frozen Custard.

Friday Once you arrive in Branson, settle in at your home away from home. Branson has accommodations for just about every budget and preference, so you are sure to find a...

THE YEAR OF SHOWS & FESTIVALS IN 2019 Beginning in the Spring with The Festival of Wonder, dubbed "A Most Amazing Entertainment Experience," Phoenix Fire takes center...