Branson Stories - Enjoying a Lake Weekend in Branson, Missouri
Explore Branson recently launched a series of interviews with some visitors to the Branson, MO area. We're calling them "Branson Stories" and the feedback we're getting couldn't have been better! During the month of August we've been featuring stories and photos direct from the mouths of our visitors and their Instagram accounts to showcase the unique visitor experience in Branson, Missouri.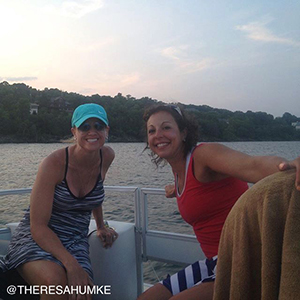 Our final Branson Story for August comes from Theresa H. from Raymore, MO.  We noticed that she posted numerous photos on her Instagram account during her recent family vacation that included some time at Table Rock and some Branson area attractions. We reached out to her and were so pleased when she provided us with her family favorites, tips on enjoying the destination and what her family enjoyed the most during their stay.
Theresa's Instagram account was filled with great pictures from her vacation in Branson. This image of parasailing with American Para-Sail really caught our attention and we asked her to tell us more about the experience.





"This photo is of me and my cousin Sarah going up in the parasail from State Park Marina. I have seen the parasailors out on the lake for several years and always wanted to do it. We had our family in town from Springfield and Chicago Illinois out on Table Rock, and we saw the parasail boat out on the lake. I said out loud that I've always wanted to go parasailing and my cousin Sarah said "well, why don't we just go parasailing then?"  We made reservations to go the next day! Our family came out on our pontoon boat and rode over to State Park Marina from Indian Point Marina to follow us around and watch. The guide was so great! He gave us an extra long ride, had us go right over our pontoon boat and my aunt and cousins got great videos and pictures. We went above the Branson Belle, had a great view of the dam, and could see into Branson. I would definitely do it again and would recommend it to anyone! It is well worth it for the experience!"
Theresa H. from Raymore, MO
Everyone loves a special treat while on vacation. Theresa was no different and we have to admit that we got a little bit hungry as we listened to her describe her favorite dessert from Cakes-N- Cremes Dessert Parlour.
When we asked Theresa about her favorite activities in Branson it was clear that the lake and water experiences led the way. Not surprising as Branson enjoy some of the best outdoor recreation in that state of Missouri.  Hear her describe in her own words what she loves the most about visiting Branson.
"My favorite part of the day was riding around on the boat, singing loud with my daughters, sister-in-law and mother-in-law, just enjoying the fresh air and great views, being in the moment. We love bringing family and friends out on Table Rock Lake, it's the best!"
Theresa H. from Raymore, MO
We always love to see a family having a great time together and it looks like Theresa's family loved the waterslides at Indian Pointe Hydroslide. We asked her what she liked most about the experience and she didn't hold back with the details.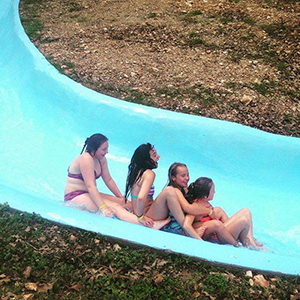 "This photo was taken at the Indian Point Hydroslide. This attraction is very close to our condo at Eagles Nest Resort on Indian Point. We found out about this slide from going to Deer Run to pick up some grocery items. The Hydro slide is right there on the Deer Run property. They also have zip lining too! We have tried the zip lining, and it is also a very fun experience! We have now been to the Hydroslide a few times, bringing friends each time we go. My favorite part about the slide is hearing the giggles and squeals of delights from my daughters and friends as we make chains going down! The slide is fast but safe, and a great way to cool off and have fun on a hot day!  It's also a great way to wear out the kids going all of the way back up to the top! Oh and also a very reasonably priced activity that won't break your wallet to take the whole family!"
Theresa H. from Raymore, MO





When we asked Theresa about what makes Branson such a great vacation location she couldn't tell us all the reasons and summed up her response with "There's just so much to do."  We tend to agree.  Once you get familiar with the area it's actually quite hard to pick and choose your experiences.  Hear Theresa in her own words describe why Branson is perfect for a getaway and see some of her tips.
"My advice to anyone interested in visiting Branson is to read reviews and view pictures on the Internet about the things that are available to do in Branson, and see what looks like fun to you and your family. Then plan a few activities but leave room for downtime. Enjoy the peace and serenity that is available as well as the activities on the strip!"
Theresa H. from Raymore, MO
Want to see more from Theresa's visit to Branson?  Visit our Branson Stories Pinterest board loaded with images not seen in this blog post.  
We're always looking for more stories to tell so don't forget to tag your photos with #EXPLOREBRANSON. You never know, we may reach out to you to get your thoughts on what makes Branson a great Missouri getaway!

Don't forget to leave us your comments about what makes a great Branson Vacation. If you haven't visited yet a great place to start is to download our Visitors Guide here.
See you in Branson!