Branson Stories-A Fishing Weekend for the Record Books in Branson, MO
Explore Branson recently launched a series of interviews with some visitors to the Branson, MO area.  We're calling them "Branson Stories" and the feedback we're getting couldn't have been better! During the month of August will continue to feature some of these stories and photos direct from the mouths of our visitors and their Instagram accounts to showcase the unique visitor experience in Branson, Missouri.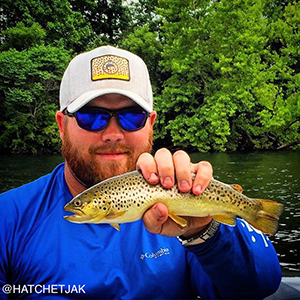 Our fourth Branson Story comes from Skyler H. from Troy, MO where it is all about fishing in the Branson area.  We noticed that he posted numerous photos on his Instagram account during a recent fishing trip to the area with his family.  It was great talking to Skyler.  We picked up on his enthusiasm for the area right away and he provided some great tips to people heading to Branson looking to catch the big one and enjoy a weekend vacation!
We asked Skyler about one of his Instagram photos featuring a kayak ride. The best part about it is that anyone can enjoy a similar experience. Don't have a kayak? No problem. Branson offers rental services to get you on the water.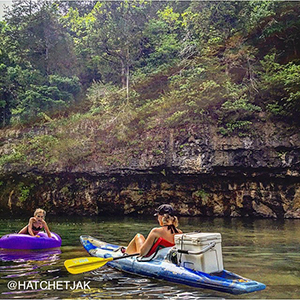 This is my wife and daughter kayaking and we loved every minute of it. We have kayaks so it we were out off and on throughout the day.  The best part of kayaking is being so close to nature and enjoying the sights and sounds."
Skyler H., Troy, MO
If your family loves the outdoors and fishing like Skyler's family does, Branson is the perfect destination for you. The fishing seems to come pretty easy according to Skyler who states that it's their goal to "catch the limit" every time they go out. Listen to Skyler in his own words about the fishing experience in Branson.
The fishing is my favorite part, but the fact that you feel like you are in the middle of nowhere but you are only minutes from the strip is a great feature as well.  Anytime I'm camping I'm happy."
Skyler H., Troy, MO
Skyler made it pretty clear during our interview that Cooper Creek is a must-see when visiting the area. Whether it be for fishing or just relaxing, the scenery and serenity of the area is unmatched. If you're an outdoors lover like Skyler you may find yourself making regular visits to the area just like he has during the last year.
"We had numerous people recommend Coopers Creek to us and we started coming down last year and have made 5 trips down since then. I love the dock at Coopers Creek. My whole family loves to fish so we spend as much time as we can on the lake and dock just enjoying the views."
Skyler H., Troy, MO
So what's the biggest fish he's ever caught in Branson? We had to know so we simply asked. Hear his response in the video below. We're curious though…what's the biggest fish you've ever caught in Branson? Leave your response in the comments below!
"You can catch rainbow trout and brown trout on Taneycomo or you can go up to Table Rock and bass fish.  I highly recommend the fishing in Branson and have sent multiple people down to Branson to fish and camp. The best part of the experience of catching trout to me is the fight you get while using ultra lite tackle."
Skyler H., Troy, MO
When we asked Sklyer about what makes Branson a great vacation spot he admitted that he mostly enjoys the fishing and outdoors but that the area provides something for everyone. He also provided a very practical tip to new travelers. Hear Skyler in his own words describe why Branson needs to be on your vacation list of destinations and how you can make the most of it while you are there.
"Do your research for what you are wanting to do before you get there. There is a lot to do and depending on the time you are there.  Plan accordingly."
Skyler H., Troy, MO
Want to see more from Skyler's visit to Branson?  Visit our Branson Stories Pinterest board loaded with images not seen in this blog post.  
We're always looking for more stories to tell so don't forget to tag your photos with #EXPLOREBRANSON.  You never know, we may reach out to you to get your thoughts on what makes Branson a great Missouri getaway!
Don't forget to leave us your comments about what makes a great Branson Vacation.  If you haven't visited yet a great place to start is to download our visitors guide here.
See you in Branson!