Branson Stories-A Great Family Weekend in Branson
Explore Branson recently started interviewing some visitors to the Branson, Missouri area to get their feedback on their travels.  The feedback couldn't have been better!  It was so good that we've decided to feature their stories in a new feature we're calling "Branson Stories".

During the next month we plan to feature some of these stories, direct from the mouths of our visitors, to showcase the unique visitor experience in Branson.

Our first Branson Story comes from Amy from Granite City, IL.
We saw that Amy posted numerous photos on her Instagram account during her recent family vacation to the area.  We reached out to her and were so pleased when she provided us with her family's favorites, tips on enjoying the destination and what her family enjoyed the most during their stay.

Everyone loves a special treat while on vacation.  Amy and her family were no different. We asked Amy what her family enjoyed the most.  Not surprisingly, Mel's Hard Luck Diner scored big points with their entertaining environment and delicious food.  Danna's Bar-B-Que & Burgers also proved to be a memorable and tasty stop while in Branson.  Hear her recommendations in her own words below:
Voice of Amy from Granite City, IL

Don't just take Amy's word for it.  See some of the amazing reviews on TripAdvisor  about other fantastic dining experiences in Branson!

You can't bring the kids to Branson and not visit the Go-Kart track.  It is a must-see while in the city. The Track Family Fun Park provided them with a fun afternoon of racing, rubbing and laughs.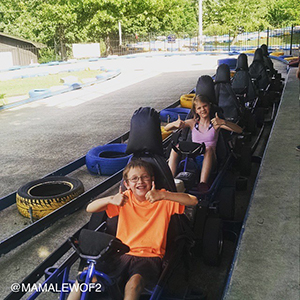 Amy L. from Granite City, IL shot this photo at The Track.
"This Go Kart track was right on the strip, very convenient for us to walk to after dinner. Kids had SO much fun racing each other & the staff were very personable and patient. I would definitely recommend this to others!"
Amy from Granite City, IL
A trip to Branson wouldn't be complete without a quick stop at the Copper Run Distillery according to Amy from Granite City, IL.  She made the trip to not only enjoy a refreshing beverage by also some unexpected activities that the entire family could enjoy.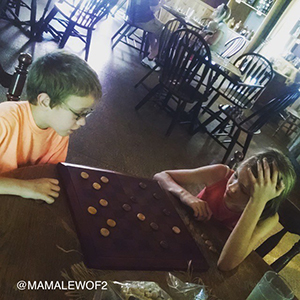 A game of checkers at Copper Run Distillery in Branson
"We heard about Copper Run Distillery at one of the shops in Coffelt County Crossroads. About a 20 min drive from downtown Branson, we found the Distillery to be very charming. You get the feeling of meeting at a friend's house! The kids enjoyed a game of checkers and pretzels while I sipped a signature cocktail. This is a must see while in Branson!"
Amy from Granite City, IL
When we asked Amy what her family's most favorite experience was in Branson there was a bit of debate!  The kids loved the duck boats and of course the go-cart action and bumper boats but she also enjoyed the plentiful shopping available in the area.  Most of all it came down to the hometown feel of Branson and the friendly nature of the people there.  Hear Amy's thoughts on what makes Branson a perfect getaway for her family:


"My family and I really enjoyed the variety of things to do. We shopped at Tanger, had a variety of amazing restaurants, and plenty of activities to keep the kids entertained for hours!"Amy from Granite City, IL
Still considering a trip to Branson?  Amy provides you with her reasons as to why Branson would make a perfect getaway for any family!  
Amy from Granite City, IL
Want to see more from Amy's visit to Branson?  Visit our Branson Stories Pinterest board loaded with images not seen in this blog post.  
We're always looking for more stories to tell so don't forget to tag your photos with #EXPLOREBRANSON.  You never know, we may reach out to you to get your thoughts on what makes Branson a great Missouri getaway!

Don't forget to  leave us your comments about what makes a great Branson Vacation.  If you haven't visited yet a great place to start is to download our visitors guide here.

See you in Branson!