Branson Stories - A Special Treat in Branson, MO
Explore Branson recently launched a series of interviews with some visitors to the Branson, MO area.  We're calling them "Branson Stories" and the feedback we're getting couldn't have been better! During the month of August will continue to feature some of these stories and photos direct from the mouths of our visitors and their Instagram accounts to showcase the unique visitor experience in Branson, Missouri.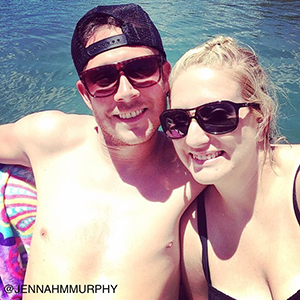 Our second Branson Story comes from Jennah M. from Ballwin, MO.  We noticed that she posted numerous photos on her Instagram account during her recent family vacation that included some time at Silver Dollar City, Table Rock and an exciting Branson show.  We reached out to her and were so pleased when she provided us with her family favorites, tips on enjoying the destination and what her family enjoyed the most during their stay.
We asked Jennah what she enjoyed most about her family visit to Branson.  The lake was at the top the list for Jennah but Silver Dollar City certainly has a special place in her heart.  Her family visited the attraction to enjoy some great food and amusement park rides.  She also discovered some new additions to an attraction that she'd been visiting since she was a child.  Needless to say it was definitely a highlight for her family while visiting Branson.  Check out the video below to hear her thoughts on why you need to visit Silver Dollar City if you haven't been there in a while.
"This ride was in the new part of Silver Dollar City's Fireman's Landing. We loved the new area, and would recommend that everyone check it out. They have rides for all ages."
Jennah from Ballwin, MO
Everyone loves a special treat while on vacation.  Jennah and her family were no different. We asked where she likes to go for a special treat.  Not surprisingly Silver Dollar City ranked highly but she also had another suggestion not far away.  Check out the video below to hear her suggestions in her own words.
When we asked Jennah what her family's most favorite experience was in Branson there was a bit of debate! The Dolly Parton's Stampede provided a fun experience for everyone and provided some hands on fun for the kids!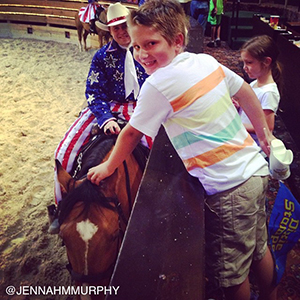 "We were at the Dolly Parton's Stampede. The kids loved meeting each horse and actor. We would recommend this to others. The food was great. The portions were huge! We had a really great server and the entertainment was great. Our favorite part was the actor Skeeter. He had us all laughing!"
Jennah, Ballwin, MO
Finally we asked Jennah what makes Branson such a great place for a family vacation. While the outdoors, beautiful scenery and water experiences ranked highly she recognized that Branson simply has something for everyone.  Hear why she loves Branson and why you and your family will want to plan several trips to the area throughout the year.  She also provided a couple recommendations for your next trip to Branson!
"We would recommend spending time on the water and visiting Silver Dollar City. We visit Branson multiple times per year and always make sure to do these things. We love being on the water. We took a ride around the lake, but spent most of our day in a cove where we went swimming, fishing, and ate a picnic style lunch on the pontoon. We tubed in the afternoon!"
Jennah, Ballwin, MO
Want to see more from Jennah's visit to Branson?  Visit our Branson Stories Pinterest board loaded with images not seen in this blog post.  
We're always looking for more stories to tell so don't forget to tag your photos with #EXPLOREBRANSON.  You never know, we may reach out to you to get your thoughts on what makes Branson a great Missouri getaway!

Don't forget to leave us your comments about what makes a great Branson Vacation.  If you haven't visited yet a great place to start is to download our visitors guide here.
See you in Branson!