Branson Stories-A Weekend on the Water in Branson, Missouri
Explore Branson recently launched a series of interviews with some visitors to the Branson, MO area. We're calling them "Branson Stories" and the feedback we're getting couldn't have been better! During the month of August will continue to feature some of these stories and photos direct from the mouths of our visitors and their Instagram accounts to showcase the unique visitor experience in Branson, Missouri.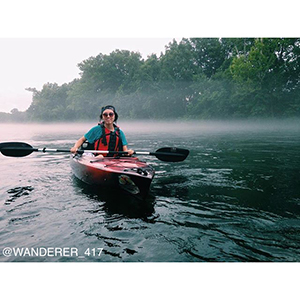 Our third Branson Story comes from Kiana N. from Hollister, MO. She posted numerous photos on her Instagram account during her recent visit. We reached out to her and were so pleased when she provided us with her stories about a great weekend of relaxing on the water, discovering a waterfall and exploring caves in downtown Branson.
Branson is well-recognized as a great outdoor recreation destination especially with anything that has do with the water. We asked Kiana about her kayaking experience with White River Kayaking in Branson.  Even with a little rain during her trip it was still a memorable experience worth repeating!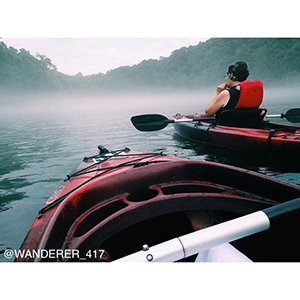 "I rented the kayaks from White river Kayaking in downtown Branson. My mother and I happened to have the day off, which rarely happens. So we started off Acacia Club Drive in Branson and kayaked all the way to the landing, which is about a 3-mile route. It's was beautiful! The fog rolled over as we where floating across the waves from local boaters. At one point it even started to rain, and that was perfect because my mother and I love the rain. Plus it was super hot, even on the water. My favorite part of the trip was when we went under the highway bridge over Alexander Park, the sound of the cars rushing over it made me think of the city. I would recommend kayaking in Branson to anyone!"
Kiana N. from Hollister, MO
After a great 3-mile float on the water it was time for Kiana to enjoy one of the a beach experience in Branson. What's better than a day in the sand and sun?  How about a game of beach volleyball?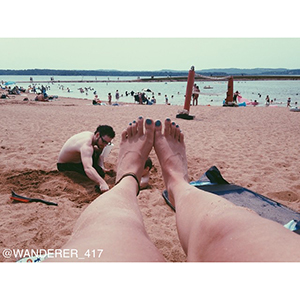 "This one was at Moonshine Beach off 165, across the dam. It's this cute will section of the beach they have roped off for family and friends. I would recommend this beach to anyone looking for a good time, it's amazing for families to just kick back and relax. My favorite part was playing beach volleyball with a group of friends from Brazil."
Kiana N. from Hollister, MO
Waterfalls? Caves? In Branson? Yes! Kiana found her way to the Waterfall Trail in downtown Branson where she enjoyed a challenging hike and a remarkable view. We asked her to share her experience behind this photo of a must-see while exploring Branson.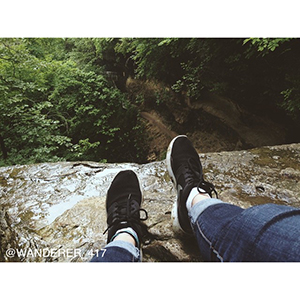 "This is on top of a waterfall, off a trail on Fall Creek Road. It's beautiful! I recommend it to anyone, especially families looking for an adventure. It has many caves, and a few waterfalls. The hike is pretty long, and there are many paths you can take that are either harder or easier. But the view is worth it all."
Kiana N. from Hollister, MO
When we asked Kiana what she liked best about her trip to Branson and any advice she had for new travelers to the area she couldn't stop commenting on the beauty of the area and friendliness of the people she met along the way.  She also has a valuable tip for anyone exploring the outdoors!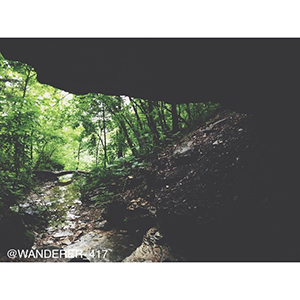 "My trip to branson was magnificent! Between the amazing views and the beautiful souls there I never want to leave. Bring sunscreen, and plenty of water!"
Kiana N. from Hollister, MO
Want to see more from Kiana's visit to Branson?  Visit our Branson Stories Pinterest board loaded with images not seen in this blog post.  
We're always looking for more stories to tell so don't forget to tag your photos with #EXPLOREBRANSON.  You never know, we may reach out to you to get your thoughts on what makes Branson a great Missouri getaway!
Don't forget to  leave us your comments about what makes a great Branson Vacation.  If you haven't visited yet a great place to start is to download our visitors guide here.

See you in Branson!