Branson Venues + Creative A/V = A Dazzling Event
The audio and visual capabilities at the Branson Convention Center are "unlimited" said Dave Loftin, branch manager with Liberty Exposition Services, which handles the audio and visual services at the center. Hold your event in the 23,000 square foot ballroom and be wowed by the 72 bird-shaped light fixtures on the ceiling. "The intention was to simulate the migration of waterfowl through Missouri," Loftin said. There are LED lights under the wings and the system can be programmed into a light show transforming the atmosphere in seconds. "We can do lighting, fireworks, ocean waves rolling through the ceiling," he said, standing at the controls on the wall as he demonstrated the various opportunities.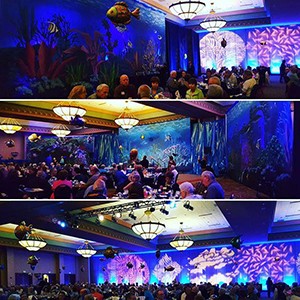 The ceiling was electric with color fading from yellow to green and blue; pink with splashes of sapphire at times. It could become a rainbow of shades against the ceiling, and then Loftin switched the mode to one of the most popular light settings: red, white and blue. If a company wants to coordinate a song to the lighting, that can be done and has been done, he said. When the 2016 Midwest Emmy's are held in Branson in October, a special theme song will be coordinated to the lights. But the stunning light show is just the beginning. "We also have rigging points between the bird chandeliers that can hold up to 1,000 pounds. These are used for lighting trusses, sound systems, video screens," Loftin said. Or even the occasional aerial performer. For presentations, they can supply an LED wall. "We can have video playing behind you while you are standing in front of it with face lighting. We have a live TV camera," he said. And the center can provide custom graphics that companies can stick on the wall or hang in the air, on doors, elevators or even glass panels. It's increasingly popular for larger groups or conventions to use the custom graphics to sell ads and generate revenue. For example, during a travel association convention, each glass panel was sold as advertising. "Professional meeting planners understand the value of branding. Whatever we charge, they mark it up and sell it and use it to help offset the costs of their convention," Loftin said. "The Missouri Republican Convention is going to happen here in May and they are looking at these opportunities and will sell sponsorship."
Chateau on the Lake boasts 43,500 square feet of meeting space including 19 meeting and banquet rooms, including a 32,000-square-foot column-free Great Hall. Three boardrooms are equipped with the latest audiovisual technology including LED uplighting, upgraded projectors, and high definition camera, said Dan Baker, assistant director of Five-Star Audio Visual at Chateau on the Lake. "We do rear projection on large events. We have short throw lensing that keeps distance minimal," Baker said. "We have done two shows in the past month where we ordered some custom glass gobos." A gobo is a template that light shines through to project an image onto a surface.
 A company logo can be projected onto a wall or drape either adding to the ambiance to for company branding. Staff are able to blends colors to match a specific shade for a company logo. The clients were thrilled with the results, Baker said.