December Events in Branson
The holiday season is officially here, and Branson celebrates with holiday sights and sounds all through December.
With millions of twinkling lights, family-friendly festivals, special performances and even Santa sightings, there's no place like Branson for the holidays! Check out these activities happening in America's Christmas Tree City this December: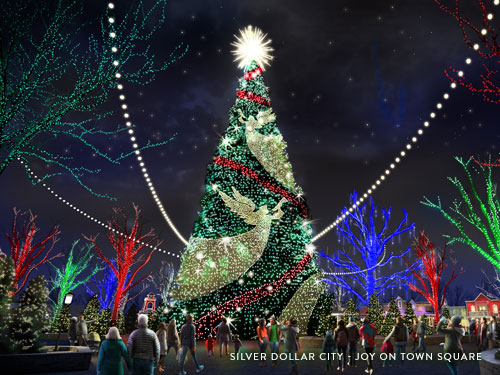 From November 2-December 30, Silver Dollar City will host An Old Time Christmas, the 1880s theme park's highly anticipated annual holiday festival. 
With 6.5 million Christmas lights adorning the park, including an eight-story, state-of-the-art Christmas tree as the centerpiece for the new breathtaking Joy on Town Square display, Silver Dollar City is a must-see this Christmas. Blending hundreds of thousands of dancing high-resolution lights with music and animated imagery, the tree is guaranteed to showcase a Christmas performance like no other. Festival favorites such as the Christmas in Midtown Spectacular, Rudolph's Holly Jolly Christmas Light Parade and two live shows – "It's a Wonderful Life" and "A Dickens' Christmas Carol" – will continue to add their own magical holiday touches to this year's festival. 
Beginning in November and continuing through December, Branson is aglow with Christmas lights. Enjoy these drive-thru displays from the comfort of your vehicle this December:  
Branson's Lights of Joy - Enjoy more than 300 themed light displays featured at Branson's Lights of Joy, located just off Shepherd of the Hills Expressway. A Nativity scene, Christmas carols and even dinosaurs will be glowing for visitors to see from 

November 1 through New Year's Day from 5 to 11 p.m.

Branson's Promised Land Zoo's Let There Be Lights! - This two-mile drive-thru display includes gorgeous views of Christmas lights and zoo animals! Visitors can also see Santa with his real reindeer team and a live Nativity scene. For a special treat, jump onto Santa's Safari, a VIP guided tram tour through the lights that includes a "s-Elfie" stop and a snack of cookies and hot chocolate. 

Let There Be Lights! opens from dusk to 11 p.m. starting November 1 and will run through December 31.

Trail of Lights at The Shepherd of the Hills - The Trail of Lights at The Shepherd of the Hills features a two-and-a-half-mile drive filled with dozens of Christmas light displays that reflect the best of Christmases past. The trail is set through the historic Shepherd of the Hills homestead and opens November 1 through December 31 from 6 p.m. to 10 p.m. Sundays through Thursdays, and 6 p.m. to 11 p.m. on Fridays and Saturdays. For an even more memorable experience, book a carriage ride thru the Trail of Lights with Shires for Hire. 
To see the lights in comfort and style, you can take a Branson Limousine Christmas Light Tour! Through November and December, visitors can sit back, relax and see the lights from a chauffered luxury limousine, sedan or SUV. Branson Limousine Christmas Light Tours include a visit to Historic Downtown Branson, Big Cedar Lodge, Branson Landing Boulevard, down 76 Country Boulevard and through some of Branson's most festive neighborhoods. Reservations can be made online. 
Also providing fantastic views of Branson's Christmas lights, VIP Christmas Light Tours show visitors Branson's Adoration Scene above Lake Taneycomo and complete the journey with a stop at the historic Branson Hotel for coffee, cappuccino or hot chocolate. VIP Christmas Light Tours operate on Tuesdays through Saturdays during November and December. Check availability online before booking your tickets. 

Through December, the Branson Landing is turned into a Winter Wonderlanding. Holiday lights, Christmas music, decor and a beautiful  50-foot Christmas tree in the Landing's Town Square amazes visitors each Christmas season. 
The Branson Landing has several ongoing holiday activities through its Winter Wonderlanding, including a challenge to find the Branson Landing Elfie! Beginning on Black Friday and ending on Christmas Eve, search for the Branson Landing Elfie and post a selfie to social media to win prizes. Clues to where the Branson Landing Elfie is hiding will be posted weekly. Use the hashtag #BLElfieSelfie (must be a public post on Instagram or Facebook) to enter to win! 
In space 309 at the Landing, The Festival of Trees, a special display featuring decorated Christmas trees and wreaths for sale, will be on exhibit in space 309 at the Landing from November 2 through December 8. Proceeds benefit the food pantries of Taney County. The display is open daily from 10 a.m.-8 p.m. and 3-7 p.m. on Thanksgiving Day. 
When you visit on or after November 29, you can participate in the Branson Landing's holiday window judging competition and score your favorite holiday window decorations! Upon arrival, head to the Landing's Town Square to grab a map with participating stores and instructions. Votes will end on December 17, and winning windows will be announced December 18th on social media. 
New in 2019, a North Pole Adventure at The Shepherd of the Hills includes an interactive walk-through experience with Christmas crafts, games, seasonal treats and more! Walk around the North Pole, where you'll find Santa's workshop, the Stardust Saw Mill (where elves keep Santa's sleigh fueled), Candy Cane Lane and Reindeer Run. Tickets are $15 for adults and $12 for kids (ages 4-16). 
Huge Christmas-themed inflatables, a Cabin in the Snow, Winter Toboggan Ride, Polar Bear Slide and more are all a part of Still Waters Resort's Winter Wonderland festival. Wonderland activities will be held on Wednesdays through Sundays in December from 10 a.m. to 5 p.m. Pictures with Santa will be taken on Saturdays. Admission is $5 per person. Children 3 and under are free. There is no fee for resort guests. 
Join Santa, the elves, Rudolph, the North Pole Toy Soldier and the Holiday Sugar Plum Fairies for a special cruise adventure complete with kid's activities, entertainment and breakfast aboard the Showboat Branson Belle on Table Rock Lake. Young ones will also be able to finish their Christmas lists and mail them onboard for immediate delivery to Santa himself! Santa's Pancakes & PJ's Cruise will run on Saturdays and Sundays November 9-December 22. 
During the first Friday evening of each month in 2019, Historic Downtown Branson will host free, family-friendly gatherings at Liberty Plaza. On December 6, enjoy pictures with Santa, decorating gingerbread houses and tasty Christmas treats.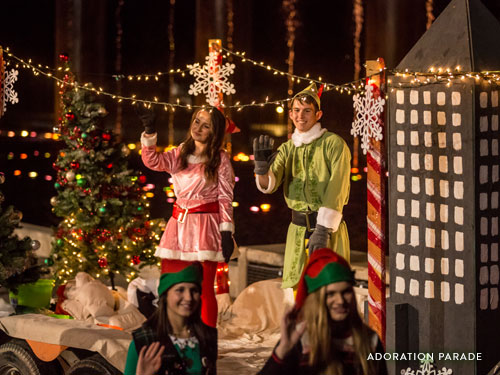 A well-loved Christmastime tradition in Branson, the Adoration Parade celebrates community and inspiration. On December 8 at dusk, the event kicks off with the annual lighting of the Adoration Scene, a gorgeous Nativity overlooking Lake Taneycomo. Shortly after the lighting, a parade with elaborate floats, marching bands and more will make its way through the streets of Historic Downtown Branson and along Branson Landing Boulevard. 
Santa will be making his rounds a few days early at the Chateau on the Lake Resort, Spa and Convention Center! Bring the kids to feast on a delicious breakfast buffet with Santa, play reindeer games, make Christmas crafts and more on December 21. Tickets are $16 for adults and $10 for children ages 4-12. Children 3 and under and free. Proceeds benefit the Tri-Lakes Humane Society and Shepherd of the Hills Humane Society. To purchase tickets, call 888-333-5253. 
A treat for TV fans and history lovers, an exhibit featuring costumes from the multi-award winning "Downton Abbey" television series will be on an exclusive display through December at Branson's Titanic Museum Attraction. 
During the whole month of December, the Titanic Museum Attraction will be decked out in Edwardian period-appropriate décor during its annual Christmas and Winter Celebration, creating a vision of how the ship might have looked had it sailed during the holiday season years ago. Beautiful lighting, dozens of trees and special collectibles in the attraction's gift shop add to the experience. 
Throughout the holiday season, Branson's entertainers embrace the Christmas spirit with performances full of Christmas music, storytelling and family fun. Favorites such as the Andy Williams Ozark Mountain Christmas Show, Hughes Brothers Christmas Show, A Brett Family Christmas Show, the Miracle of Christmas (plus the production's behind-the-scenes tour!), the Presleys' Christmas Jubilee and Dolly Parton's Stampede are just a few shows that are packed with holiday cheer. Find more Christmas shows in Branson here. 
WIth parties, fireworks displays and musical celebrations, Branson knows how to ring in the new year! Welcome 2020 with these festive events: 
From Christmas To New Year's Eve Show at the Hughes Brothers Theatre - This extravagant New Year's Eve event includes a dinner before the show begins at 9 p.m., featuring a lively performance by The Hughes Family. Performances from the Hughes Christmas Show and Hughes Music Show will be a part of the evening's lineup of events. A baloon drop and after-midnight dance with the cast top off the celebration. 
Hamners' New Year's Eve Fiesta - Celebrate New Year's Eve at Hamners' Unbelievable Variety Show with a true fiesta! Enjoy fabulous prizes, festive party favors and plenty of food along with the show. Food service will open at 8 p.m. before the show starts at 9 p.m. The fiesta leads to a 

magical laser show countdown before midnight.

Clay Cooper and Haygoods New Year's Eve Celebration - Celebrate the arrival of 2020 alongside the talented musicians at the Clay Cooper Theatre. Doors for the Clay Cooper and Haygoods New Year's Eve Celebration open at 7 p.m. on New Year's Eve, with the Haygoods performing at 8:30 p.m. and Clay Cooper's Country Express performing at 10:50 p.m. A n

on-alcoholic toast and massive balloon drop will serve as a grand finale. 

The party won't stop until the new year begins! 
New Year's Celebration at Silver Dollar City - Soak in the last of An Old Time Christmas's lights at Silver Dollar City on New Year's Eve and enjoy special entertainment. Performance details will be announced soon, so watch here for updates.
New Year's Eve Celebration and Fireworks Display at Chateau on the Lake - A 

cocktail party followed by an elegant dinner and dancing, champagne toasts, a balloon drop and fireworks show are all a part of the Chateau on the Lake Resort, Spa & Convention Center's New Year's celebration. This is a well-attended event, so be sure to contact the Chateau to reserve your tickets early.
Other fabulous New Year's Eve performances and festivities include the Americana Theatre New Year's Eve Show, the Showboat Branson Belle's New Year's Eve Cruise, a New Year's Eve Dinner at the Keeter Center at the College of the Ozarks and more. There are plenty of ways to ring in the new year with a bang in Branson! 
With several reasons to celebrate in December, Branson is the perfect setting to gather with friends and family for a holiday season full of joy. To see more events happening this December in Branson, visit here. 
Spending Christmas Break from school or work in Branson? Explore these itinerary ideas for your visit during the holidays.