Foodies of Branson: The Keeter Center
An interview with Executive Chef Robert Stricklin at the Keeter Center at College of the Ozarks to get the inside scoop on all things food and beverage.
1. What is the most interesting dish you have prepared for a convention group?
Preparing food with African ingredients for the Cameroon Dinner banquet for West Africa was interesting.
2. What is your favorite dish to prepare for convention group?
Anything with pork because we like to feature our campus-raised pork
3. What trends do you see in the meetings/conventions f&b business?
Smaller portions and/or more courses allow people to sample more. For example, having three small desserts gives people more choices (one-bite desserts or a dessert sampler).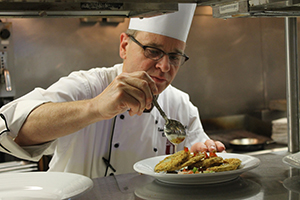 4. What is your specialty dish? 
Pork mignon—it is a pork loin, but we treat it like a filet mignon. We wrap it in bacon and treat it like a filet mignon, but it is pork. *Om nom nom!*
5. Why is your venue great for group meals?
Groups enjoy our story as far as students working to pay for their tuition and our story as far as raising our own pork and having our own dairy and our own mill and vegetable garden.
6. What dish has been a crowd-pleaser?
Pork pommadora—scallopinis of pork with pesto and tomatoes out of the garden, sautéed with garlic and capers. More traditional items such as our pot roast with garlic mashed potatoes are also favorites.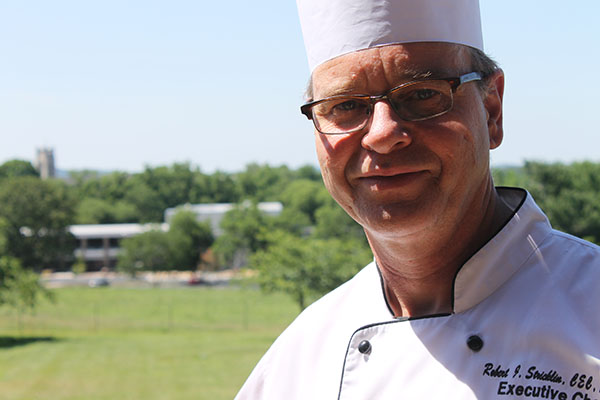 7. Does your venue participate in the farm-to-fork dining trend? If so, how?
Yes—maybe a little better job than most people. We use products from our own farm, and we source local produce such as fresh lettuce and tomatoes and berries.
The type of food served at the Keeter Center is considered "new Ozark cuisine." Dishes include new ingredients with modern presentation and additional flavor profiles. Guests are surprised by the interaction they receive with the students. They learn about the personal history of the student, an experience they can't get anywhere else.
The College of the Ozarks has just introduced its weekly farmers market, which takes place every Friday morning of the summer in the sale barn on the College campus. It is open from 7:30 a.m. to 12:30 p.m. The farmers market at College of the Ozarks features the Keeter Center's lodge chips, granola, biscotti, and their house salad dressing (Pear Honey).
Visit the Keeter Center's website at this link: http://www.keetercenter.edu/ or call 417-239-1900 for more information.