Group Outings are a Snap in Branson
It's been a thrilling year for Branson attractions and more exciting development is on the horizon.
The Branson Ferris Wheel – an iconic 15-story-high Ferris wheel which formerly stood on Chicago's Navy Pier for two decades, opened on the Branson strip on June 23rd.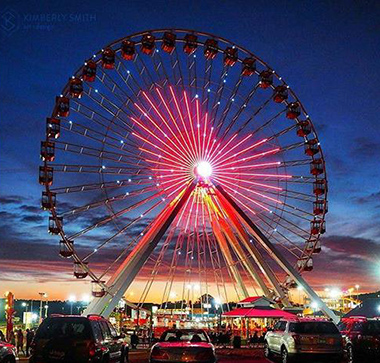 Julie Wilson, Sales and Marketing Director for The Track Family Fun Parks, said groups have always been a large part of their shoulder season business, but she anticipates this will only grow with the addition of this unique attraction. Special rates are available for 20 or more people, for both walk-up group rates and advanced bookings.
Perhaps your company wants to rent out the entire wheel?
"We always try to accommodate groups the best we can by giving them that special experience. Depending on the season, we are open to making different options work for groups," Wilson said. Branson's first alpine coaster, The Runaway at Branson Mountain Adventure Park, debuted August 12th.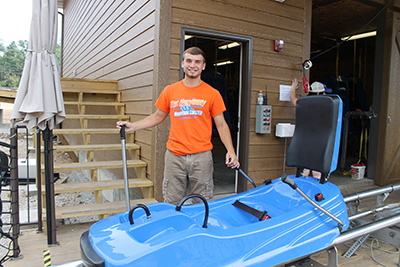 The coaster uses natural elevation changes to provide a memorable experience. Riders are seated in individual carts and have control of their ride with a braking system, meaning they set the pace so they can go for a thrill ride or slowly take in the beauty of the Ozark Mountains.
Brian McConnell, General Manager at the Runaway has already booked their first group, "Coaster Geeks". This group requested to ride the coaster in the dark with head lamps. Of course, that's not going to be a typical desire, but McConnell said he's willing to entertain creative ideas for other groups, like opening the ride early or staying open later to accommodate special requests.
A group requires 25 or more riders and discounts offered depend on the time of year, so it's best to inquire for rates.
And there's more excitement planned. Bigfoot On The Strip is a $10 million attraction slated to open March 1st, 2017.
Bigfoot's focal point is 200-foot tower that will host what are sure to become some of Branson's most popular thrill rides. In all, visitors will have three experiences from which to choose:
A drop ride that takes riders 200 feet into the air before they begin a free fall back down toward the ground.
A saddle swing ride that launches riders (two at a time) 200 feet up before they are released and begin flipping end-over-end as they return toward the ground.
An enclosed viewing ride that spins (slowly) on the way up, and down, as it provides guests with 360-degree views of the 76 Strip.
"Bigfoot includes indoor and outdoor amusement attractions, group party spaces and dining options for individuals and groups of all sizes and ages", said Emma Hamilton, Operations Manager.
"We anticipate being the go-to location for corporate groups, family reunions, bachelor/ bachelorette parties, celebratory parties for adults and kids, etc," said Hamilton. "There will be private party rooms and options will be available for them to purchase passes to access the numerous amusement attractions available."
And once the much anticipated Fritz's Adventure opens later this year, people will undoubtedly marvel at the 80,000 square foot facility. The three-story adventure experience includes rock wall climbing (a great team building exercise), an airplane, bridges, tunnels, a ropes course, treehouses and more.
So whether you're planning a meeting now or in the future, there are plenty of fun off-site options in Branson.
For more information:
For the Branson Ferris Wheel, contact Julie Wilson [email protected] or visit www.bransontracks.com.
For the Runaway at Branson Mountain Adventure Park, contact Brian McConnell at [email protected] or visit http://bransonalpinemountaincoaster.com/.
For Bigfoot inquiries, contact Emma Hamilton at [email protected].
For Fritz's Adventure: http://www.fritzsadventure.com/.