Hurts Donut Finds New Act in Branson
It's an idea so tasty, you'll ask for a curtain call. Actually, you might make it a dozen.
Hurts Donut is making its debut in Branson in October 2017, opening at Dick Clark's American Bandstand Theatre, home of the iconic Legends in Concert show.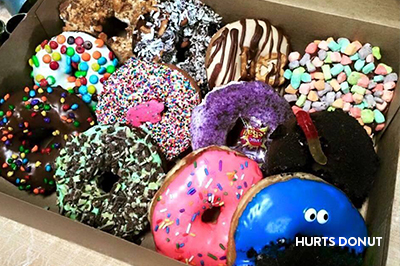 A craft-donut shop with locations throughout the Midwest, Hurts' specialties include donuts topped with goodies like M&Ms, Oreos and Reese's peanut butter cups. Eye-catching creations are topped with sweets likes Nerds candy, marshmallow bits and Fruity Pebbles. Yes, you read that correctly.
Regionally famous for its maple bacon bars, Hurts also is known for making donuts that resemble Sesame Street characters (like Cookie Monster), concocting mouth-watering treats topped with everything from pretzels to mint-chocolate icing, and for drawing huge crowds when their Emergency Donut Vehicle stops in different cities.
Legends in Concert is your home for a variety of outstanding tribute artists, including those who bring to life such performers as Johnny Cash, Frank Sinatra and Elvis Presley.
Speaking of Elvis … maybe Hurts will come up with a fried peanut-butter-and-banana donut!
As of this writing, the menu for Branson's Hurts location hadn't been announced. However, Hurts is very active on its Facebook page and has been offering special deals, including free donuts, to customers who stop by their new location when it opens.
Stay tuned for details … and delicious donuts!