Infuse Your Next Event with a Missouri Tradition
The Ozark Mountains have a long tradition of moonshine.
And distillers today are giving a nod to that heritage by producing a variety of moonshines.
"Moonshine is simply whiskey before it's aged," said Jim Blansit, founder of Copper Run Distillery.
His product is crafted one barrel at a time in 53 gallon barrels- and he uses a traditional copper still.
"We start with 800 pounds of grain. The method is to mash the grain with 400 gallons of water. Then we ferment it for a week achieving 10 percent alcohol. Then we do a double distillation and we end up with 53 gallons of whiskey, and then we age it or bottle it unaged. The tourists love the unaged for the novelty aspect. The aged is more popular for the whiskey connoisseur because it gains balance and a mellow flavor, where the unaged is raw and rich and tourists love that big moonshine experience."
Copper Run Distillery is tucked away in Walnut Shade, north of Branson, but it's a popular draw for groups, meeting planners, businesses and family reunions.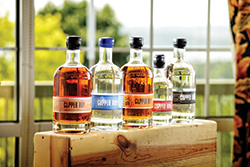 The distillery and tasting room is available for rent and Blansit can coordinate private tours of the distillery.
"We can arrange food and music, too" he said.
Inside, the capacity is 50 people, but Copper Run has a patio nestled under towering oaks and outside can accommodate another 30 people. This is the real Ozarks experience- Blansit grew up on this land making his own ketchup and he and his father built the bar in the tasting room.
Want a signature drink for your event?
His most popular cocktails are the Moonshine Mary (a Bloody Mary); the Shine-a-Rita (we dare to say this may be one of the best margaritas you'll ever taste); and his Rum Punch. Blansit produces five different spirits including rum which has garnered national awards.
This is not the only distillery available for rent.
Crown Valley Distillery opened in April in Branson and also crafts unaged whiskey on site.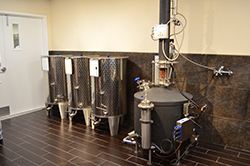 Groups of 10 or more who call at least 48 hours in advance will receive a 15 percent discount that will be extended for tastings, Bistro and retail purchases.
"We also will have group meal options available through our Bistro menu," he said.
The Branson distillery will produce unaged corn whiskey, cherry maple, and cinnamon whiskey.
While moonshine might lure tourists in, Crown Valley produces an array of wine, beer, cider and other spirits and there's a restaurant on site.
Johan Reggie Regnell, General Manager of Missouri Mountain Moonshine on The Branson Landing, said they are able to work with groups and offer discounts for groups larger than 15.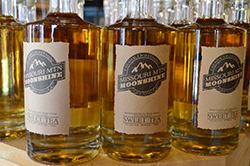 "We can do either a buffet style lunch/dinner or they can order from the menu. We offer many different mixed drinks with all our flavors of moonshine. … and we can create a signature cocktail," he said.
The entire facility is not available for rent because of the Branson mall hours, but part of the restaurant can be reserved for groups.
And Branson's moonshine experience continues to expand: later this year the Twisted Copper Moonshine Still Museum will open at Curling Vine Winery.
The museum is a separate, ticketed attraction where guests can gain a better understanding of the history of moonshine production. The exhibit will include more than 100 stills. 
http://www.copperrundistillery.com/
http://www.crownvalleybrewery.com/
http://www.momtnmoonshine.com/
http://www.curlingvinewinery.com