Raiding The Rock Vault in Branson

You're coming to Branson this summer and want to see a show, but aren't sure which one to choose. Here's a question that might help you decide: Are you ready to rock?
If so, make plans to visit Branson's Starlite Theatre in July 2017, when it hosts a special, limited-engagement of "Raiding the Rock Vault."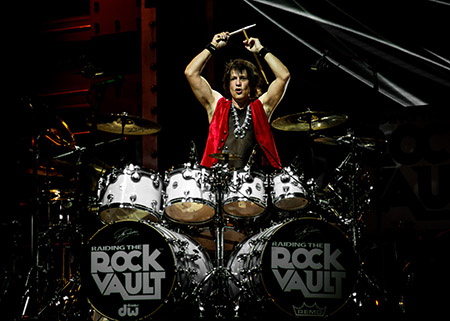 During three music-filled weeks, you'll have the chance to see the show that's been a mainstay in Las Vegas and a fan-favorite since its debut in 2013. In 2016, "Raiding the Rock Vault" was voted as the Best Tribute Show by the Las Vegas Review-Journal's Best of Las Vegas Awards.
This musical journey takes you through the greatest decades of rock 'n' roll, from the 1960s through the 1980s and it features an accomplished set of musicians who have performed with and in some of the best-selling rock groups of all time.
During the show, you'll hear songs originally performed by groups ranging from The Rolling Stones and the Eagles to Journey and Bon Jovi, along with chart-topping hits made popular by artists such as Jimi Hendrix.
The songs are cranked out by world-class musicians such as Rock and Roll Hall of Famer Howard Leese, a guitarist who performed with Heart and Bad Company.
Also featured are musicians who have been a part of groups like Guns N Roses and Quiet Riot and who have played alongside rock legends such as Ozzy Osbourne and Meat Loaf.
Shows at the Starlite play on select dates from July 6-22, 2017. Visit StarliteTheatre.com or call 888-991-8445 for more details or to purchase tickets.