Shepherd of the Hills Adventure Park Introduces New Attractions
The Shepherd of the Hills, one of Branson's enduring attractions, re-opened after a brief hiatus, is under new management and has a new way for fans to enjoy a true Ozark mountain adventure.
Off-road UTV tours on the property now are available, joining other activities such as the traditional Outdoor Drama that's been staged for more than 50 years.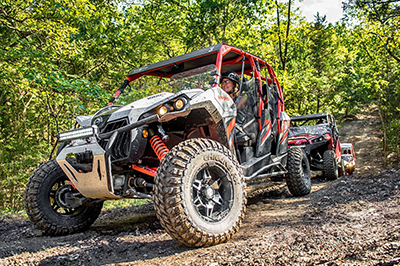 The addition of the UTV tours is the first step in the development of Shepherd of the Hills Homestead Adventure Park, which is slated to open in 2018 and promises to bring a major makeover for the property. Planned activities are said to include a rock-climbing area, a petting farm, fishing pond and a ropes course.
For now, the off-road course offers two adventures for individuals and small groups.
The first is a one-hour tour that includes instructional time and learning the ins-and-outs of driving the CanAm Commander and CanAm Maverick UTVs. This tour features time spent driving on smooth, paved roads before heading out for a half-hour of off-road fun.
Rates are $69 for the driver, $29 for the first passenger, $19 for the second passenger and $10 for the third passenger.
The other option, a 90-minute adventure, includes a full hour of off-roading that's sure to get your adrenaline cranking. Prices are $99 for the driver, $49 for the first passenger, $29 for the second passenger and $19 for the third passenger.
Each tour is guided by staff from Shepherd of the Hills. Tours must be booked in advance; call 417-334-4191 for more information.

THE YEAR OF SHOWS & FESTIVALS IN 2019 Beginning in the Spring with The Festival of Wonder, dubbed "A Most Amazing Entertainment Experience," Phoenix Fire takes center...

Friday Once you arrive in Branson, settle in at your home away from home. Branson has accommodations for just about every budget and preference, so you are sure to find a...