Team Building at Branson Attractions
"The Escape Code offers the perfect opportunity for corporate team building exercises," said John Burton, owner.
Inside the live-action escape challenge, there are several rooms and each one has its own mission. Teams have one hour to solve the problem and as they work together to unravel the clues, their strengths are revealed.
"The venue is popular with a variety of companies from resorts to education groups to dentist's offices." he said.
There are four rooms available, which can accommodate a maximum of 34 people. Mondays are set aside for group events. The Escape Code is one of a myriad of team-building opportunities in Branson.
If solving a mystery appeals to your group, try a Pirate Treasure Scavenger Hunt at Big Cedar Lodge. During this scavenger hunt, teams will receive a special list of riddles that they must solve in order to find their treasure. The best part is trying to uncover clues while exploring the lake around Big Cedar on a pontoon boat.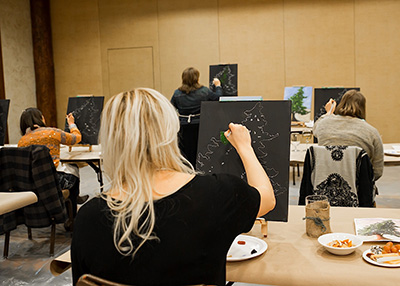 You've seen cooks sweat it out on Food Network competitions, now you can test your team's ability to work under pressure during a one-hour judged Chili Cook-Off at Big Cedar Lodge. You've probably seen one of your Facebook friends post a photo of a group paint night, well, why not plan this activity for your group or spouses? Big Cedar offers "Paint and Pour," a chance for your attendees to create a masterpiece with their teammates.
A few other activities your group may want to consider: a chuck wagon dinner; stretch breaks in between meetings; a fishing tournament at Bent Hook Marina or take on a shooting challenge at The Bass Pro Shops Outdoor Academy.
Other remarkable options await you at Dogwood Canyon Nature Park - a stunning 2,200-acre nature park. This beautiful attraction is a wonderful option for a corporate retreat or a company picnic, as there are meeting facilities and team building available.
During the Dogwood Canyon Outdoor Challenge, your survival skills and teamwork will be put to the test as you dabble in everything from archery, fishing, pellet gun shooting, slingshots to campfire-building. 
If your group is seeking a day of fun and a taste of their childhood, try The Track Family Fun Parks. Julie Wilson, sales and marketing director, said all the park's attractions are great for teams because of the competitive nature of the activities from go-karts to bumper boats. Groups enjoy special rates and passes.
"We have a one-hour, two-hour and all-day passes for groups of 20 or more.  Those passes included unlimited riding on high rise/classic go-karts, mini golf, bumper boats/cars and laser tag," she said.
There are also add-ons including the newly opened Branson Ferris Wheel and food options like Andy's Frozen Custard.
For more information, visit:
The Track Family Fun Parks: www.bransontracks.com
Escape Code: http://www.escapecode.tv
Big Cedar: http://www.bigcedar.com
Dogwood Canyon Nature Park: http://www.dogwoodcanyon.org