The Titanic 20 Year Anniversary

It's hard to believe it's been 20 years since Rose and Jack sailed into our hearts - and Hollywood history - with the release of James Cameron's megahit film, "Titanic."
The tragic love story, with young stars Kate Winslet and Leonardo DiCaprio, resonated with audiences the world over and was, for more than a decade, the highest-grossing film in history.
Today, it sits in second place on the all-time list, having been overtaken by another Cameron film, "Avatar," in 2009.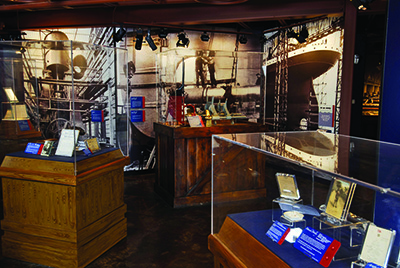 While it may be No. 2 at worldwide box office, it's still No. 1 in the hearts and minds of many. And no doubt, fans of the film will be wowed in 2017, when Branson's Titanic Museum Attraction commemorates the 20th anniversary of the film with a special exhibit of film-related memorabilia.
Clothing from "Titanic" will be a highlight of the exhibit, which is slated to open March 12 and run through June 13, 2017. The movie exhibit is yet another reason to visit this popular Branson attraction, which is conveniently located on Highway 76, the heart of Branson's entertainment district.
Once you're inside the museum, you're transported to another time - 1912, not 1997 - when the luxury liner sunk in the Atlantic Ocean, claiming approximately 1,500 lives. More than 400 authentic artifacts from the RMS Titanic are on display and you'll see reconstructions of passenger rooms, not to mention the spiral staircase made famous by a particularly tender scene from the film.
As you make your way through the museum, you'll learn more about the people who sailed on the Titanic, both those who survived and those who didn't. An audio tour and the museum's crew members serve as excellent companions to your journey.
Popular hands-on displays, especially among the younger set, include a cold pool for dipping your finger - to see how long you'd last in the icy waters of the North Atlantic - and a steeply pitched section of the main deck, which recreates how the RMS Titanic broke apart after hitting an iceberg.
Whether you're a huge fan of the film or you've never seen it (what are you waiting for?) you don't want to miss the Titanic Museum Attraction in Branson. The story is both heart-breaking and inspiring.
Pair your Titanic experience with other Branson attractions and activities.