Winter Months Are a Great Time to Meet in Branson
The winter months are a great time to schedule your next meeting or conference in Branson. In January, February and early March, properties typically have more attractive rates, as do airlines and transportation companies. There also are many indoor attractions and entertainment options for your attendees to enjoy outside of conference hours.
Quiet and Beautiful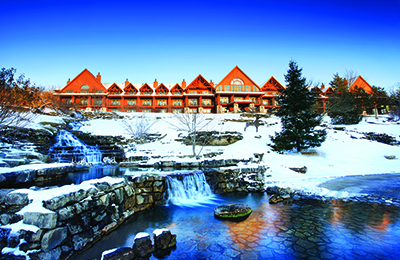 Branson's winters are generally mild with average daily high temperatures in the 40s during January and February. Snowfall is infrequent and short-lived, but when it does snow the mountains and lakes make for particularly breathtaking scenery. During these cooler days, the area has a quiet beauty. Although your attendees will probably spend most of their time indoors, it's still a great time to enjoy the picturesque settings of our many and diverse properties.
At Big Cedar Lodge and the Grandview Conference Center, your participants can enjoy modern convention facilities with a rustic flair, complete with handmade wood furnishings and cozy fireplaces. At Chateau on the Lake Resort, Spa and Convention Center, attendees are treated to vista views of serene Table Rock Lake and the surrounding mountains. At the Branson Convention Center and Hilton Convention Center Hotel, conference-goers enjoy the convenience of Downtown Branson and the Branson Landing, while being just yards away from tranquil Lake Taneycomo and beautiful mountain scenery.
Great Rates
During the winter months, Branson typically sees fewer individual travelers, families and reunions visiting. This translates into more room-night availability and typically better rates than the peak summer and holiday months.
It's also a slower time for domestic air flights, which can mean lower rates and more availability. Springfield-Branson National Airport (SGF) operates year-round and has 11 nonstop destinations, including major hubs Dallas-Fort Worth (DFW), Denver (DEN), Chicago O'Hare (ORD), Atlanta (ATL) and Los Angeles (LAX). The airport is served by American Airlines, Delta Airlines, United Airlines and Allegiant Air. In addition to car rentals, attendees also have several shuttle and ground transportation options.
Plenty To Do
Although the weather outside might be chilly, as one of the top vacation destinations in the country Branson offers meeting attendees an amazing variety of year-round activities. From unique museums to indoor activities like rock-climbing, you can be confident that your off-site activities will find great venues, and your attendees will find many fun ways to spend their after-hours time.
Branson is perhaps best known for its live entertainment and shows, and the winter months give attendees a great opportunity to get up-close and personal with the popular music shows, magic or variety acts. Each year, more than a dozen shows are performing in the months of January and February. For a list of showtimes, visit ExploreBranson.com/shows.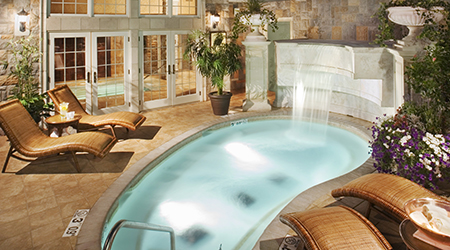 Branson is also home to a number of unique museums, which operate year-round and can accommodate larger groups. Among these are the Titanic Museum Attraction, the Hollywood Wax Museum, and the Branson Auto and Farm Museum.
Also popular among conference attendees are the town's other indoor attractions. One of the newest is Fritz's Adventure, an indoor adventure park with a ropes course and rock climbing. There also are several wineries and distilleries that make for great indoor, off-site venues or activities.
Another popular wintertime destination is visiting one of Branson's many spas, including the Spa Chateau and the new Cedar Creek Spa at Big Cedar Lodge.
Here to Help
You can get more details about these properties and also submit an RFP directly to the Branson CVB at ExploreBransonMeetings.com. You also can reach our meetings specialists at 1-800-315-8601 or [email protected].