"The ALL HANDS ON DECK! Show", America's Most Patriotic Roadshow & Radio Broadcast, featuring Branson's Largest LIVE Orchestra Returns April 11, 2017 to the Dutton Family Theater
(BRANSON, MO) "Let the drums roll out, Let the trumpets call, while the people shout, Strike Up The Band!" The Dutton Family Theater will soon be filled with the romantic and swinging sounds of the 1940's when "The All Hands On Deck! Show" returns to Branson on April 11, 2017.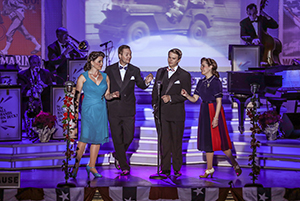 "The ALL HANDS ON DECK! Show" is an homage to Bob Hope, and an American 1942 Roadshow & Radio Broadcast reproduction featuring the songs, dances, laughs, and favorite radio commercials that America has loved for 70 years!
"We love sharing our musical message of patriotism with folks all across the U.S.A, and they really seemed to enjoy our songs," said co-star Valerie Hill in a recent interview. Hill continued, "Touring is fun, but I must admit, we love being a part of the Branson community. The people here are just the best, and we are excited about our second year!"
"The ALL HANDS ON DECK! Show" features Broadway veteran Jody Madaras (creator, Ted Crosley), Valerie Hill (Betty Blake), McKenzie Custin (Daisy Maxwell), and Hunter Frederick (John Handley), and the rich sounds of the LIVE 9-piece Hollywood Victory Caravan Orchestra (featuring some of Branson's finest musicians), classic commercials, tight harmonies, impromptu skits, and 42 of the greatest American songs ever written, as well as a full-circle patriotic salute celebrating the American way of life; reminding us of a time when our country was fully united.
Songs include: Chattanooga Choo-Choo; Atchison, Topeka And The Santa Fe; I'm In The Mood For Love; Pennsylvania Polka; I'll Never Smile Again; Any Bonds Today?; Don't Fence Me In; America The Beautiful; Deep In The Heart Of Texas; Thanks For The Memory, and a powerful Military Medley – a rousing salute to America and our servicemen and women! 
For the 2017 ALL HANDS ON DECK! Show schedule and ticket information visit: www.AllHandsOnDeckShow.com, or call the Dutton Theatre Box Office 417-332-2772.
Follow the show on Facebook: The All Hands On Deck Show 
###
Mr. Jody Madaras
Creator/Star
Branson & National Tour productions of The ALL HANDS ON DECK! Show
A Heart-Warming Musical Message For All Americans!
AllHandsOnDeckShow.com
mobile - 917-991-7685