Publish Date:
Thursday, October 13, 2016
Clay Cooper Theatre is thrilled to announce #1 Hits of 60's will be added to the outstanding show line up for the 2017 season! #1 Hits of the 60's is a high energy, upbeat family-friendly show featuring over 100 songs from artists like the Temptations, The Beatles, Paul Anka, and many more! Clay Cooper said, "I think the #1 Hits of the 60's will be a great show addition. All the shows at our theatre are high quality and #1 Hits of the 60's is, without a doubt, a perfect fit! I'm excited to bring another iconic music era to the Clay Cooper Theatre next season!"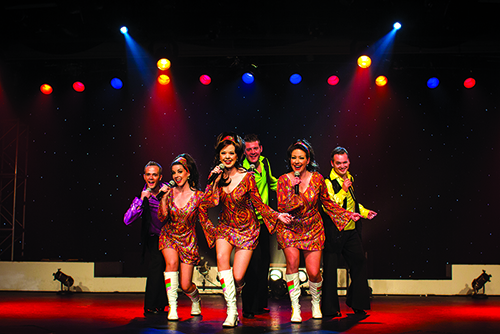 #1 Hits of the 60's will be celebrating its 15th season in Branson next year, performing a 2pm matinee show on Tuesday, Thursday, Saturday, and Sunday afternoons and some Monday evening performances at 7:30pm in the fall. Amber Campbell, and her husband Matthew Muhoberac agree that this move will provide new opportunities for production enhancement as well as more room for growth.
"We are very excited that we are going to be a part of the great line-up of shows at the Clay Cooper Theatre in 2017," Amber said. "We have been very pleased with the success that we have experienced in the past few years, and the show is only going to get bigger and better as we move forward." Matt said this venue provides a perfect setting for the technical aspects of the show, as The Clay Cooper Theatre features state-of the art sound and lighting, as well as video screens and cameras.
Clay Cooper Theatre is currently the home of Clay Cooper's Country Express, The Haygoods, Hot Rods & High Heels, Red, Hot & Blue!, and The Urban Cowboy featuring Mickey Gilley and Johnny Lee. For more information, call our box office today at 877-317-2604 or visit our website at www.claycoopertheatre.com