Contact:
Barb Lancaster
Phone: (800) 335-4874
Email: [email protected]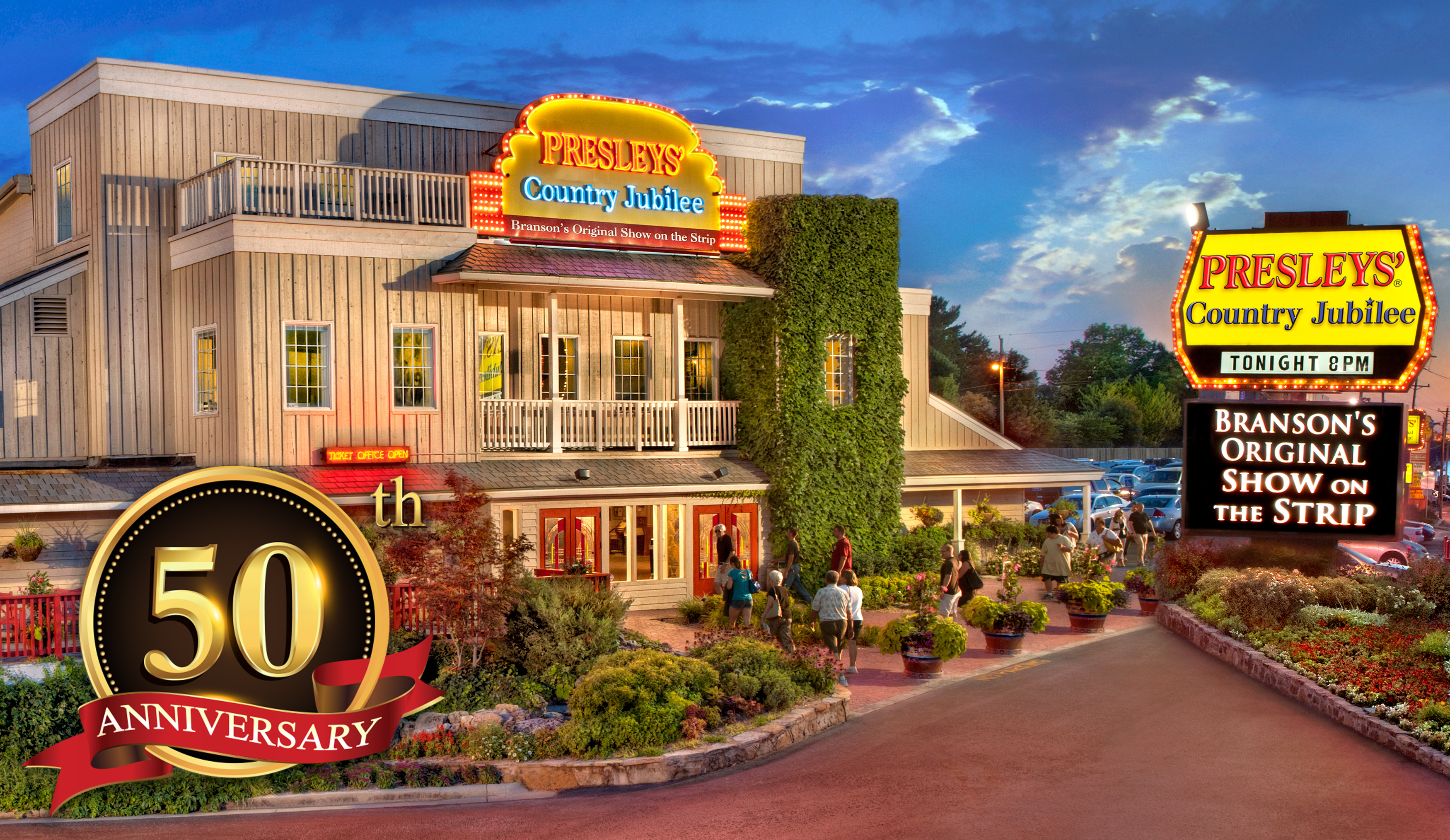 March 2017 – Branson, MO – 50 years and four generations later, the Presleys entertainment legacy lives on with Presleys' Country Jubilee's 50th anniversary year at 8 p.m., Friday, March 10, 2017.
The Presleys have become icons of music in the Ozarks, first playing the underground stages of local caves, creating their blend of music and comedy that would set the stage for Branson's entertainment future. In 1967 they bought a piece of land on an isolated two-lane stretch of asphalt and built a theater that has become a Branson Landmark.
"We are humbled by the love and support of our family and friends over the past 50 years," says original show member and co-founder Gary Presley, known on stage as Herkimer. "Consider this their personal invitation to our anniversary celebration in Branson!"
In addition to their live show, the Presleys now reach more fans than ever with their TV show, airing nationwide on RFD-TV. Presleys' Country Jubilee airs Saturdays at 6:30 p.m. CST and is viewed by over 1 million people each month.
"We're reaching out to more folks than ever and it's exciting to be a part of a dream that is decades in the making," says original show member and drummer Steve Presley. "We're working hard to put together our most exciting show yet."
While audiences will still be entertained with a one-of-a-kind mix of country, gospel, bluegrass, and hilarious comedy, they will experience something new as they enter the theatre in 2017. This landmark location is now more spectacular than ever with the Highway 76 revitalization; new sidewalks, benches, and landscaping.
Before the main show, fans can sing along to their favorite old time songs in the Pre-Show that starts in the Presleys' lobby at 7:15 pm. For more information on Presleys' Country Jubilee, schedule, or ticket information visit www.presleys.com or call the box office at (800)335-4874.
###
Photo Caption: Presleys' Country Jubilee, 2920 76 Country Blvd., Branson, MO, opens March 10, 2017. Call (800) 335-4874 or visit www.presleys.com
Photo Credit: Presleys' Country Jubilee