Branson, MO - October 27, 2016 - The traveling Vietnam Veterans Memorial, known as "The Wall," will be on display and open to the public for viewing at the Welk Resort Branson during the 2016 Veterans Homecoming celebration, November 7-13, 2016. The official half scale replica of the Vietnam Veterans Memorial, the most visited memorial in Washington, D.C., spans nearly 240 feet in length and lists the more than 58,000 names of the nation's fallen heroes in the Vietnam conflict.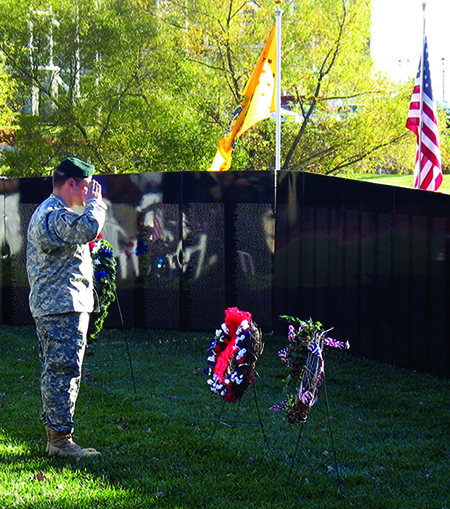 The Lennon Sisters will be performing at a special opening ceremony for The Wall that will be held at the Welk Resport on Thursday, November 7, at 10:00 AM. There will also be a POW/MIA Service of Tribute and Remembrance held at The Wall at 8:00 AM on November 8.
The Welk Resort has hosted The Wall Memorial for many years, and purchased the replica memorial in 2013. "It is with a sense of gratitude and honor that the Welk Family and The Welk Resort sponsor this tribute," Dathan Atchison, General Manager of the Welk Resort. "We cannot ever forget the incredible sacrifice of so many to insure the liberty we enjoy in this country. We invite our visitors and our neighbors to come experience this moving memorial."
The Wall is available for public viewing from 8:00 AM to 6:00 PM November 7-13th. A special locator book will be available to assist visitors in finding specific names.
As is customary, the names inscribed on The Wall will be read aloud throughout the seven day period. Local volunteers are actively wanted to volunter 30 minutes to read aloud the names and hometowns of the more than fifty-thousand Americans whose names are inscribed on The Wall - For more information and or sign up to volunteer, please call Jacque Cheary at 417-243-1202.