Article
How to Plan a Reunion
Wondering how to plan a reunion? Feeling overwhelmed about where to start?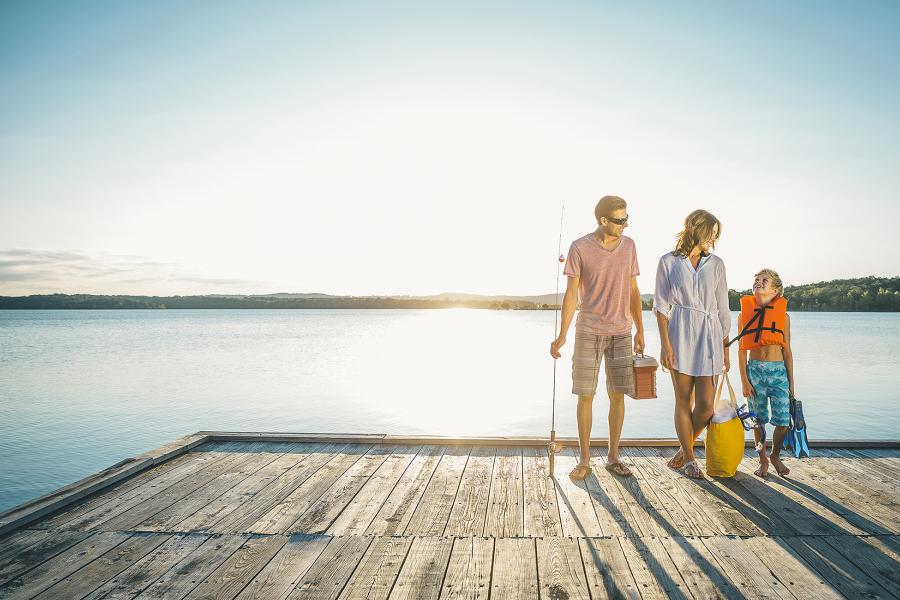 Planning your reunion well in advance will save you anxiety in the long run, and give you enough time to take care of all the details involved. An activities timeline can be a helpful tool to ensure all plans are made most effectively.
1. Determine the purpose.
Talk to those within the reunion group to determine exactly what you would like to accomplish through the reunion. If the reunion is to bring together people who have not seen each other for 25 years, the activities you plan may be quite different than those for a family whose members see each other yearly.
2. Set a date or range of dates and determine how many people might be attending.
If you have a relatively small number of people involved, this can be done over the phone. If you have a large group to coordinate, it might be a good idea to send out a survey to get input on these considerations:
Time of year
Type of accommodations
Kinds of activities
Budget
Dietary considerations
Other elements important to your group.
Dates for the reunion should be confirmed at least a year in advance to allow members to plan for vacation time and save money for the trip. If people are traveling a distance to attend, it is a good idea to take several days for the reunion or at least a long weekend. And remember, no date is going to be perfect for everyone.
3. Determine your budget.
Decide what expenses will be paid directly by your attending reunion members (for instance, travel, hotel, perhaps a couple of meals) and what costs will be incurred by the group (catering or meals, facilities rental, postage). These costs should be divided among the participants or covered by a fund-raising effort.
Some reunions charge a "registration fee" to cover these incidentals. Do make sure that you specify exactly what is and what isn't included in the fee when you send out the invitations. You will want to set a due date in advance (a couple of months at least), for a percentage of the fee to be sent to you. This will also help solidify the guest list. Keep good records, and do your best to stay within the set budget. You can also make fund-raising part of the fun. An auction for which everyone contributes an item, a raffle or bake sale can help with raising extra money during the reunion and be entertaining, too.
4. Call the Branson Convention & Visitors Bureau.
The sales staff offers a wealth of services for you to make your planning easy. One of the most valuable complimentary services is the opportunity for you to gain bids for lodging, dining, ticketing and planning services and more for your reunion through an RFP (request for proposal) service that goes to all properties that can handle your particular type of reunion. All you need to do is provide the information, then sit back and wait for the bids to come to you.
5. Select a location.
This is best accomplished once you have a potential date and an approximate number of people, as well as an idea of how much you are willing to spend for accommodations.
Branson has many great lodging and camping facilities available from value-priced motels to lakefront resorts and luxury hotels. Many of the properties are open year-round (you may be able to save money by traveling off-season). Depending on the size of your group, you may qualify for a group discount, so be sure to ask the reservationist when you call. If you qualify for a group discount, you will need to decide whether you want to spread the savings to the entire group or designate any among your group as receiving a complimentary trip. It's important when choosing your accommodations to consider whether or not your reunion would like a hospitality room, banquet room, catered meals on-site, and/or a restaurant on-site or within walking distance.
When making reservations, request a confirmation letter from the lodging property that spells out all the details to avoid surprises. The letter should include dates, the number of people, price per person, cancellation terms, and any other pertinent details. Review it thoroughly before signing and discuss any questions right away. Feel free to contact the Branson CVB if you have any questions.
6. Select committees.
If your reunion is of a large scale, you may want to create committees that will handle particular tasks. Not only does this help spread the responsibility, it also allows people to feel part of the effort. You may select committees to arrange the following:
Accommodations
Meals
Activities
Main event
Publicity within the group and invitations
Specialty items such as group t-shirts, memory books or other items
7. Plan your itinerary.
Remember that you want to plan activities that groups can do together, but also allow some "free" time for visiting and enjoying the great Branson surroundings. Branson has many venues for group activities, many of which can be combined into an activity such as lake cruises, dinner shows and theaters that are open for group functions. Consult the listings and you're sure to find something for everyone. Consider games for large groups like softball and volleyball, a kids table (with toys and crafts), a group dinner with presentations, contests or talent show. You may want to plan an opening ceremony or do a casual meet and greet; it's up to you. You're sure to find the ideal location in the Branson area. 
8. Plan the meals.
Meal planning can be tricky and gets more difficult as the age range of your group members expands. For your banquet, welcome reception, farewell brunch or any group meal function make sure to find out in advance about any special dietary requirements for anyone in your group. Branson offers a wide range of dining choices from fast food to fine dining. The area's many buffets can be a great way to accommodate a variety of tastes. You will need to determine how many meals you might like to eat out together, how many meals are "on your own" and how many meals can be included in the "registration fee." Decide if the meals will be banquet, buffet or reception style; a mixture of these options is usually a good bet. Again, in making reservations at a restaurant for a large group it's good to get a letter of confirmation that spells out the details and don't forget to budget for gratuity.
9. Notify the group.
Once you have decided on an itinerary, it's time to send out invitations. Do this well in advance (six months to a year) and also send a reminder a few of weeks before the occasion. Include dates, accommodations, a preliminary itinerary, contact person with phone number, all costs, payment procedure, directions, and what clothing and equipment are appropriate.
10. Get help.
Do not try to take care of all the details at the reunion yourself; retain the committees throughout the event. Clearly delegate tasks before the event: set-up, cooking, clean-up, picture taking and other tasks. Depending on the complexity of your reunion, you may want to meet with the committees each morning to be sure all arrangements have been completed.
Reunions can be even more memorable with group name tags, group photos (see page 14 for group photo options), a scrapbook for pictures and special memories, a special t-shirt or sweatshirt, a directory of attendees, or a display of group memorabilia and an event-specific autograph book for all the attendees or maybe a few Branson entertainers. The Branson CVB can assist you in finding the appropriate area vendor for your needs.
As the event approaches, remember to always be prepared. Have a contingency plan for inclement weather, provide extra sunscreen, simple first aid materials, snacks, and other needs.
Most importantly, reunions are for everyone to enjoy and the Branson CVB can help you do just that.
 
Reunion Planning Checklist
Survey Guests 1-1.5 years in advance
Pick a Date 1 year in advance
Create a Budget 1 year in advance
Make Reservations 1 year in advance
Set Itinerary 1 year in advance
Send Invitations 1 year in advance
Assign Tasks 6 months in advance
Deposits Due 3 months in advance
Send Itinerary 3 weeks in advance
YOUR REUNION
Send Thank Yous 1 week after
Get the Info
Branson's Group Tour & Reunion Guide
This is the ultimate group planner resource that has everything you need to make your group's trip to Branson unforgettable!
View the Guide
Attractions
Show Your Group a Good Time!
Experience the best of the Midwest when you take your group to Branson, Missouri. Branson is packed with attractions and activities, from jet boats to ziplining to captivating museums! Enjoy a round of themed mini golf and soak up the beauty of Table Rock Lake with a boat trip or Pink Jeep tour. Then, take a ride on one of Silver Dollar City's thrilling roller coasters and cool off on a breezy mountain coaster. Share an unforgettable experience with your group when you bring them to Branson!
See Branson Attractions