Article
Openings, Upgrades & New Developments in Branson
Explore Branson's list of exciting new openings—from attractions to dining to entertainment—and upcoming resort property developments with first-class hotels on the horizon. Group planning in Branson is about to get even better for your next meeting or event.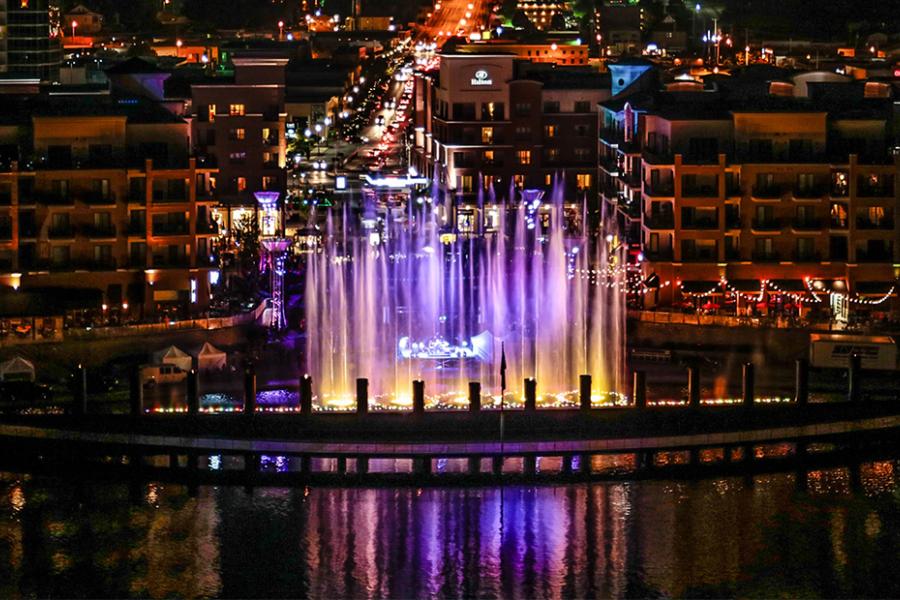 Group Planning Just Got Better
Now Open - 2022
Awe-Inspiring Attractions For Groups
One thing your groups can count on is Branson finding new ways to entertain and accommodate your next meeting, event or reunion.
Aquarium at the Boardwalk
Plan an off-site outing or host your next event in a Midwest oasis found at Aquarium at the Boardwalk. Groups will have the opportunity to see more than 250 different animal species in 400,000 gallons of saltwater. The newly opened attraction can double as a unique meeting venue with plenty of space available to book events and offer special group pricing.
Aquarium at the Boardwalk is committed to preserving ocean life and has partnered with the Coral Restoration Foundation™, the largest non-profit marine-conservation organization dedicated to restoring coral reefs to a healthy state. Discover dozens of marvelous coral species that create a home for so many treasured animals—and be inspired to help give coral reefs a chance to thrive in the future.
More features your group can expect to enjoy include:
Ten exciting zones full of fish and fun activities
Sharks, seahorses, stingrays, lionfish, octopi, eels and much more!
An original 5D submarine adventure to the bottom of the sea
More than 7,200 individual sea animals – soon to exceed 10,000
Two mirrored art installations that give the sense of infinite ocean life
A gorgeous 16-foot view of a coral reef
Payne's Valley Golf Course at Big Cedar Lodge
Be part of history as you experience Payne's Valley Golf Course, Tiger Woods' first and only public access course in the world. This renowned course designed by Tiger Woods pays tribute to Payne Stewart, one of the most respected golfers present in the World Golf Hall of Fame. Complete this special experience with a unique 19th hole called "The Big Rock at Payne's Valley."
Showboat Branson Belle Sets Sail 
All aboard for the Spring launch of Branson's Showboat Branson Belle, a four-deck vessel re-imagining of an authentic 1890s paddle wheeler of yesteryear, celebrating a quarter-century on Table Rock Lake. Docked at beautiful White River Landing, the 700-seat showboat spans nearly the entire length of a football field and offers groups scenic views, spacious seating, delicious dining and lively entertainment. Experience America's Most Entertaining Lake Adventure with your group!
Guy Fieri's Branson Kitchen + Bar 
Restaurants Worth Raving About
Guy Fieri, famed chef, author and television personality, made his mark at Branson Landing with the 2020 opening of his new restaurant. Guy Fieri's Branson Kitchen + Bar boasts unique, bold flavors packaged inside signature sandwiches, scratch-made entrees, house-smoked meats and mouth-watering desserts that can be enjoyed in a scenic atmosphere on the banks of Lake Taneycomo.
Heroes Tastes + Taps 
Now open and ready to serve up some savory bites and assorted brew flights, Heroes Tastes + Taps is crafting up classic and elevated New American cuisine with up to 24 brews on tap in an atmosphere designed to highlight and honor our HEROES from every walk of life. Located less than 15 minutes from the Branson Convention Center and downtown area, groups can enjoy a breakfast, lunch and dinner menu of traditional favorites and trendy plates. Throughout the year, the restaurant plans to create opportunities to call attention to traditional heroes like veterans and first responders, and also emphasize heroes like healthcare workers, teachers and farmers.
Seven Arrows Taproom
Conveniently located less than a 10-minute drive from downtown Branson in the historic district of Hollister, MO, you'll find Seven Arrows Taproom. The unique space offers groups a taste of local craft beer and wine—and creates an atmosphere that fosters fellowship among the locals and your group.
And that's not all! See more of what's new here
Coming Soon - 2023 & Beyond
Resort Properties & Hotels on the Horizon
Imagine Hotels & Resorts Property - Opening 2023
Big things are coming to the Branson area for meetings and events and they include the $300 million, 68-acre Imagine Hotels & Resorts Property development in Hollister, MO. Located just south of downtown, the luxury destination resort will feature exceptional accommodation and noteworthy amenities, including:
Over 100,000 sq. ft. of indoor themed family-friendly waterpark
450 guest rooms and cabins
5-7 themed restaurants & dining experiences
Spa attractions
Over 40,000 sq. ft. of "family entertainment space"
Over 10,000 sq. ft. of retail space
Over 30,000 sq. ft. of convention space ideal for corporate meetings and reunions

The Expert Team to Help You Plan
As built-in tour guides and experts in the craft of meeting planning, the Branson CVB team will help accommodate your group and event. Reach out, and let's get started on planning your ultimate meeting experience.
You've seen what's new & next. Now start planning in Branson. Submit Your RFP
Places Mentioned
Find Your Next Branson Adventure