Article
Team Building in Branson
Here is a roundup of group attractions and team building activities in Branson for meetings and groups.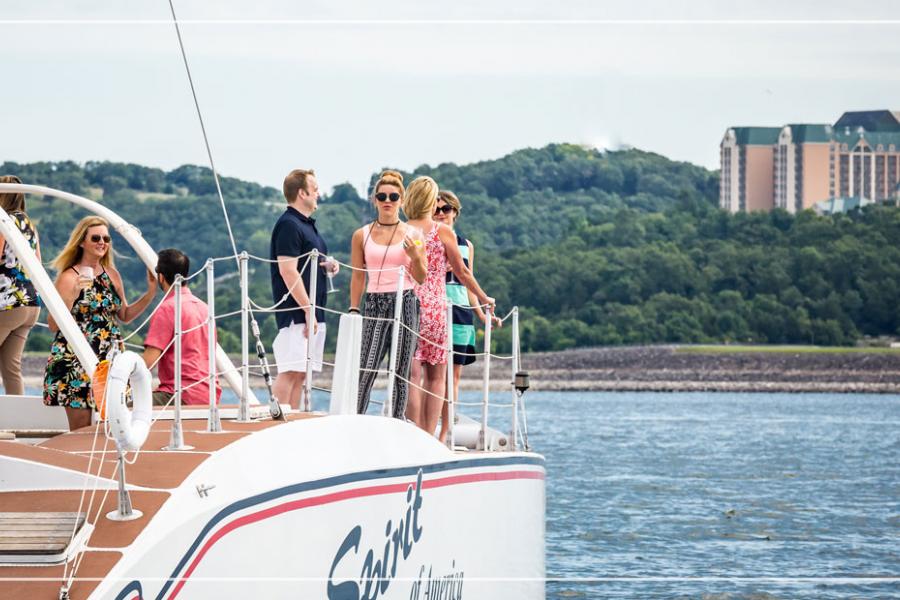 Branson Scenic Railway
Vintage trains take passengers through tunnels and over trestles through Southwest Missouri or Northwest Arkansas. For a sophisticated evening event, try the dinner train in 'Grande Style' featuring linen tablecloths, china, sterling and delicious cuisine.
Wine Tours and Tastings
Branson is home to Stone Hill Winery and Mount Pleasant Winery; each offers group tours and tastings. Private labels with your group's logo can also be purchased. Or take your group to the scenic Lindwedel Wine Garden on Highway 265 in Branson and sample wines from around the globe while overlooking the beautiful Ozark Mountain landscape and enjoying local live music.
Parakeet Pete's Waterfront Zipline
If you're looking for a bit of adventure and spectacular views of Lake Taneycomo and Branson Landing, head to Parakeet Pete's Waterfront Zipline attraction for an exciting and fun time exploring Branson! This zipline is the only one that zips over Lake Taneycomo.
Branson Zipline at Wolfe Mountain
Branson Zipline, is located just a few minutes north of Branson. Trek across swinging suspension bridges, cross walkways covered in the canopy and literally soar into adventure along numerous zip lines for a one-of-a-kind outdoor adventure.
Vigilante Zip Rider, Homestead Tour and Round Up on the Trail at Shepherd of the Hills
Launching from Inspiration Tower, the Vigilante Zip Rider whisks guests on an adrenaline pumping downhill ride over 160-acre homestead. Take a guided tram tour of historic landmark Old Matt's Cabin and visit the homestead of the main characters in the story, The Shepherd of the Hills. Enjoy a full-course chuckwagon dinner and show at Roundup on the Trail.
Spirit of America Lake Cruise
Discover the ultimate relaxing experience aboard the Spirit of America – a 48-foot sailing catamaran with comfortable seating for 49 passengers. Group and private charters are available.
Showboat Branson Belle
Relive the romance and splendor of those grand riverboat days with your group on the Showboat Branson Belle! The magnificent 700-seat, 1890's-style paddle wheel boat is the perfect setting for your group event or company outing! A relaxing and scenic two-hour cruise on Table Rock Lake features a 3-course feast and a rousing show with singing, dancing, comedy and more!
Titanic Museum
The Titanic has been recreated in all its glorious splendor in Branson. Experience haunting emotional connections to passengers and crew through their words and stories. Over 400 personal and private artifacts are on display. Host a tour and reception event for your group in this unique setting, made complete with themed cocktails and ice carvings.
Branson's Promise Land Zoo
Branson's newest and wildest animal adventure! Get up close and personal with your favorite animals from around the world. Your admission always includes the Foot Safari, Parakeet Paradise, live animal shows & bottle feedings!
Branson Ghosts and Legends Tour
These walking tours are filled with local history, mystery, legends and stories of the past as we lead you through the dark streets and alleys each night. You may have your own experience! It might be a tap on the shoulder, a cold chill or you may "catch" a spirit on your own camera.
Dolly Parton's Stampede
The exciting show features 32 magnificent horses, ostrich races, trick riding and audience participation in a friendly North/South competition. The four-course feast includes: homemade biscuits, creamy vegetable soup, whole rotisserie chicken, hickory-smoked barbecue pork loin, corn on the cob and herb-basted potato wedges - plus an apple turnover for dessert!
Silver Dollar City
This award-winning theme park travels back in time to 1880's America where you can enjoy 30 thrilling rides for all ages, 60 specialty shops, live entertainment, craftsmen demonstrating skills in pioneer crafts and a wide variety of delicious restaurants offering breakfast, lunch and dinner. This park is home to several exciting festivals throughout the year too.
Mini Golf Tournament
A number of miniature golf courses are available for a fun day of minigolf tournament competition.
Club 57 at Dick Clark's American Bandstand Theater
Located inside the theater, this hip, cool night club is the perfect location for a fun off-site event for up to 110 people. Book a reception before or after the Legends in Concert show playing in the same location.
Kayaking and Paddle Boarding
Looking for a unique outdoor adventure for your group? Imagine gliding over the sparkling waters of Lake Taneycomo or Table Rock Lake in a kayak or standup paddleboard.
White Water
White Water is Branson's only outdoor water park and offers water-blasters, super-soakers, speed water slides and a wave pool. Plus, Kalani Towers - the 6-lane freefall and racing thrill slide! This water park features the largest selection of water rides and water attractions in the Ozarks. KaPau Plummet features dueling 245-foot slides, each launching riders from a dropfloor into a 70-degree plunge.
The Track Family Fun Park
Have some good clean fun at the Track Family Fun Park. Group passes are available for go-kart tracks, bumper boats/ cars, laser tag, or mini golf. Arcades and the Skycoaster are also exciting options for your guests to enjoy. Pizza World is onsite to complete your group outing.
Traditional English High Tea at the Keeter Center – College of the Ozarks
White Glove service includes different kinds of tea, scones with lemon curd, Devonshire cream, homemade jellies, fresh jams and fresh creamery butter, assorted finger sandwiches, petit fours and tartlets. Advance reservations required, available most afternoons, from 2pm to 4pm.
Farm to Fork Cooking School at the Keeter Center – College of the Ozarks
Enjoy farm-to-table cooking with award-winning Executive Chef Robert Stricklin. This fun event includes: welcome reception, garden tour, cooking school and Nature's Harvest Lunch.
Butterfly Palace and Rainforest Adventure
Walk among over 1,000 live tropical butterflies from around the world, watch a 3D movie about butterflies, get lost in the Emerald Forest Mirror maze and sneak a peek at some incredible creature in the Rainforest Critter Center.
Ripley's Believe it or Not Museum
The only place in Branson where you'll find shrunken heads, a 22ft tall Transformer sculpture made of scrap car parts, an authentic vampire killing kit and a wicked spinning vortex tunnel!
Hollywood Wax Museum
Hollywood Wax Museum is the only wax museum in the country devoted entirely to celebrity figures. This museum houses tons of uncanny replicas, from Hollywood stars to television personalities to characters from your favorite movies.
Veterans Museum
The Veterans Memorial Museum is a national tribute to the brave men and women who defended our liberties during the 20th Century. As you wander the halls of the museum, you'll be captivated by the stories of these men and women who gave so much.
Talking Rocks Caverns
When Truman Powell first set eyes on this discovery, he declared it to be the most amazing and uniquely decorated cave in America. Take a tour through this beautiful underground wonderland, located 30 minutes from Branson.
Branson Shows
Branson is known for our live music shows, so what better way to give your attendees the full Branson experience. All offer discounted group rates and many will recognize your group from stage. Genres range from country to blues, magic to rock 'n roll, comedy to jazz and everything in between.