3 Reasons to Plan Your Honeymoon in Branson
/node/46From romantic resorts and honeymoon suites to fine dining, spas and more, Branson offers everything you need to design the perfect getaway with your special someone.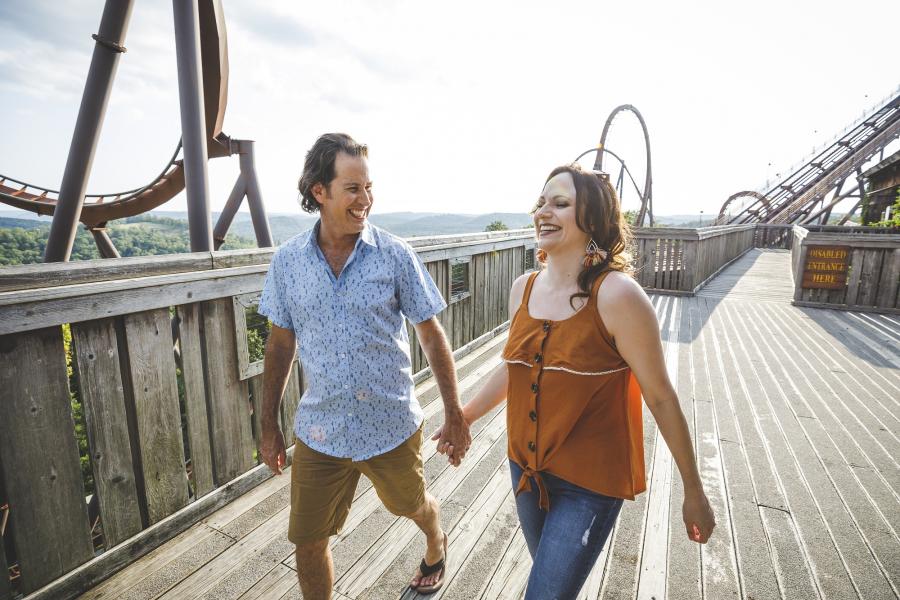 The honeymoon is a time to relax after the months of planning your special day. Wedding jitters are over and now the two of you are ready to face the world...so let Branson be the first face you see! 
Cozy Venues for Two
Chateau on the Lake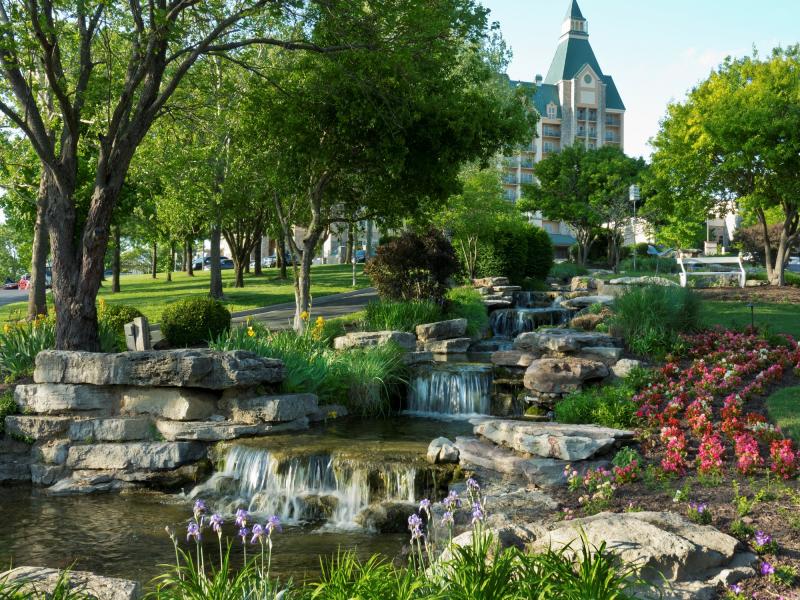 Had the camera panned further to the left, you would see a gorgeous view of Table Rock Lake. Castle-like in itself, Chateau on the Lake offers three Romance Packages to spice up your time together. Some amenities offered include a King Room overlooking the stunning Ozark scenery, credit towards the spa, and champagne with chocolate-dipped strawberries delivered to your room. You'll be surprised by all this resort has to offer!
Stone Castle Hotel & Conference Center
Stone Castle is a beautiful hotel that features two heated pools, two hot tubs and a whimsical Gazebo Area with a water garden pond. 
What makes Stone Castle so different are their 36 themed rooms and jacuzzi suites (encouraged for the honeymooners). Some of the most popular suites include the following: Camelot, a charming, medieval-themed room inspired by Camelot itself and the "court of King Arthur's realm;" Clay Cooper's Crib, a country-lover's dream that features barn doors, over-sized bedroom furniture, and cowhide decor.; a Sherlock Holmes suite showcasing a mural of the deducing-duo in a room that will having you dreaming of the 1800's; and Seabreeze, a large room reflecting the tones and atmosphere of a sunny day at the beach. Romantic, right? 
Hilton Promenade Branson Landing or Hilton Branson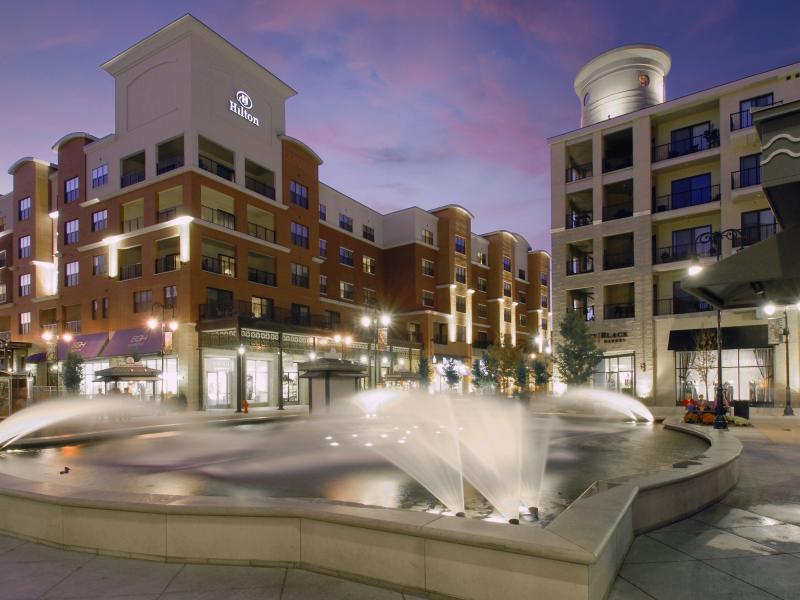 If the two of you are planning to party it up on your honeymoon, you may enjoy a couple nights at the Hilton Promenade that runs along the Branson Landing! The Landing is the most popular shopping center in Branson, with over 100 shops, restaurants, and attractions to choose from! The Taneycomo Lakefront flows parallel to the Landing so you and your special someone can take a refreshing walk next to the cool waters. On the hour after noon, you'll want to stop long enough by the Fountains to watch a choreographed water-show mixed with fire, music and lights! If you looking for a slightly more affordable option, the Hilton Branson Convention Center Hotel is just two minutes down the road in Historic Downtown Branson (still a quick and easy walk to the Landing). 
Crystal Cove Bed & Breakfast and Luxury Log Cabins
Calling all old souls, the Crystal Cove Bed and Breakfast offers their Honeymoon Suite and Victorian Honeymoon Suite! One of the most private cabins, you'll find the Honeymoon Suite at the end of a stone path surrounded by lush nature. The interior includes romantic decor., a king-size, canopy log bed, an extra large jacuzzi, a fireplace and more! For those interested in the Victorian Suite, you will find similar amenities but in a room with high, vaulted ceilings, beautiful antique furniture, a dormer window, a slightly larger T.V., a covered private deck and other additions that showcase luxurious old world charm. Crystal Cove offers other charming suites to check out as well, including the Antique Train Suite, Music Suite, and the Wilderness Suite! To add a little spice to your night, try one of their special packages, some of which include a jet bed, romantic candlelight setup, a dozen red roses, and massages!
The Lodges at Timber Ridge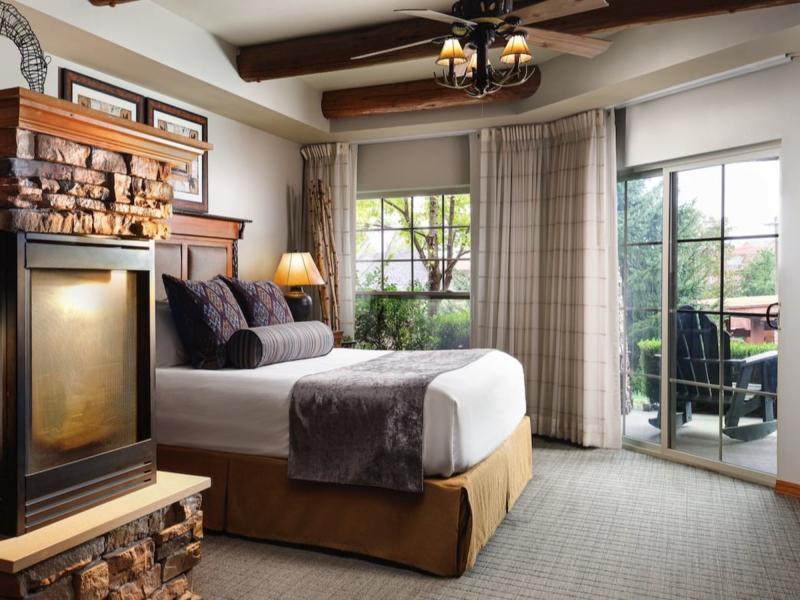 Suites at The Lodges just scream, "a romantic night indoors!" The villas here are furnished with a 3-sided fireplace, fully-equipped kitchen, private patio, and whirlpool tub, making it a charming, romantic getaway for you and your loved one! The best part is, you don't even have to leave the property to find fun things to do! They offer a 2,300-seat resort theater, mini-golf course, and the "Splash-A-Torium," an indoor/outdoor 10,000 square foot cool complex. Less than 10 miles away, you'll find Silver Dollar City, White Water Theme Park, the Showboat Branson Belle, and more of Branson's famous attractions!
Romantic Dining Options
Cantina Laredo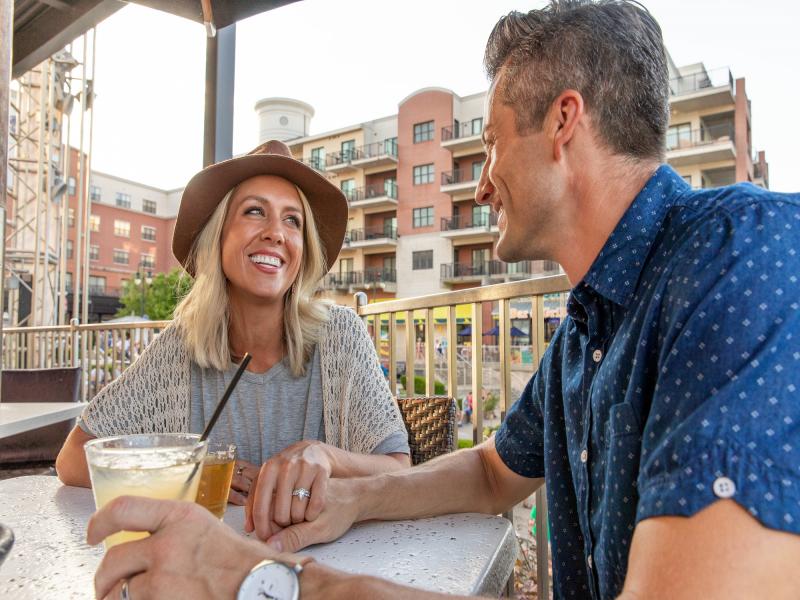 Cantina Laredo is a favorite on the Branson Landing and has a beautiful few of the Fountain and Taneycomo lakefront. Their menu consists of fine Mexican cuisine and margaritas and are open for brunch, lunch and dinner!
Showboat Branson Belle
The Showboat Branson Belle is a riverboat cruise and lunch/dinner show wrapped in one! Lasting approximately two and a half hours, coast along the Table Rock Lake and take in the peaceful sights before watching a variety show full of talented singers, dancers and musicians while feasting away at your delectable three-course meal! What could be more romantic than the two of you holding hands on the top deck overlooking the sparkling waters? Jack and Rose moment, am I right?
Downing Street Pour House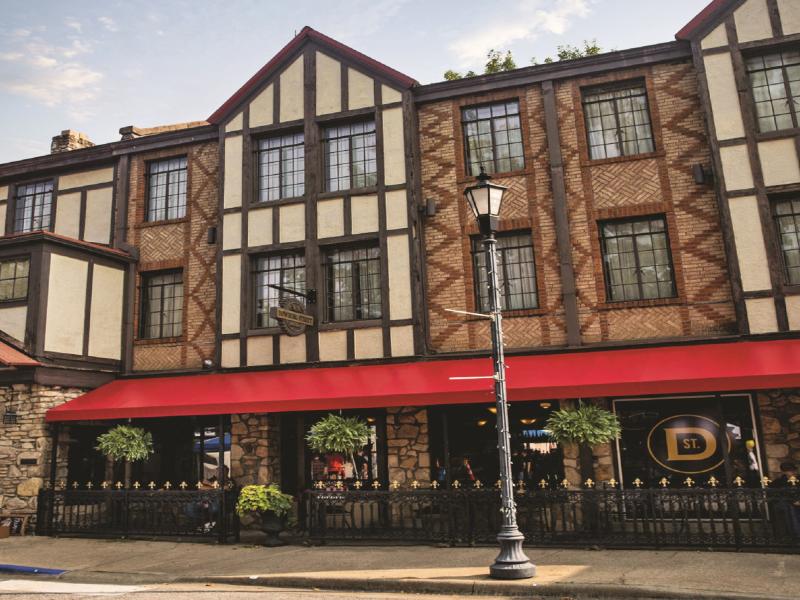 Located in the quaint Downing Street Historic District, also known as "The English Village," is the Downing Street Pour House, an English pub-like eatery featuring "American wood fired comfort foods." You'll love the warm and comforting feel of the place, half expecting someone to jump on the table and start singing a drinking song and telling a tale of their adventures at sea. Accessible from the Pour House is the Ye Olde English Inn whose lobby you'll want to explore! 
MoMo Sushi & Grill
What some may consider a "hidden gem" in Downtown Branson is MoMo Sushi & Grill. In fact, they consider themselves to be the "best locally-owned independent Sushi restaurant in Branson." The interior is much larger than the exterior reveals and you'll instantly experience the cosiness of the atmosphere. Serving authentic recipes with the freshest ingredients, this Sushi restaurant will leave you craving more!
Level 2 Steakhouse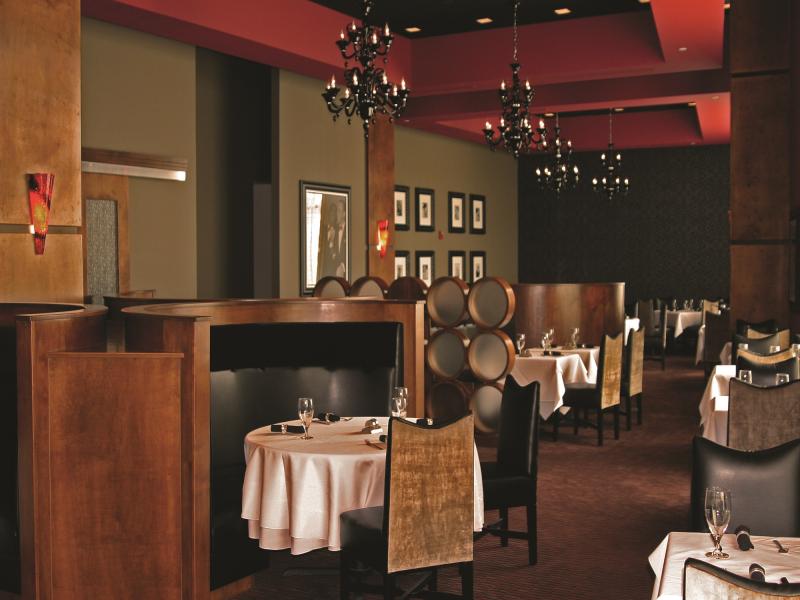 Serving breakfast, lunch and dinner (although check their website beforehand because hours may vary), Level 2 Steakhouse has three opportunities to take your special someone out for a romantic meal. Located at the aforementioned Hilton Branson Convention Center Hotel, Level 2 Steakhouse has a Level 2 Bar right outside as well as the Clear Bar cocktail lounge located off the main lobby of the hotel that serves up great music and food for a welcoming and romantic evening.
Unique Activities for Couples
Beyond the Lens
Beyond the Lens is an incredibly unique attraction in Branson. Featuring over 150 interactive exhibits, you and your loved one can search for bigfoot, walk on the moon, strut down the red carpet, find out the truth behind the JFK conspiracy, and pretend to be President for a day all while having access to nearby selfie stations for fun photos in each exhibit! Also included at Beyond the Lens is are virtual reality games, 2-minute escape rooms, pop culture arcade games and activities (60's - present), and a Flyride experience that will send the two of you soaring over America's most unbelievable landmarks. With only two locations in America, Beyond the Lens is a must-see attraction!
Branson Helicopter Tours
This one is for the for the fearless couple, as Branson Helicopter Tours are not for the faint of heart. Offering over 5 different tours of Branson, you will catch a fun and beautiful view no matter which one you choose. The Silver Dollar City Experience tour let's you experience the excitement of Silver Dollar City, White Water, the Showboat Branson Belle, the Branson Ferris wheel, and more, cruising over nearly all of Branson. The Branson Landing Experience tour takes you over the 76 Strip, Historic Downtown Branson, the Branson Landing and Lake Taneycomo. Whether you're trying to cross flying in a helicopter off your bucket list or looking for a great team building activity with your spouse, Branson Helicopter Tours is the place to go! 
SkateWorld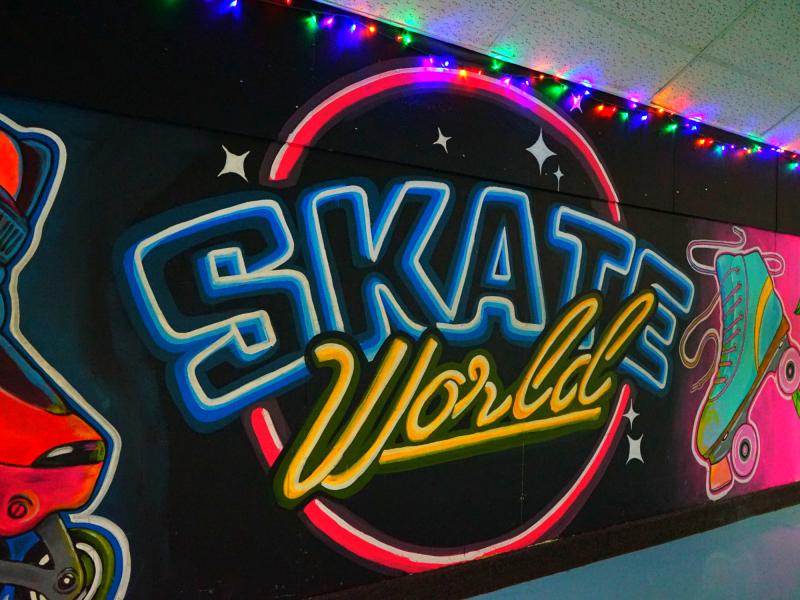 Looking for an old school night out? SkateWorld has been open in Branson since 1976, and it shows. This groovy, retro attraction offers a live DJ (wanna request your spouses favorite song?), arcade games, free WiFi, full service snack bar and fun skate games like red light/green light, limbo, and couples skate.
Vintage Paris/Branson Scenic Overlook
Vintage Paris is another locally owned gem hidden away in the backwoods of Hollister, about 10 minutes out of Branson and just down the road from College of the Ozarks. You won't believe how many people have been proposed to here and at the stunning Branson Scenic Overlook just across the street. Vintage Paris serves themed coffees such as the Van Gogh and Napoleon, but they also offer alcoholic beverages and snacks as well! Whether you choose to sit inside or on the covered patio, you will feel the congenial warmth of this quirky, artsy coffee shop!
Ferris Wheel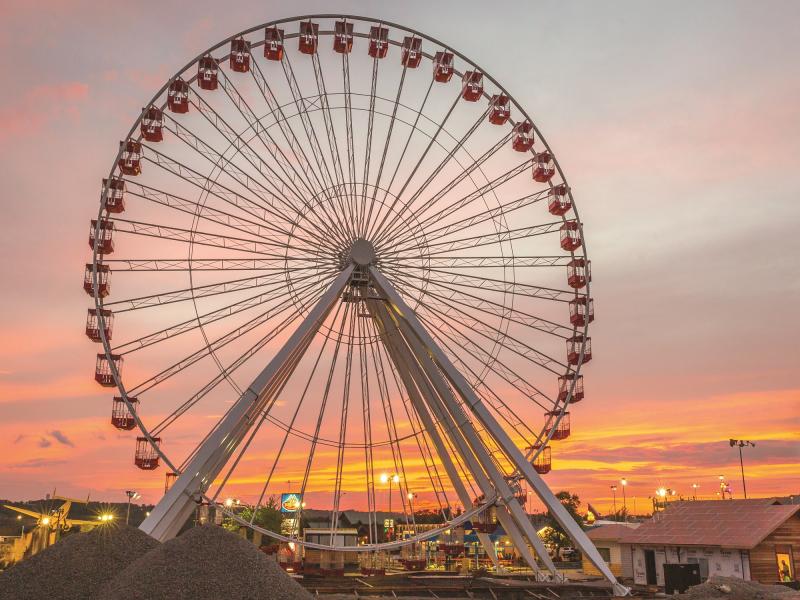 Last stop — the Branson Ferris Wheel. Imagine, what's more romantic than getting ice cream next door at Andy's Frozen Custard, taking a stroll down the eccentric 76 Strip, watching people swing from the 100-foot-tall Skycoaster and ending the evening sitting together atop one of Branson's best views? Nothing, nothing is more romantic than that. 
Branson offers hundreds of shows, attractions, and outdoor fun for you and your spouse to enjoy. Click here to see where else you can stay on your Branson honeymoon!