Info
Maps & Driving Information
Did you know that Branson is less than one day's drive for one-third of America's population? Getting to Branson is easy, whether you drive, ride in a motorcoach or arrive by air.
Directions to Branson
Branson, Missouri is 40 miles south of Springfield, MO in the Ozark Mountains.
Popular drive times to Branson:
From Kansas City, MO: 3h 15m
From Tulsa, OK: 3h 15 m
From Little Rock, AR: 3 h 15m
From St. Louis, MO: 3h 45m
From Wichita, KS: 4 h 45m
From Oklahoma City, OK: 4h 45m
From Memphis, TN: 5 h
With low-cost flights to the new Branson Airport, as well as Springfield-Branson National Airport, it's never been easier for your family or group to fly to Branson.
Map of Branson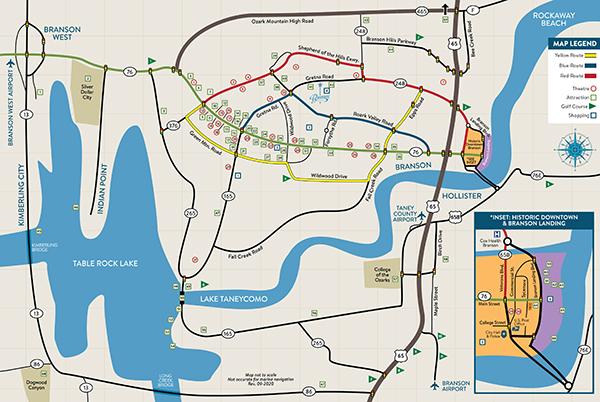 No matter how you get here, you can find your way around town with this helpful map. 
Highways Nearby
US Highway 65
US 65 enters Missouri between the towns of Omaha, Arkansas and Ridgedale, Missouri. The road is a four-lane expressway, traveling through both Branson and Hollister towards Springfield. Through the Branson area, it is a freeway.
Route 76
Route 76 is a highway in the west half of southern Missouri running between U.S. Route 60 and U.S. Route 63 and the Oklahoma state line, where it continues as a county road. It bypasses Branson on the Ozark Mountain High Road and is the namesake of the Branson strip, 76 Country Blvd. The road runs through the Missouri Ozarks, and is at times very hilly and curvy.
Routes in Branson
Green Route
This main route runs from Interstate 65, the way most visitors arrive in Branson, through the Entertainment District and toward Silver Dollar City. It's best to avoid traveling directly on the Green Route during peak seasons in Branson, especially before and after live shows. Most show times are 10 a.m., 2 p.m., and 8 p.m. and last around two hours.
Red Route
The "fast track" through Branson, this route runs approximately parallel to the Entertainment District along the north. Most of the Red Route is on State Highway 248, which is also called the Shepherd of the Hills Expressway within the city limits.
Yellow Route
Running parallel to the strip along the south, this route takes visitors along Green Mountain Drive, Wildwood Drive, and Fall Creek Road. There are also several Branson condos and motels located along the Yellow Route, as well as restaurants and attractions that are off the main drag and may be less crowded.
Blue Route
The least straightforward of Branson's color-coded routes (but still clearly labeled), the Blue Route starts and ends on the Entertainment District and runs east to west between the Red and Green Routes. If you're headed for a particular point on the Entertainment District but traffic is heavy, the Blue Route is the way to go. There are several cross streets that connect it with the Entertainment District.
We hope to see you soon! Please contact us if you need assistance or have questions.
Plan Your Trip
Planning Resources
Want to know what the weather will be like when you visit? Looking for deals on attractions or lodging? Check out these helpful resources that will make trip planning easy.