Article
Branson Backstage
Your exclusive, behind-the-scenes view of Branson from the locals who know it best.
It's riveting to see what makes a top tourism destination tick; what it's really like to be a part of the community. To the world, Branson is an unmatched vacation destination offering world-class live entertainment, thrilling outdoor adventure and unending family fun. We're inviting you to step backstage to see what six notable natives have to say about Branson.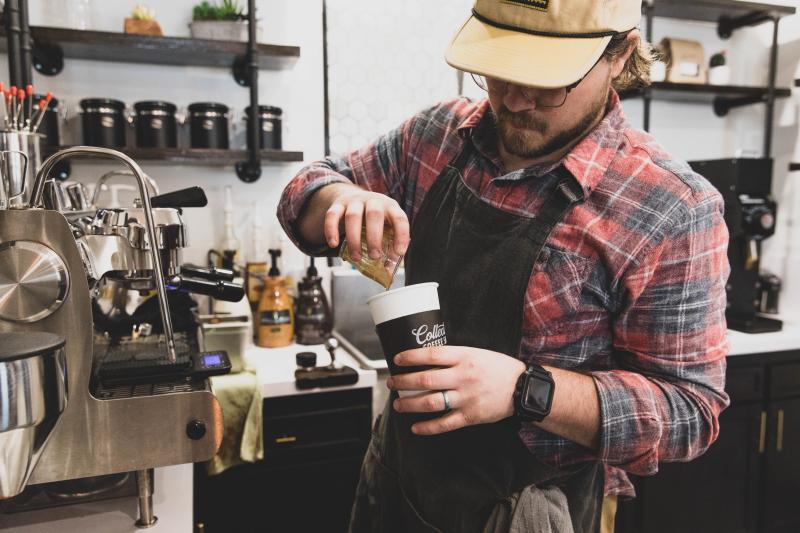 Shawn Cash
Wholesale Accounts Manager, Lead Roaster & Barista
Vintage Paris Coffee Shop & Collective Coffee Shop
"If you have a hobby, you can do it in Branson," says multi-faceted artist and Branson local, Shawn Cash. Uniquely, Shawn's hobbies are encouraged by his profession. As a roaster and barista in the Branson area, he constantly expresses his love for coffee through his work. Shawn is also a gifted potter and enjoys creating pottery both for fun and for profit, as well as teaching pottery lessons to others in the community. He's grateful to live in a city with a growing appreciation for the arts.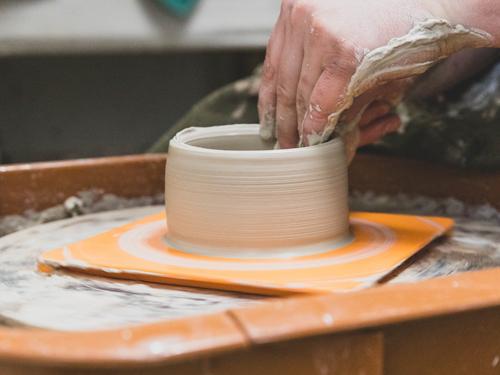 Although Shawn never dreamed of being a coffee roaster, he couldn't adore it more. In addition to roasting the coffee used in two local coffee shops, Shawn also manages all the wholesale coffee accounts that buy Vintage Paris coffee from across Missouri and across the country. Shifts as a barista are also an important part of his work in that he experiences the joy a well-roasted cup of coffee brings to real people.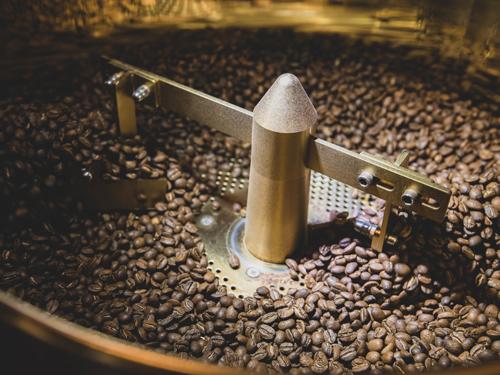 Being in the coffee industry (especially as a roaster) Shawn gets a front-row view to the future of coffee. Vintage Paris and Collective Coffee are trying to beat what they predict will be the next wave of coffee: blends. "We have specifically designed a few blends in shop that you can't get anywhere else. You can go anywhere in the world and get a Columbia, and it will taste great, like a Columbia should. But you can't go anywhere in the world and get a Le Chat Noir House Blend or a Maison House Blend from Vintage Paris Coffee Shop because we're the only ones who know how to create those blends, and create them exactly how we want them to be. Branson is trying to beat the trends," he explained.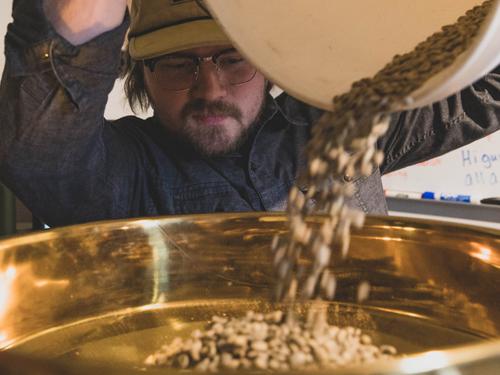 After moving to Branson for a summer job in 2011, Shawn has since called Branson home. He gained a Bachelor's degree from College of the Ozarks near Branson in 2018. Afterward, he and his wife agreed to stay in town. Their main lure for settling in Branson was having found jobs they love surrounded by a community of people they love.
Shawn couldn't speak highly enough of the community his family has found in Branson. He said, "we have this central-American, mid-western hospitality that you won't find anywhere else...no other small town has such a big town feel."  
His favorite hangout spots in Branson are his two coffee shops. Shawn believes that coffee shops are "hip" right now because they create a culture of openness, transparency and friendship that many other places don't always encourage.
He views Branson as a place of scenic beauty and unmatched community. He says that Branson is built upon and currently maintaining traditional values, while striving to progress and reach younger generations. Shawn believes the best of Branson is yet to come.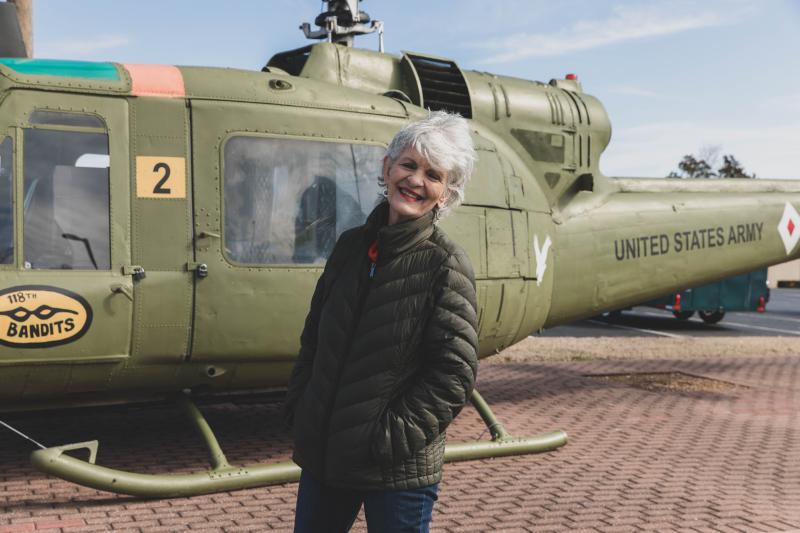 Brenda Meadows
U.S. Army Veteran, Photographer & Newspaper Editor
Branson Veterans Task Force, Meadows Images & Branson Globe Newspaper
Twelve-year Branson local, Brenda Meadows, was born in raised in Missouri's neighboring state, Arkansas. After traveling the world as a USO performer, serving for over four years as a psychiatric technician for the United States Army (including six months in Vietnam) and temporarily settling down in California, Brenda was drawn to Branson because it felt like coming home.
"I would never have thought to come to Branson...but once I got here, I saw how valuable its history is and how wonderful the area is...it's like a magnet. If you come here to visit, the magnet will draw you back later," Brenda said.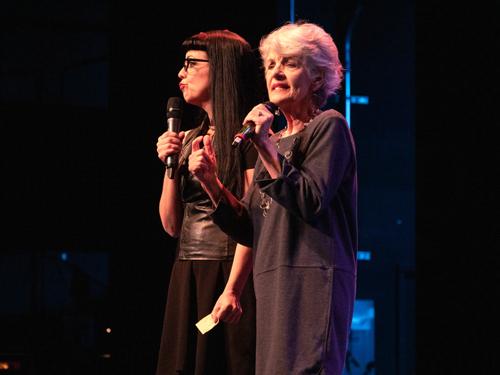 Brenda and her husband Marshall met in the Army. Now, they co-own Meadows Images, a local photography business. Additionally, Brenda acts as editor of an up-and-coming local newspaper, The Branson Globe. She has been a member of the Branson Veterans Task Force for over nine years, and she produces an annual Veterans inspired show during Branson's Veterans Homecoming Week. If that's not enough, she's a proud wife, mom and grandma.
Storytelling is Brenda's bread and butter, both at heart and by profession. She greatly appreciates Branson's live shows because they tell timeless, fantastic stories. She loves the history present in Historic Downtown Branson and enjoys the wholesomeness of the people residing in the community.
"The way that [Branson] responds to Veterans doesn't happen anywhere else," Brenda explained.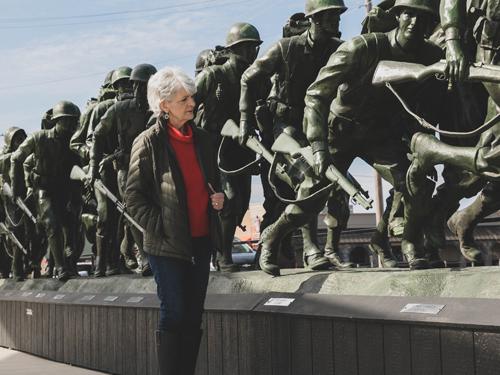 Many years ago, the Branson Veterans Task Force was established to work in conjunction with Explore Branson on helping make Branson THE destination for Veterans. In addition to the city highly esteeming Veterans every day of the year, from November 5 to November 11, Branson also hosts its annual Veterans Homecoming Week.
During this week-long event, Veterans and their families can enjoy special shows dedicated to them (like Brenda's own Vets for Vets show), days of honor, military reunions, discounted food and entertainment and a daily Veterans Village offering live round-robin music, snacks, raffles and more. Veterans Week proves to be Brenda's, and so many others, favorite week each year. Learn more about Veterans Homecoming Week here.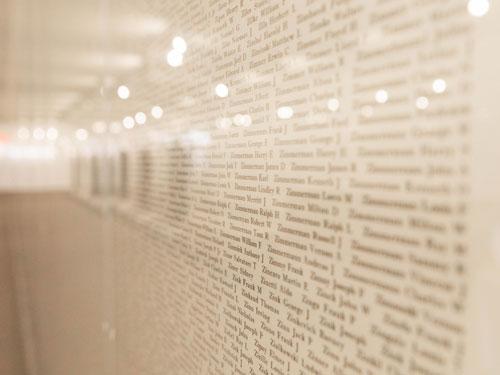 While in Branson, don't miss The Branson Veterans Memorial Museum – what Brenda describes as the city's biggest hidden gem. Here you'll find ten great halls of wartime memorabilia from the past century. Pay homage to the sacrifices made during World War I, World War II, Korea, Vietnam, Desert Storm and more.
Brenda described Branson as "a place where Veterans and their families can come to feel at home, to feel appreciated and to know that their sacrifices were not in vain."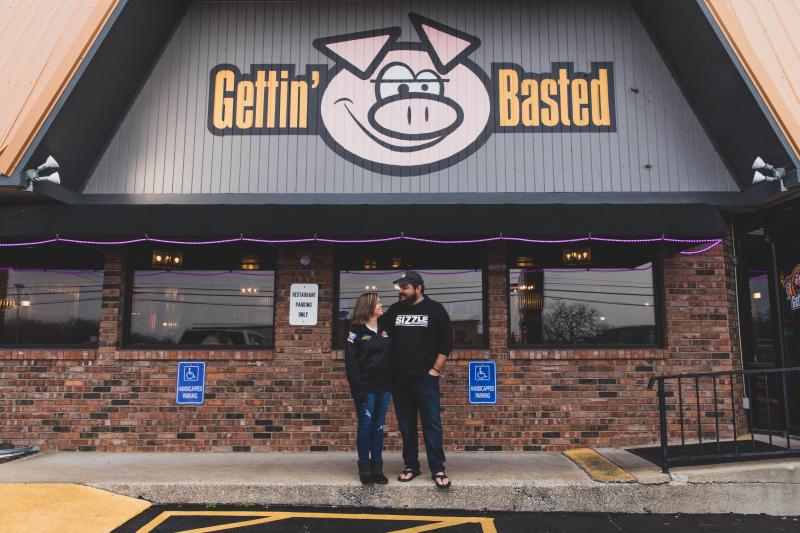 Brad & Sarah Leighninger
Co-owners, Outside Catering, Head Chef
Gettin' Basted & Downing Street Pour House
"Food in Branson used to consist mainly of chains, but now…a lot of the newer mom and pop restaurants are actually driving the movement of better food in Branson, which we're proud to be a part of," said Gettin' Basted co-owner and head chef, Brad Leighninger.
Brad has always been passionate about cooking. He and his family jumped into the food industry by contending in barbecue competitions across the country. In a short time, the Leighninger's team became one of the top-rated competition teams in the world. Today, Brad and his wife, Sarah, along with a small group of treasured business partners, co-own and operate two of the most loved eateries in the Branson area: Gettin' Basted and Downing Street Pour House.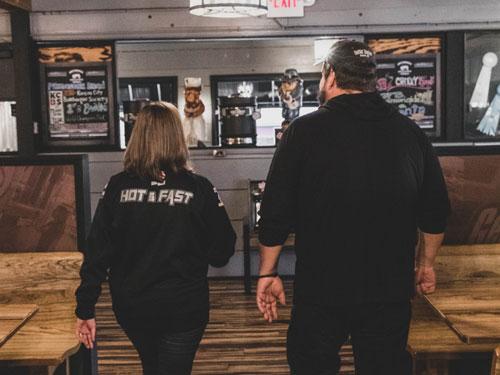 Gettin' Basted began as a food truck in Springfield, 45 minutes from Branson. In 2017, the barbecue joint made its debut in Branson at the Starlite Theatre. The success was rapid, and the restaurant quickly outgrew the theatre's available space. Now, Gettin' Basted has found a permanent home in the heart of Branson's Entertainment District. Similarly, Hollister's Downing Street Pour House resides in Downtown Hollister just minutes away from Branson Landing.
Brad and his team cook their barbecue on 55-gallon barrels over direct coals. Unlike traditional barbecue which cooks "low and slow," Brad specializes in "hot and fast." This provides world-class meat in a fraction of the time.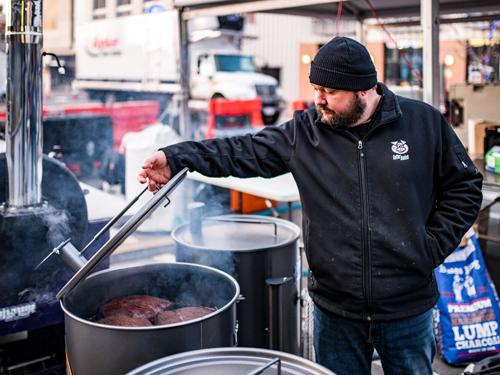 The couple believes they've created a style of barbecue that is exclusive to the Ozarks. Brad explained that other contestants in the competition world say that Gettin' Basted barbecue comes from "can country," with "can" being the nickname for the kind of cookers they use.
"We're actually defining a style of barbecue for Branson and the surrounding Ozarks area. We're developing something that is really unique in the barbecue world right here at Gettin Basted in Branson," Brad said.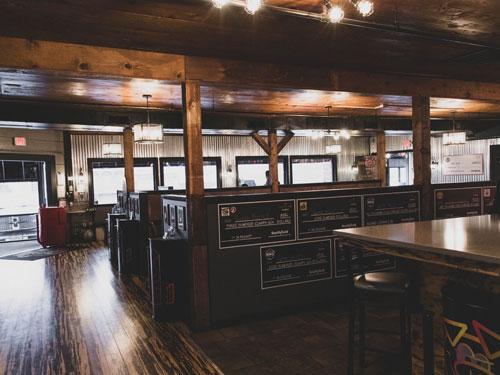 Sarah was born and raised in Branson, and after traveling for a few years and meeting Brad, the couple eventually decided to move back to the Branson area in 2011. "We love the lake, the Ozark Mountains and the sense of belonging that Branson offers," Sarah explained. They wished to raise their children in a family-friendly community, and to live in a place that offers awesome experiences for families, both wishes which were granted in Branson.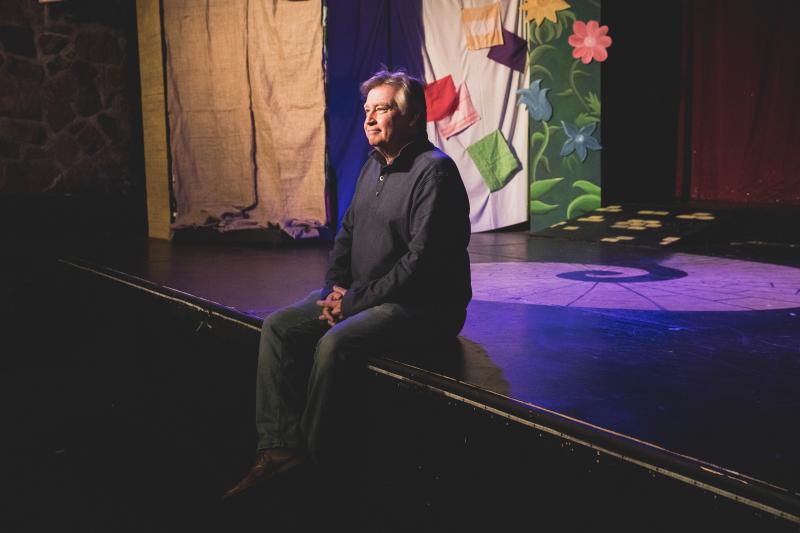 Jim Barber
Executive Director
Branson Regional Arts Council at The Historic Owen Theatre
Jim Barber has called Branson home for over 20 years. 25 year ago, Jim went on a first date with his future wife in Branson. Shortly after, Jim and his wife found themselves permanently residing in Branson and instantly falling in love with life here. Prior to Branson, Jim spent 10 years of his life entertaining the masses across the world, from military USO shows to world-touring entertainment, he had truly done it all.
"When I came to Branson, for the first time I didn't have to live out of my suitcase. I could put my head on my pillow every night, and my wife and I could raise a family in the same place where I could perform," he explained.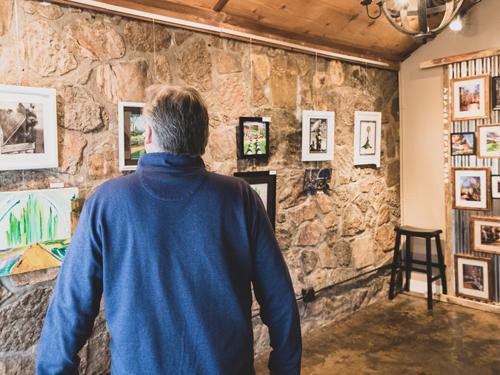 In 2015, his beloved wife, Diane, passed away after battling severe pancreatic cancer for three months. Today, Jim and his daughter are healing and are immensely grateful for the support of the Branson community.
Over the years, Jim has had a front-row seat to Branson's evolution. He has also worn many hats like performing in noteworthy shows, marketing live entertainment, owning his own theatre and most recently becoming the Executive Director for the Branson Regional Arts Council (BRAC). BRAC leads the community to celebrate local works of art – from plays and musicals, to dancing and mural paintings (and everything in between).
BRAC and Jim moved their productions, classes, art galleries and more into the Historic Owen Theatre in Downtown Branson in 2017. Jim explained that the historic theatre has only 203 seats, allowing each member in the audience to "feel like they're right there amongst the performance."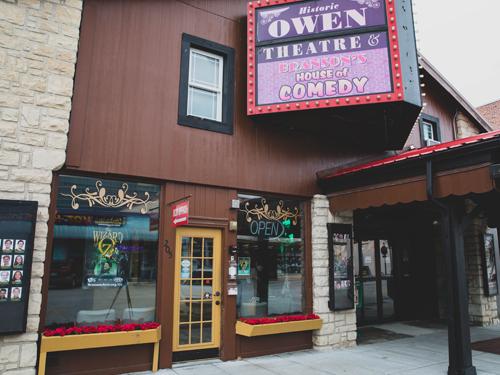 BRAC's productions differ from other incredible Branson shows in that there are multiple productions presented over the course of a year, the shows are plays or musicals and each performer is a volunteer acting solely due to their love of the arts. Having experience in every aspect of Branson's live entertainment scene, Jim highly encourages visitors and natives alike to experience the world-class, Broadway-style productions put on by local, volunteer performers at the Historic Owen Theatre.
Jim describes performing in Branson as something that "feeds your soul. When you're on stage, it's addictive to hear the applause and laughter for something you did."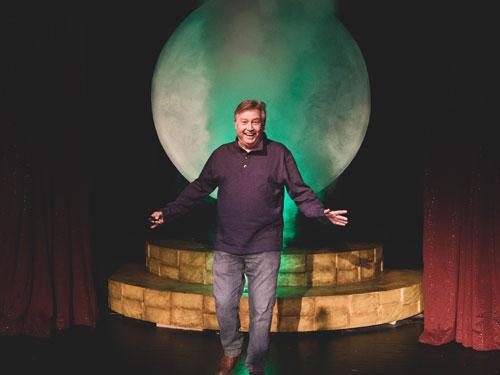 Jim describes Branson as a place designed for great family fun. To him, the beauty and serenity offered in the Ozarks is indescribable. When friends come to town, he won't let them leave before catching the view at a scenic overlook or tasting the cuisine at Mr. Gilberti's Place and the Keeter Center. He celebrates the live entertainment scene in Branson and advocates the value the arts bring to locals and visitor alike.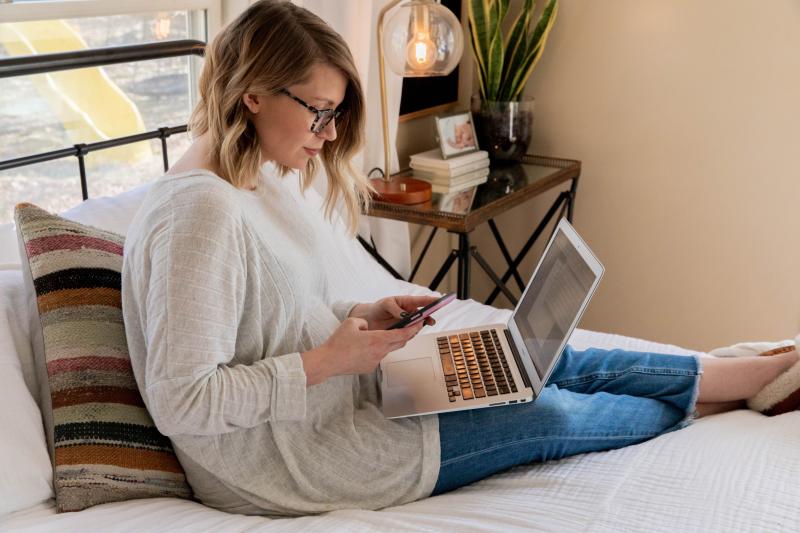 Mackenzi Pitman
Mom, Blogger/Micro-Influencer/Author, Communications Director
@mackenzipitman & Woodland Hills Family Church
Mackenzi Pitman is a multi-gifted, hard-working mom of two (with another on the way!) based in Branson. Besides spending four years away during college, Mackenzi has been a proud member of the Branson community her entire life.
Growing up, her parents were prominent area business owners who emphasized that Branson is the best place to live and raise a family. Now, Mackenzi is following her parents lead by, "highlighting the benefits of Branson to [her own] family."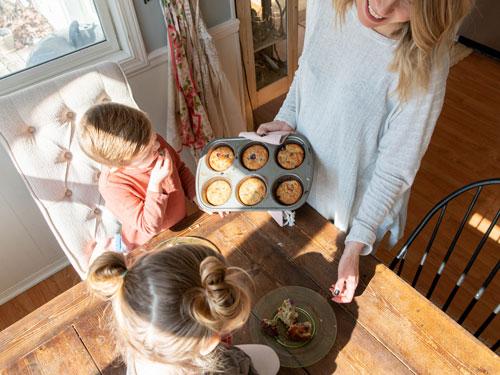 "In high school I used to say that I got all the benefits of living in a small town with the amenities of fun things to do with friends," she explained.
After college, Mackenzi moved home, attended a local ministry's post-college program, married her now husband (who is also a Branson native) and began investing in the community as an adult. Mackenzi and her husband Mickey take pride in growing a family in their hometown.  
Although she has held many positions in the community throughout her life, Mackenzi's current roles allow her to leverage her passions for digital marketing and social media management, while serving her community and being a full-time mom. She is also able to pursue interests of blogging, micro-influencing and becoming an author. She takes full advantage of highlighting all that Branson has to offer to her friends, family and social media audience.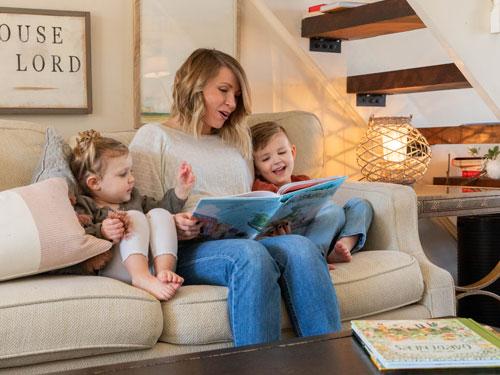 Mackenzi and her family love the endless outdoor activities in Branson, the festive spirit of our city and the visible comradery that aids in Branson's success. The family's favorite activities include an outdoor escape at Dewey Short Visitor Center and dinner at India Clay Oven.
Although each season in the Ozarks presents its own uniqueness and beauty, the family's top two seasons are Christmas and fall. For a perfect night, the Pitman's begin with a ride around The Track Family Fun Parks, take a spin on the Branson Ferris Wheel and end with a custard in hand from Andy's Frozen Custard.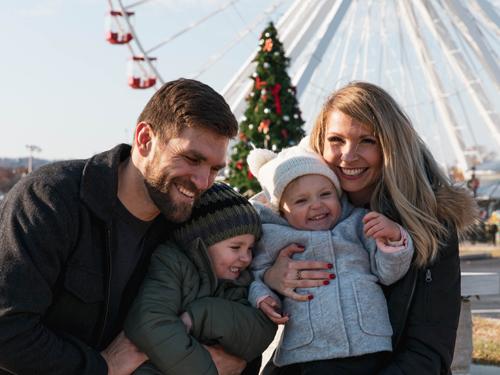 Find more travel inspiration here. 
Places Mentioned
Find Your Next Branson Adventure